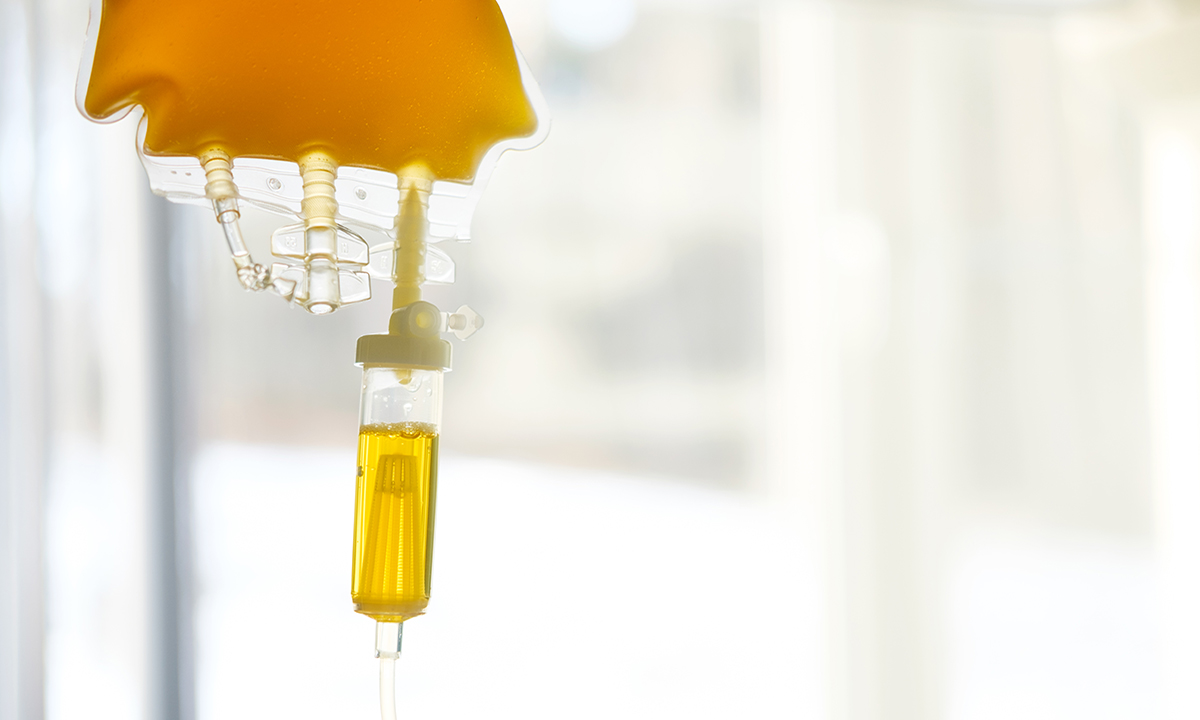 September 9, 2020
ARUP Blood Services collects plasma from patients who have recovered from COVID-19 for potential use in formal, randomized clinical trials of the safety and efficacy of the plasma to treat COVID-19.
SALT LAKE CITY – As a national expanded access protocol (EAP) program to deliver COVID-19 convalescent plasma (CCP) to hospitalized patients with COVID-19 concludes, researchers at ARUP and University of Utah Health are transitioning to multicenter randomized clinical trials to advance understanding of the safety and efficacy of CCP.
This pivot to more formal, randomized trials comes as the U.S. Food and Drug Administration (FDA) recently issued Emergency Use Authorization (EUA) for convalescent plasma transfusions in hospitalized patients with COVID-19, a move met with some concern by researchers.
Since early May 2020, ARUP and the University of Utah Health had participated in the Mayo Clinic-led EAP. Overall, about 60 units of plasma were collected by ARUP and about 20 patients underwent transfusion under the EAP at U of U Health. On August 23, 2020, the FDA issued its EUA based on a subset analysis from the EAP, which evaluated the use of convalescent plasma with high concentrations of antibodies (also known as titers) against SARS-CoV-2 compared with plasma with lower concentrations of antibodies in hospitalized patients.
Ryan Metcalf, MD, medical director of ARUP Blood Services and U of U Hospital Transfusion Services, explained that while the Mayo EAP offered promising results, there are currently no data from well-controlled, adequately randomized clinical trials that demonstrate the efficacy of CCP for the treatment of COVID-19.
Initial data gleaned from 20,000 transfusion recipients in the Mayo EAP suggest that serious adverse events were infrequent and, at least in the short term, CCP appears to be safe, said Metcalf. The question of efficacy is more complicated to answer. A subsequent analysis of 35,000 EAP patients who underwent transfusion with CCP earlier in the course of the disease – within three days of diagnosis – appeared to show improved mortality in these patients compared with those who did not receive transfusions. Additionally, patients who received CCP units with a higher titer, or a higher antibody concentration, appeared to demonstrate reduced mortality compared with patients who did not receive those types of units.
"These are interesting data, but in order to prove that CCP is ultimately efficacious in different clinical settings, you need randomized, controlled trials," said Metcalf.
In September 2020, ARUP and U of U Health expect to begin participating in two multicenter, randomized controlled trials funded by the U.S. Department of Defense through Johns Hopkins University. One study will involve symptomatic outpatients with confirmed COVID-19 who, if they choose to participate, will be randomly assigned to receive either CCP or a placebo. The goal is to prevent these patients from being hospitalized.
The second study will focus on postexposure prophylaxis that could be administered to an individual at high risk of exposure, such as an adult household member who is negative for SARS-CoV-2 infection but who lives with an individual with confirmed SARS-CoV-2. Researchers hope to determine whether postexposure prophylaxis prevents development of COVID-19.
Two other multicenter CCP trials are likely on the horizon, Metcalf said. One will study patients in emergency room settings with confirmed COVID-19 who are discharged because they are not ill enough to be hospitalized. The other will look at hospitalized inpatients with COVID-19.
These investigations are not without their challenges. Low enrollment in CCP clinical trials has already been an issue across the United States, and the FDA's EUA could make recruitment more difficult because CCP will be available outside of a trial setting, Metcalf said. He explained that there's also concern about supply. "If there is a limited supply of CCP and it's fairly easy to access via EUA, will we have enough supply for randomized controlled trials?"
ARUP and U of U Health aim to support patients in whatever way possible. "Even without strong evidence, it's still potentially beneficial to transfuse patients with CCP who are eligible under the EUA," Metcalf said. "Ultimately, though, for us to better understand the possible role of CCP, the most beneficial thing that we can do at this time is carefully study CCP in a randomized controlled trial."