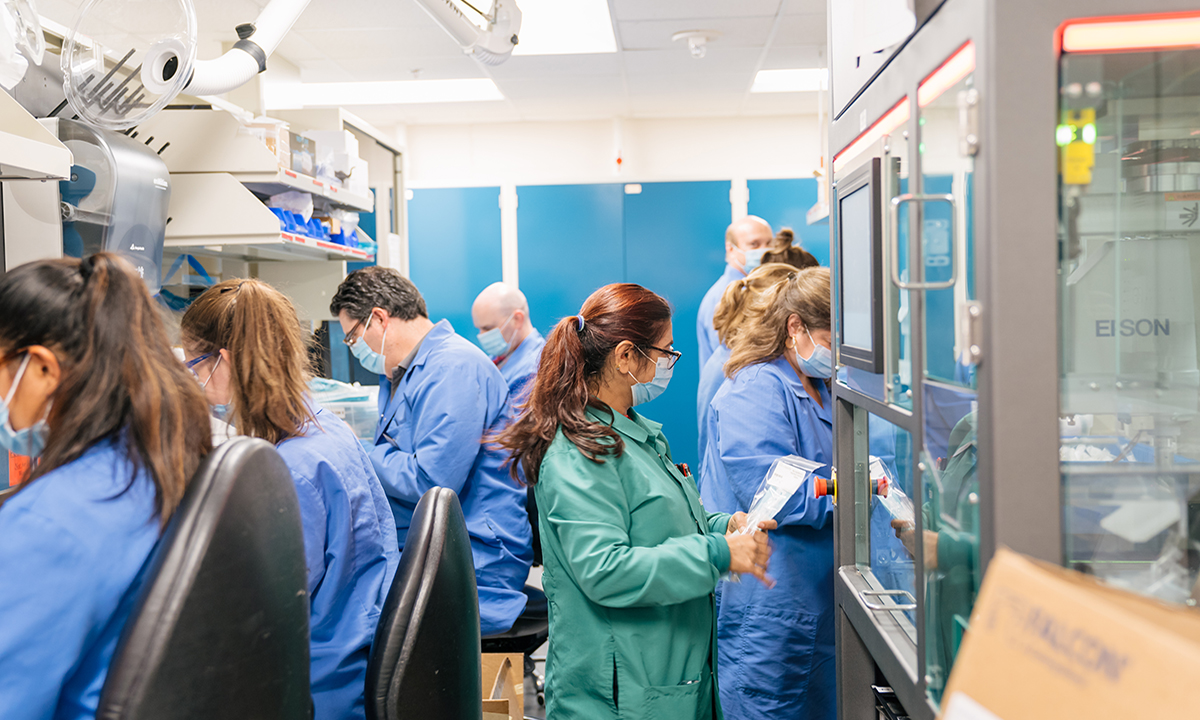 August 25, 2020
Employees in ARUP's Reagent Lab build specimen collection kits that include ARUP Transport Media™, a material ARUP formulated to replace viral transport media that became difficult to procure after the COVID-19 pandemic hit.
SALT LAKE CITY – When supplies of a critical component of kits used to collect specimens for COVID-19 testing suddenly grew scarce this past spring, scientists at ARUP Laboratories worked to formulate an alternative so that more of the vital kits could be created.
Now, ARUP has made the formula for ARUP Transport Media™ widely available to other laboratories following its publication in a Journal of Clinical Microbiology article. The formula appears in supplemental materials at the end of an article about an ARUP/University of Utah Health study in which ARUP Transport Media™ was used for specimen collection.
"ARUP's version of viral transport media works, and it works very well," said Mark Astill, MS, director of Research & Development at ARUP. "We are sharing the formula for ARUP Transport Media™ as part of our commitment as a nonprofit enterprise of the U of U to continuously improve the practice of laboratory medicine and ensure the best patient care."
Viral transport media is fluid used in a specimen collection tube to keep any viral organisms viable during the tube's transport to a laboratory for testing.
A single company produces most of the world's supply of viral transport media and is located in Europe, where some of the earliest and worst COVID-19 outbreaks occurred, affecting production, halting shipments, and severely limiting supplies just when collection kits were needed most.
ARUP scientists used information in the public domain about the media's components to formulate an alternative. Their research and experimentation led to the development of ARUP Transport Media™, which keeps organisms stable for up to five days and does not require refrigeration — an improvement on the transport media ARUP had been using, Astill said.
ARUP has validated ARUP Transport Media™ for use with more than 50 ARUP tests for infectious diseases. It is manufacturing its own specimen collection kits using ARUP Transport Media™ and is distributing the kits to its many hospital and health system clients nationwide. Astill anticipates ARUP will soon be able to manufacture up to 30,000 kits per day.
"From the start of the COVID-19 pandemic, ARUP scientists have worked tirelessly to offer more and better testing," said Adam Barker, PhD, director of the ARUP Institute for Clinical and Experimental Pathology. "This is just another example of the value our clients derive from our research expertise and our academic affiliation with the U of U."
Collection kits made with ARUP Transport Media™ soon will be used for testing to detect the virus that causes COVID-19, SARS-CoV-2, in saliva. The published study that includes the formula for ARUP Transport Media™ found that self-collected saliva and deep nasal swab specimens collected by healthcare providers are equally effective in the detection of SARS-CoV-2. ARUP will perform saliva testing for U of U Health first, but intends to expand the testing to clients nationwide.
About ARUP Laboratories
Founded in 1984, ARUP Laboratories is a leading national reference laboratory and a nonprofit enterprise of the University of Utah and its Department of Pathology. ARUP offers more than 3,000 tests and test combinations, ranging from routine screening tests to esoteric molecular and genetic assays. ARUP serves clients across the United States, including many of the nation's top university teaching hospitals and children's hospitals, as well as multihospital groups, major commercial laboratories, group purchasing organizations, military and other government facilities, and major clinics. In addition, ARUP is a worldwide leader in innovative laboratory research and development, led by the efforts of the ARUP Institute for Clinical and Experimental Pathology®. ARUP is ISO 15189 CAP accredited.
ARUP Media Contact
Lisa Carricaburu, 801-541-5041, lisa.carricaburu@aruplab.com