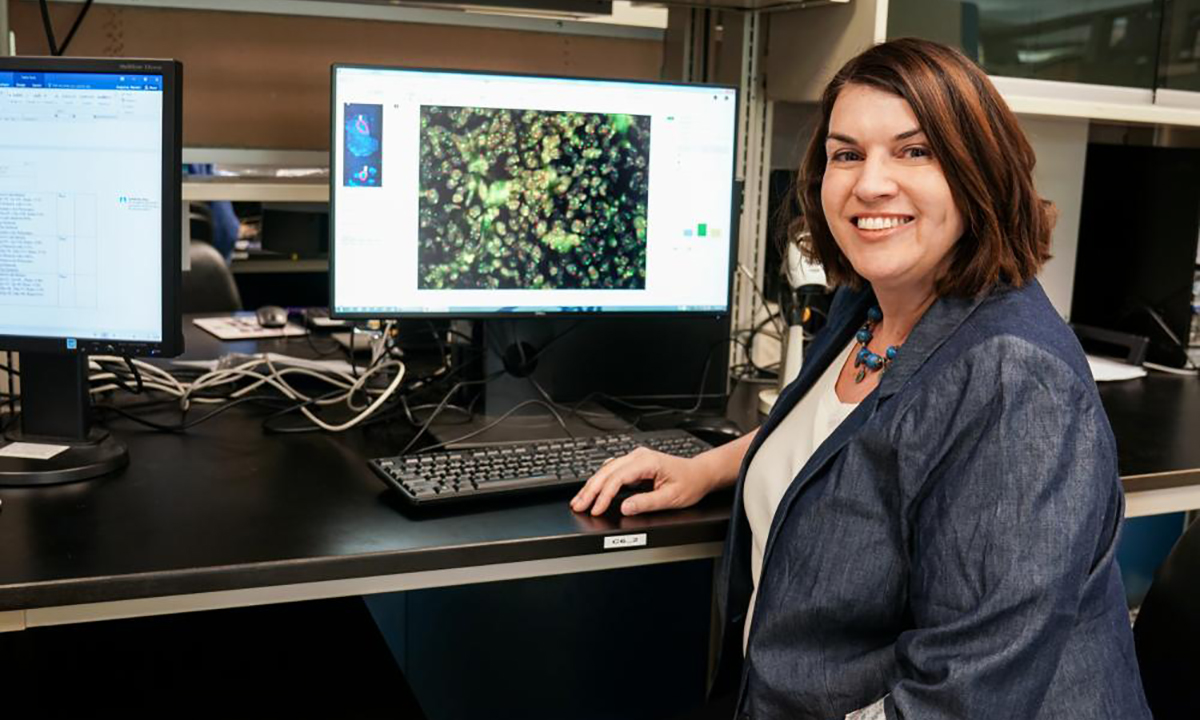 July 15, 2020
Tracy George, MD, executive director of Clinical Trials and PharmaDx at ARUP Laboratories, is the new president of the International Society for Laboratory Hematology.
---
ARUP Laboratories' Tracy George, MD, an internationally recognized expert on mast cell disorders, was recently appointed president of the International Society for Laboratory Hematology (ISLH). She assumed the prestigious role at a tumultuous time for the world, let alone an international society that had been in the midst of planning its annual meeting.
"We were originally scheduled to meet in Melbourne, Australia, but when the COVID-19 pandemic hit, we immediately reverted to an online, virtual meeting, and we felt fortunate that all of our sponsors stayed with us," said George, executive director of Clinical Trials and PharmaDx at ARUP.
The meeting's virtual format posed some organizational challenges but also offered unexpected benefits, including the opportunity to reach a wider audience.
"There are usually about 1,000 who would physically attend those meetings, but this year, because the meeting is free and easy to access, we've had in excess of 1,900 registrants and participants. We've just had an amazing response to this format from attendees."
That support enabled George and the society to make the entire meeting free of charge and accessible at https://www.islh.org/virtual/ from now through Sept. 25, 2020.
George and her colleagues also pulled together a special session to address the relationship between COVID-19 and hematology to inform and educate the many hematologists participating in the meeting.
"COVID-19 is not just an infectious disease. It affects many different organs in the body, including the blood and coagulation systems," George explained. Some patients with COVID-19 exhibit hematologic laboratory abnormalities, including lymphopenia and neutrophilia. A subset of patients have marked coagulopathies.
ISLH members have published articles on these findings in journals from around the world, including the society's own International Journal of Laboratory Hematology, of which George previously served as co-editor in chief. "Our special session on COVID-19 includes a nice summation of these findings," said George.
Among those who spoke on COVID-19, Albert Huisman of the University Medical Center Ultrecht in the Netherlands presented on the effects of COVID-19 on coagulation and his hospital's experience. Sabrina Buoro, Fabiano Di Marco, and Stefano Fagiuoli presented on the role of the hematology laboratory during the COVID-19 pandemic and their overall experience with the outbreak in the Papa Giovanni XXIII Hospital in northern Italy, one of the early epicenters.
"It's a riveting tale about what happens to a hospital that goes through COVID-19 in a general sense, but with a focus on laboratory hematology. What they describe is what we saw New York City go through, and now other U.S. cities, like Houston, have gone in the same direction."
For anyone interested in digging deeper into the connections between hematologic laboratory abnormalities and COVID-19, ISLH created a COVID-19 library where it compiled all related guidelines and articles.
"Our society has really pivoted to try and provide this information to the laboratory hematology community around the world. This is so important because COVID-19 is affecting different parts of the world at different times."
For example, said George, early on in the pandemic, Utah wasn't really seeing many severe COVID-19 cases. "But, now as we're getting more patients at hospitals and starting to see some of the patients with coagulopathy conditions, this information will help providers understand the implications for laboratory hematology testing."
George sees ISLH as offering an important resource to those involved in diagnosing patients with COVID-19-related illnesses. "There's a treatment side to COVID-19, but then there's also the diagnostic side, and that's what we do. There's a much smaller group of people who are doing this, so we have to make sure that we have the proper instrumentation and diagnostic algorithms available to help us diagnose these patients not just with COVID-19, but also with other abnormalities associated with different organ failures."
George said she is looking forward to the next three years of her presidency. "I'm honored to be a part of this group of people. You have such a great mix of people, from hematologists who run labs to hematopathologists and medical technicians. Everyone comes from different backgrounds, but the one thing we all share in common is a love of laboratory hematology."