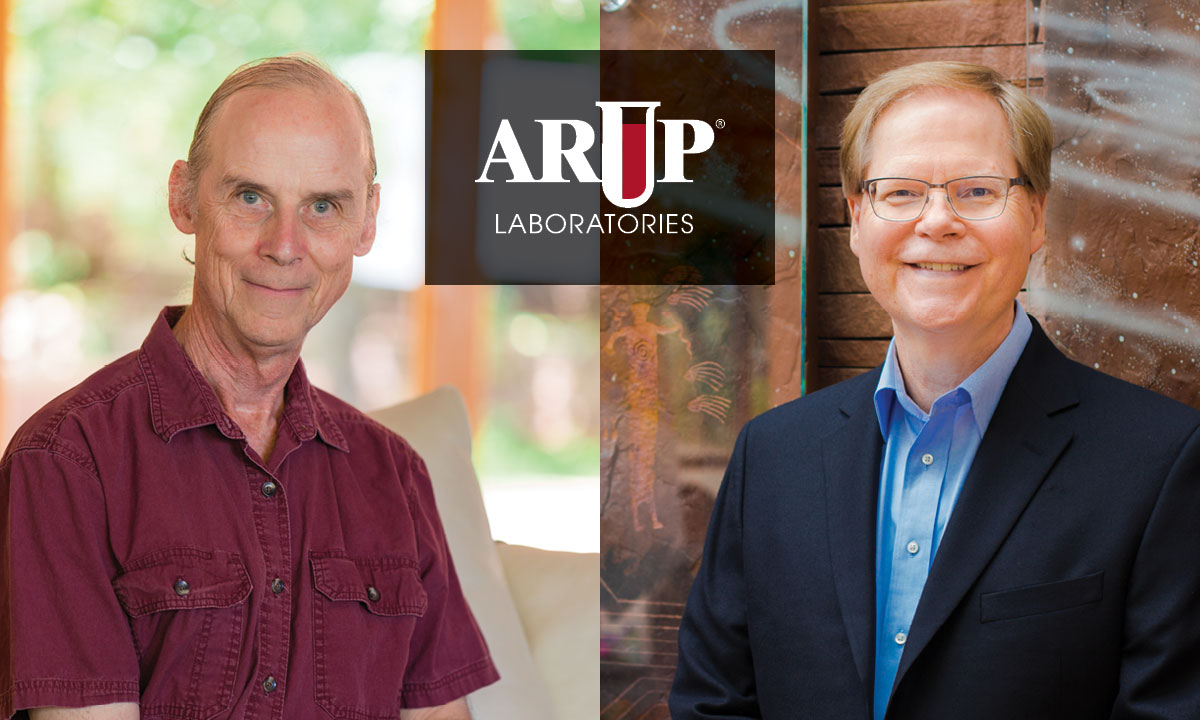 July 1, 2020
SALT LAKE CITY – ARUP Laboratories today announced the retirements of two pioneering scientists whose work is responsible for important advancements in laboratory medicine.
Carl Wittwer, MD, PhD, medical director of Immunologic Flow Cytometry, is retiring after 32 years at ARUP and the University of Utah School of Medicine, while Karl Voelkerding, MD, medical director of genomics and bioinformatics, is retiring after 17 years.
"These individuals are the best of ARUP," said Peter Jensen, MD, chairman of the ARUP Board of Directors and of the U of U Department of Pathology. "Their contributions here and at the national and international level have been extraordinary."
Wittwer, who came to ARUP and the U of U in 1988 as a pathology resident, established ARUP's first molecular diagnostics lab. He is best known as the inventor of the LightCycler system, which simplified and sped up the process of amplifying and replicating DNA so that it can be analyzed to detect infectious diseases and genetic disorders, among many other applications. His invention led to the formation of the company that is now BioFire Diagnostics.
Wittwer holds dozens of U.S. patents and their foreign equivalents and has published more than 200 articles and book chapters about molecular diagnostics. He won the 2015 Utah Genius Lifetime Achievement Award, the 2015 Pioneers of Progress Award in Science and Technology Development, and the 2019 Cotlove Award from the Academy of Clinical Laboratory Physicians and Scientists, among countless other honors.
He will move with his wife Noriko Kusukawa, PhD, to Maine, where the couple is building a home with its own fully equipped molecular laboratory. Kusukawa, who has made her own significant contribution to ARUP as vice president of innovation and strategic investments, is also retiring. She is an expert in fostering innovation in academia and in commercializing academic discoveries. In her 20 years at ARUP, she created the ARUP Scientific Resource for Research and Education and has been key to many of ARUP's strategic partnerships.
Voelkerding is an expert in next generation sequencing (NGS)-based diagnostic genomics. He has been a national leader in the development of guidelines and recommendations for best practices in diagnostic genomics, having served as the senior author of the College of American Pathologists (CAP) laboratory accreditation requirements for NGS-based diagnostics.
Voelkerding is a past president of the Association for Molecular Pathology (AMP), which in 2019 honored him with its Jeffrey A. Kant Leadership Award for his exceptional leadership and commitment to advancing AMP's mission. He is chairman of the CAP Genomic Medicine Committee. CAP also has honored Voelkerding with its Distinguished Service Award.
"All of these individuals have brought something very special to ARUP," said CEO Sherrie Perkins, MD, PhD. "Their impact will be felt for many years to come."
About ARUP Laboratories
Founded in 1984, ARUP Laboratories is a leading national reference laboratory and a nonprofit enterprise of the University of Utah and its Department of Pathology. ARUP offers more than 3,000 tests and test combinations, ranging from routine screening tests to esoteric molecular and genetic assays. ARUP serves clients across the United States, including many of the nation's top university teaching hospitals and children's hospitals, as well as multihospital groups, major commercial laboratories, group purchasing organizations, military and other government facilities, and major clinics. In addition, ARUP is a worldwide leader in innovative laboratory research and development, led by the efforts of the ARUP Institute for Clinical and Experimental Pathology®. ARUP is ISO 15189 CAP accredited.