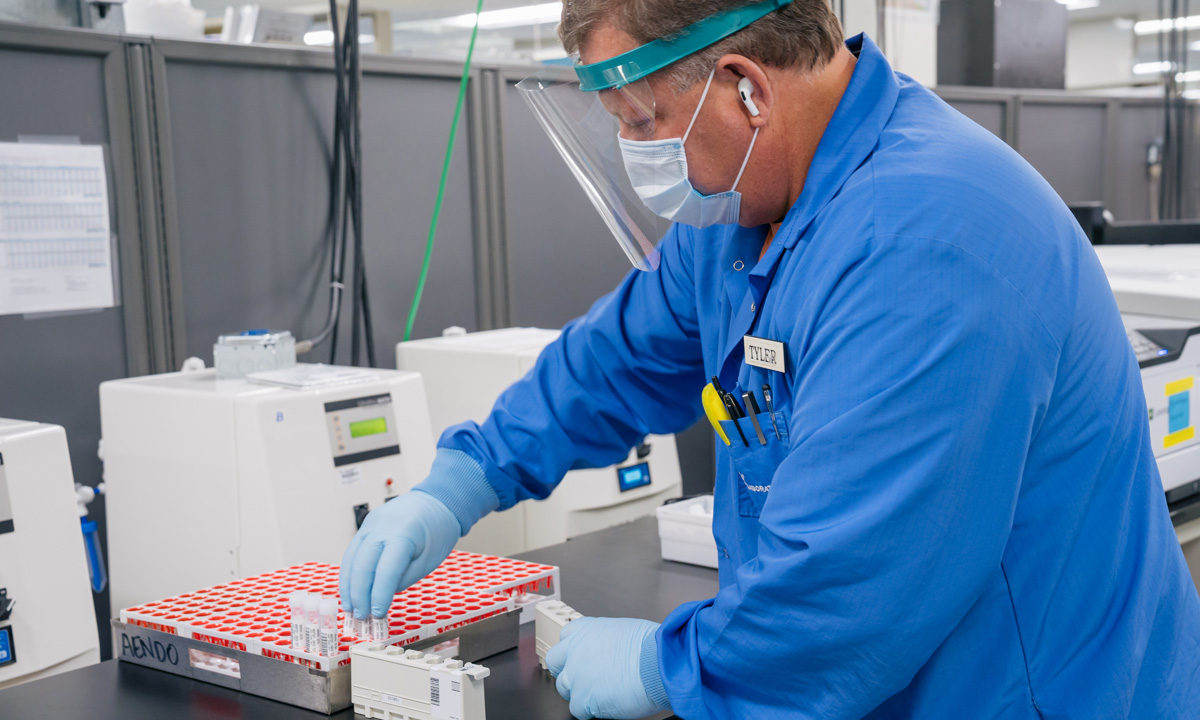 June 29, 2020
An ARUP employee prepares specimens to be tested for IgG antibodies to SARS-CoV-2. ARUP is performing all COVID-19 molecular diagnostic and antibody testing for the Utah Health & Economic Recovery Outreach (HERO) project.
---
Just 1 percent of residents in four Utah counties have antibodies to SARS-CoV-2, a prevalence rate below that of many other communities in the United States, according to preliminary results of the Utah Health & Economic Recovery Outreach (HERO) project in which ARUP Laboratories plays a key role.
The results so far also show that Utah has done a better job than much of the rest of the nation of detecting COVID-19 through clinical diagnosis, contact tracing, and screening. The COVID-19 detection rate in Utah is about 1 in 3, compared with about 1 in 10 nationwide, the rate reported by CDC Director Robert Redfield.
"This is an important success story," Matthew Samore, MD, chief of the University of Utah Division of Epidemiology, said during a webinar on Friday, June 26, during which he shared the preliminary results. "It reflects positively on Utah's COVID-19 response."
However, he and other officials involved in the HERO project warned that the COVID-19 molecular and antibody testing that led to the preliminary data was performed from May 4-June 10, 2020 – before Utah began to experience a surge in COVID-19 cases. The number of new cases reported Friday – 676 – set a new daily record.
"Right now we are facing a crisis," said Andy Pavia, MD, chief of the U of U Division of Pediatric Infectious Diseases. "It would be a mistake for us to rest on our laurels for our early efforts."
The HERO project is a massive undertaking funded by the state and overseen by the U of U. It is using COVID-19 tests performed by ARUP to collect data on the spread of the disease in Utah that will inform decision-makers as they work to rebuild the economy.
In the project's first phase, randomly selected residents in Salt Lake, Utah, Davis, and Summit counties received both molecular diagnostic tests for active SARS-CoV-2 infection and IgG antibody tests to detect exposure to the virus. Results released Friday were based on tests performed on 6,527 individuals.
Starting in July, phase 2 of the project will extend testing to less populated areas of the state. Researchers also will assess some specific communities with high viral activity and will focus on children to help guide best practices for returning to school, said Steve Alder, PhD, director of field operations for the project.
"This is so important because we're learning how to respond to a new pathogen in our community, and we have had to rely so much on estimates," said Michael Good, MD, CEO of U of U Health. The HERO project "is enabling us to use actual data about our communities to make decisions instead of estimates or approximations."
During the webinar, Julio Delgado, MD, ARUP chief medical officer, explained the two types of tests being used for the project, which he said are the most accurate tests available to diagnose COVID-19 and detect antibodies to SARS-CoV-2. He added a few reminders about antibody testing that he said are important to consider as test results are released.
The ARUP IgG antibody test being used for the project is approved by the U.S. Food and Drug Administration and is highly specific (99.6%) and sensitive (100%) in patients 14 days after the onset of COVID-19 symptoms, he said. However, the test was validated and verified by testing patients who were moderately or severely ill with COVID-19, and it may be less sensitive and less specific when it is used for patients who were mildly ill or asymptomatic.
In addition, he said it's important to remember that researchers cannot yet confirm that a positive antibody test indicates that an individual is immune to COVID-19.
"We believe a positive result means there is immunity, but we still need the data to prove it," Delgado said. "There are a lot of studies going on right now that seek to answer that question."
Lisa Carricaburu, Managing Editor, Informatics-Decision Support