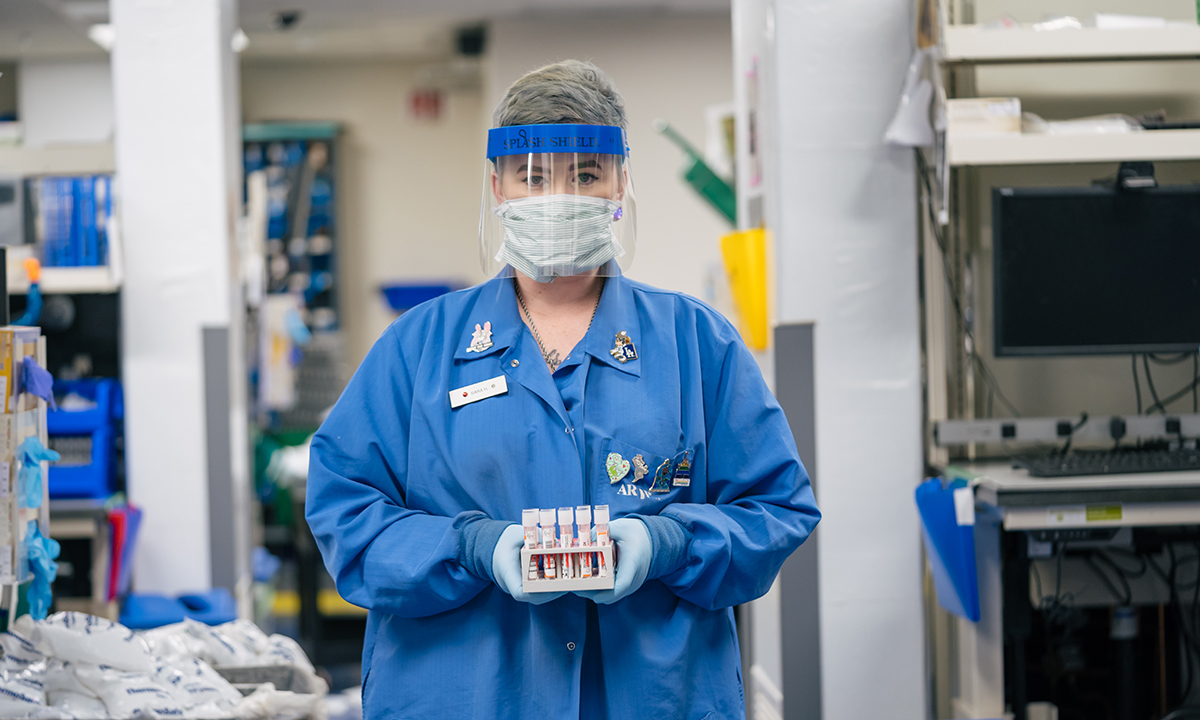 June 15, 2020
SALT LAKE CITY – ARUP Laboratories invites medical professionals and others to participate in a free webinar that features lab industry leaders discussing how COVID-19-related societal and behavioral changes may permanently affect the laboratory industry.
"Moving Forward from the COVID-19 Crisis: Laboratory Trends and Challenges," will be available starting at 11 a.m. (MDT) on June 23, 2020. Continuing education credit is available for those who register for the webinar at aruplab.com/covid-trends.
"Accustomed to working in the background, clinical laboratories have been pushed into the spotlight as COVID-19 testing and testing capacity remain in the news every day," said David Shiembob, MBA, an ARUP senior healthcare consultant who moderates the webinar's panel discussion along with Sandy Richman, MBA, ARUP director of Consultative Services. "Labs face fundamental and permanent change, and our industry is hard at work exploring how we can thrive in this 'new normal.' "
Panelists include Karen Brownell, executive operations director for Intermountain Healthcare System Laboratory Services; Sheri Gimigliano, senior director for the University of Maryland Medical System Laboratory Services; and Rick Panning, senior administrative director, HealthPartners and Park Nicollet Care Group Laboratories.
Among other topics, they discuss how the lab industry must determine how best to deliver testing services to patients who are expected to continue using telemedicine rather than visiting clinics and hospitals frequently as they once did. They also discuss how labs can manage constrained supply chains come fall, when flu and strep tests, which require many of the same supplies needed for COVID-19 testing, begin to ramp up.
"Given the many challenges laboratories face, our panelists seem surprisingly optimistic," Richman said. "Crises are also opportunities, and all of our panelists have found ways to collaborate more and step up as key members of care delivery teams during this awful crisis."
The webinar is just one of a number of tools and services that ARUP's Consultative Services team is making available to help laboratories navigate the new realities they face as the COVID-19 pandemic persists. ARUP consultants can help labs evaluate opportunities and achieve efficiencies as they adjust to the new normal.
"Everyone is going to have to be a little more nimble when planning for the future, and we have the expertise to help them get there," Richman said.
Visit aruplab.com/consulting for more information about consulting services offered by ARUP. ARUP offers many other video lectures and webinars that enable medical professionals to earn CME, SAM, P.A.C.E.®, and Florida continuing education credit for free. Visit arup.utah.edu for a full menu of offerings.
About ARUP Laboratories
Founded in 1984, ARUP Laboratories is a leading national reference laboratory and a nonprofit enterprise of the University of Utah and its Department of Pathology. ARUP offers more than 3,000 tests and test combinations, ranging from routine screening tests to esoteric molecular and genetic assays. ARUP serves clients across the United States, including many of the nation's top university teaching hospitals and children's hospitals, as well as multihospital groups, major commercial laboratories, group purchasing organizations, military and other government facilities, and major clinics. In addition, ARUP is a worldwide leader in innovative laboratory research and development, led by the efforts of the ARUP Institute for Clinical and Experimental Pathology®. ARUP is ISO 15189 CAP accredited.
Media Contacts
Lisa Carricaburu, lisa.carricaburu@aruplab.com, 801-541-5041