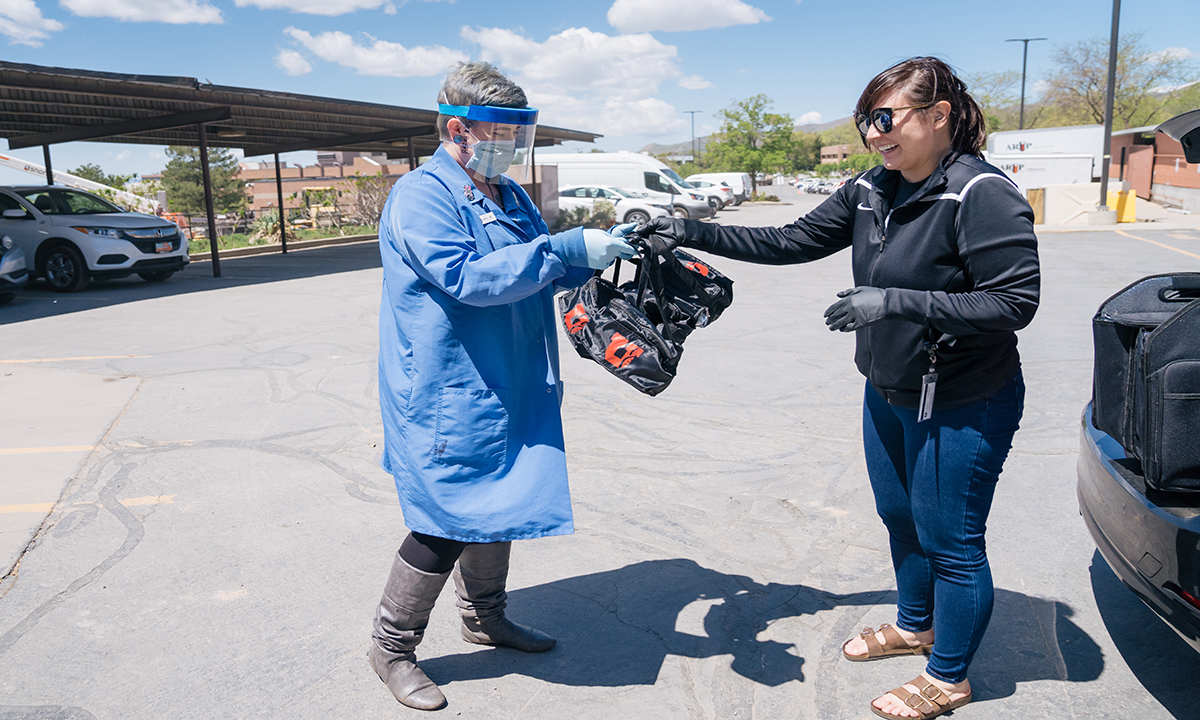 May 8, 2020
Sara Halford, an employee in ARUP's Clinical Trials group, receives specimens for testing as part of a University of Utah study to evaluate the efficacy of hydroxychloroquine in the treatment of COVID-19.
---
At the end of March, in the midst of a nationwide struggle to meet critical testing needs for patients with COVID-19, the chairman of the University of Utah's Department of Pathology approached Tracy George, MD, with a big ask: Could ARUP's Clinical Trials group partner with the U of U on an outpatient study of patients with COVID-19 to evaluate the efficacy of hydroxychloroquine?
An antimalarial drug, hydroxychloroquine interferes with a virus's ability to replicate, but as of today, that mechanism is unproven in patients with COVID-19. Small inpatient studies of the drug have thus far not been promising.
Rachel Hess, MD, codirector of the U of U's Center for Clinical and Translational Science, and Adam Spivak, MD, an infectious disease physician at U of U Health, hope to determine what the outcome might be if individuals diagnosed with COVID-19 are given the drug earlier in the course of the infection, before they become ill enough for hospitalization. If the drug does reduce the ability of the severe acute respiratory syndrome coronavirus 2 (SARS-CoV-2) virus to replicate in an infected person, that will also presumably lead to decreased transmission to household contacts.
George, executive director of ARUP's Clinical Trials group, immediately pulled together her Clinical Trials team, because this is exactly the type of innovative work that ARUP and the U of U collaborate on in an effort to translate science into actionable clinical medicine.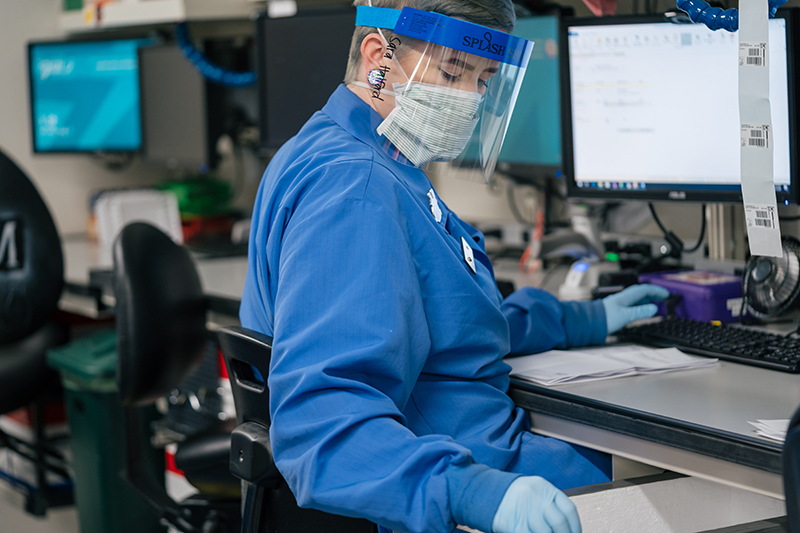 The team also is participating in other COVID-19-related studies that involve the use of convalescent plasma in patients with COVID-19, the role of interleukin 6 (IL-6) testing to identify COVID-19-related cytokine storms, and the efficacy of the drug remdesivir in patients diagnosed with COVID-19. ARUP's Clinical Trials team typically has about 1,200 ongoing projects at any given time during the year.
Getting a Study Off the Ground
In the current COVID-19 testing environment, the hurdles involved in getting the hydroxychloroquine study off the ground were substantial.
First, there was the proposed timeline. Hess and her group planned to begin the study in just two weeks. The team is accustomed to the hard work involved in preparing for a clinical trial, but, by means of comparison, even a month of lead time presents a challenge, says Erica Clyde, manager of the Clinical Trials team.
Second, the nation faced a widespread shortage of supplies that made testing challenging for clinical care, let alone research purposes. "At the time, I believe we had an estimated nine days of swabs for patient testing in Utah. That was it," Clyde explains.
Third, laboratories were still ramping up capacity to meet COVID-19 testing needs. Could ARUP accommodate an additional 14,000-15,000 specimens from the study's subjects in a way that would not affect critical patient care?
Hess said that when she has spoken nationally about the study, everyone wants to know how they managed to procure testing supplies and how they ensured adequate testing capacity. The answer to both questions, she says, is the U of U's partnership with ARUP, one of the nation's four largest reference laboratories. "The work that we are doing right now would absolutely not be possible without our collaboration with ARUP," Hess says.
Searching for the Swabs
ARUP was already at the leading edge of testing capacity nationwide, explains Hess, so the ability to run the tests was there. The more pressing concern was sourcing enough testing swabs, and that required thinking outside of the box.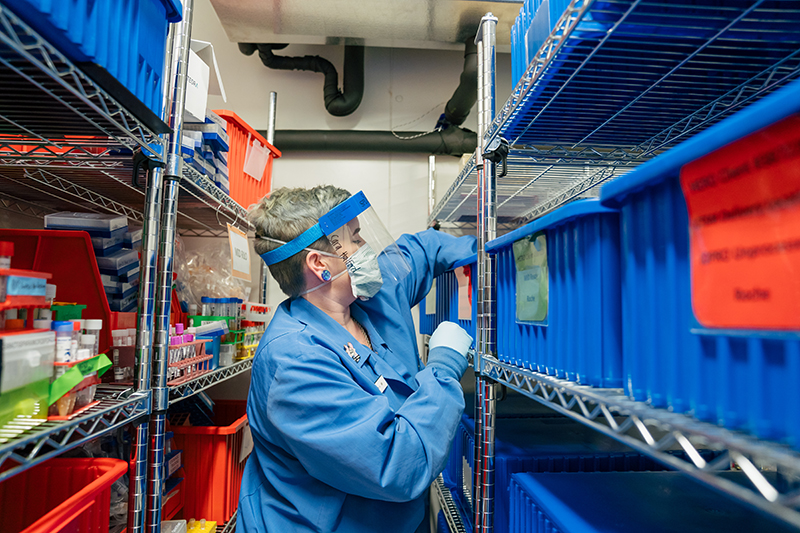 Spivak, Hess's co-principal investigator, had experience working with a particular type of swab and wondered if the same collection kit could be used for COVID-19 testing. The testing platform that ARUP uses for COVID-19 molecular diagnostic testing just happened to work with the testing kit Spivak suggested using.
After consulting with ARUP's medical directors, who confirmed that the swabs would work, George's team was able to secure 15,000 test kits. "It was about as cloak and dagger as you can get in laboratory science. We think we have found a swab that will work. Has anyone else found this swab yet? No? And apparently we can order as many as want? Great, we'll take 14,000 of those, thank you very much."
The collaborative efforts that led to procuring these swabs set ARUP and the U of U apart from larger health systems that found that they couldn't acquire the testing supplies needed to participate in research work.
"We had two groups in California who wanted to join in on our study but would need supplies and testing capacity ARUP is able to provide for these research assays," Hess says. "We're able to do something here and answer fundamental questions about hydroxychloroquine in a way that no one else in the country can, and that's because of our collaboration with ARUP and its Clinical Trials team."
After placing the order for the swabs, Clyde vigilantly watched for the shipment to arrive. She knew the testing kits had to be at the U and ready for the study participants on the following Monday.
The swabs were due to arrive on a Thursday, but they arrived a day late. When the truck with the test kits pulled up to ARUP's loading dock, Clyde was there to meet them in a truck she borrowed from her father. With the help of her husband and a member of her team, she loaded two giant pallets of testing kits into the truck and personally delivered the supplies to the U so that the study could start on time.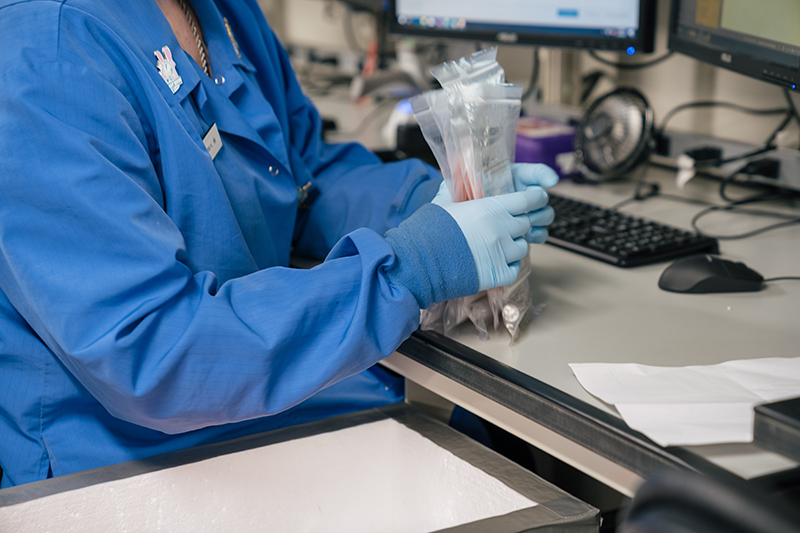 Receiving and Preparing the Samples
Clyde's team shares her dedication and willingness to do whatever is needed for the study. Each day, a few dozen lunchboxes filled with COVID-19 specimens arrive at random times. Because they are never sure when the samples will arrive, Clyde's processors have been flexible with their schedules.
Sara Halford, one of the processors for the study, gladly shifts her hours and comes in whenever the samples arrive, day or night. "Even if these tubes arrive without a name and just a string of letters and numbers, there are still patients behind these," Halford says. Clyde adds, "There is real patient care behind this work."
Clyde is fully aware of the serious job asked of her processors. Before the study began, she made sure that everyone would have the personal protective equipment they would need. "I didn't want to take any chances. These are not suspected positive samples. These are from patients with confirmed COVID-19, and my processors are handling these swabs on a daily basis and then going home to their families. I wanted to be sure they were protected."
Halford acknowledges that the potential for exposure is on her mind whenever she shows up at work. "I live with my mom, and she is in a risk category because of her age," Halford says. For that reason, she is hypervigilant about washing her hands and clothing, using Lysol and sanitizer, and staying some distance away from her mom. That still hasn't stopped Halford from staying for 12-hour shifts and personally walking the samples to the lab for testing.
Benefitting from Collaboration
The remarkable way that processors, principal investigators, scientists, and teams across the university campus have come together to facilitate this COVID-19 study is evidence that, in this environment of limited testing capacity and supplies, it's more important than ever to find new ways to collaborate.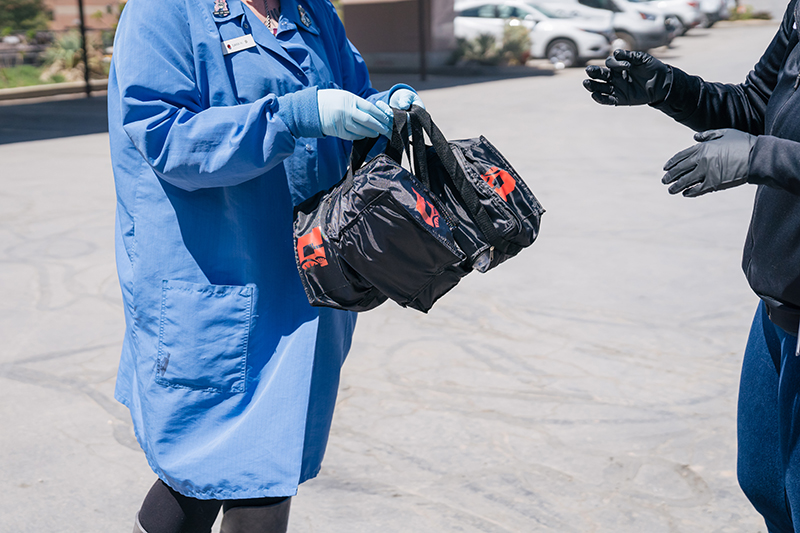 There aren't many studies at this time that are collecting specimens from subjects with active COVID-19 infections, and for George and the others involved, it made sense to brainstorm how to bring people together and perform one large, well-controlled study rather than multiple small studies.
Hess agrees, saying, "There's been this openness, a willingness to reach out, to collaborate, and to ask, how can we work together on this? A lot of times, people think of samples as their samples. But these are the University's samples, if not a national resource."
Hess credits Spivak with championing this more inclusive effort. "His ability to bring people together has actually advanced our thinking as an institution about how we see the scarce resources that people are able to provide to us very generously when they participate in research studies."
And this collaborative spirit has led to the generation of multiple research endpoints. George, Clyde, and the principal investigators have brought academic researchers together from different backgrounds and specialties to collaborate on this one study. "At the end of this, yes, we'll be able to answer whether hydroxychloroquine is effective in patients with COVID-19, but we'll also be able to look at the genetics of these patients, look at different pathways in their bodies, and try to figure out why some people are sicker than others," George says.
Together, the U and ARUP recognized that, even in the midst of meeting the incredible needs of the community and clinical patients, it was equally important to do the research.
"It's not enough to take an unproven drug and give it to a patient and not know how it will affect that patient," George says. "Clinical trials testing is work we know how to do at ARUP, and we do it all of the time."
Hess agrees, adding, "I think if you had either a smaller pathology department or a smaller internal lab, they wouldn't have the relationships and capacity to do a study like this, and if you had a larger commercial lab, they wouldn't have the interest in it. ARUP's uniqueness really made this possible."
To hear an interview with Tracy George, MD, about how ARUP has become a collaboration hub to accelerate COVID-19 scientific discovery, download this LabMind podcast episode.