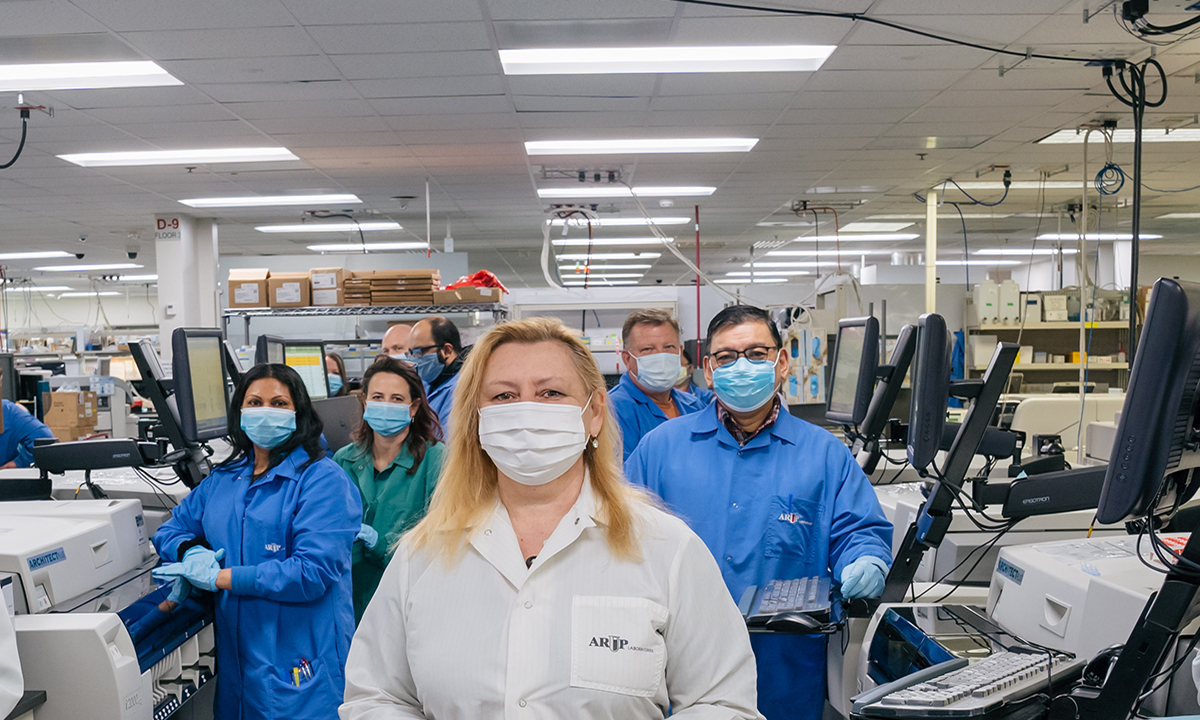 May 7, 2020
Patricia Slev, PhD, section chief of ARUP's Immunology Division, (center) will serve as ARUP's primary collaborator with researchers at the University of California, Los Angeles and the University of Iowa whose CDC-funded project seeks to reduce emergency department employees' risk of contracting COVID-19.
---
SALT LAKE CITY—ARUP Laboratories will play a key role in a CDC-funded project that aims to reduce the risk of COVID-19 infection in hospital emergency department workers nationwide.
ARUP's Clinical Trials group will perform molecular diagnostic and IgG antibody testing for the COVID-19 Evaluation of Risk in Emergency Departments (COVERED) project, which is a collaboration between the David Geffen School of Medicine at University of California, Los Angeles (UCLA), and the University of Iowa Carver College of Medicine.
UCLA announced that the CDC awarded it $3.7 million to fund the project, for which researchers will enroll up to 1,600 physicians, nurses, and others who work in hospital emergency departments at 20 academic medical centers across the nation. Over 12 weeks, participants will report their exposures to COVID-19 and regularly provide serum for antibody testing and swabs for molecular diagnostic testing that will be performed at ARUP.
UCLA's David Talan, MD, professor of emergency medicine and of medicine in UCLA's Division of Infectious Diseases, will lead the trial with co-principal investigator Nicholas Mohr, MD, vice-chairman for research in the University of Iowa's Department of Emergency Medicine.
The researchers hope to determine emergency department employees' risk for infection with COVID-19. They also hope they will learn which practices and personal protective equipment are most effective in mitigating the risk of infection for emergency department workers.
Patricia Slev, PhD, will serve as ARUP's primary collaborator with the research group, providing expertise and guidance on appropriate test use and result interpretation in the ever-changing landscape surrounding SARS-CoV-2 serology testing. Slev, section chief of ARUP's Immunology Division, led the development and implementation of COVID-19 antibody testing at ARUP.
"I am excited to collaborate with my colleagues at the CDC, UCLA, and the University of Iowa on this study because the results will provide invaluable information that will inform practice and have a profound impact on our frontline healthcare workers, who are critical to fighting the COVID-19 pandemic," Slev said.
The researchers sought out ARUP for assistance because of ARUP's broadly recognized expertise in laboratory medicine and its high-throughput COVID-19 testing capabilities, said Julio Delgado, MD, MS, ARUP's chief medical officer and director of labs. ARUP is a nonprofit enterprise of the University of Utah, and all of its medical directors are also professors in the U of U School of Medicine's Department of Pathology.
"We are uniquely positioned to work with clinical researchers on studies involving COVID-19 testing because we are able to pair the expertise of our medical directors with the robust technical and logistical capabilities of ARUP's national reference laboratory," added Jay Patel, MD, MBA, associate director of ARUP's Clinical Trials group. "We're excited to do our part to help increase medical knowledge of COVID-19 transmission and risk factors in the emergency department setting."
Delgado said the COVERED project is just one of a number of national COVID-19-related research projects in which ARUP's Clinical Trials group is involved. "Through its many academic affiliations and healthcare partnerships, ARUP is able to serve as a valued collaborator to help advance medical knowledge," he said.
About ARUP Laboratories
Founded in 1984, ARUP Laboratories is a leading national reference laboratory and a nonprofit enterprise of the University of Utah and its Department of Pathology. ARUP offers more than 3,000 tests and test combinations, ranging from routine screening tests to esoteric molecular and genetic assays. ARUP serves clients across the United States, including many of the nation's top university teaching hospitals and children's hospitals, as well as multihospital groups, major commercial laboratories, group purchasing organizations, military and other government facilities, and major clinics. In addition, ARUP is a worldwide leader in innovative laboratory research and development, led by the efforts of the ARUP Institute for Clinical and Experimental Pathology®. ARUP is ISO 15189 CAP accredited.
ARUP Media Contacts
Brian Jackson, MD, MS, ARUP medical director, brian.jackson@aruplab.com, 801-583-2787 ext. 3191
Lisa Carricaburu, ARUP managing editor, lisa.carricaburu@aruplab.com, 801-583-2787 ext. 3842