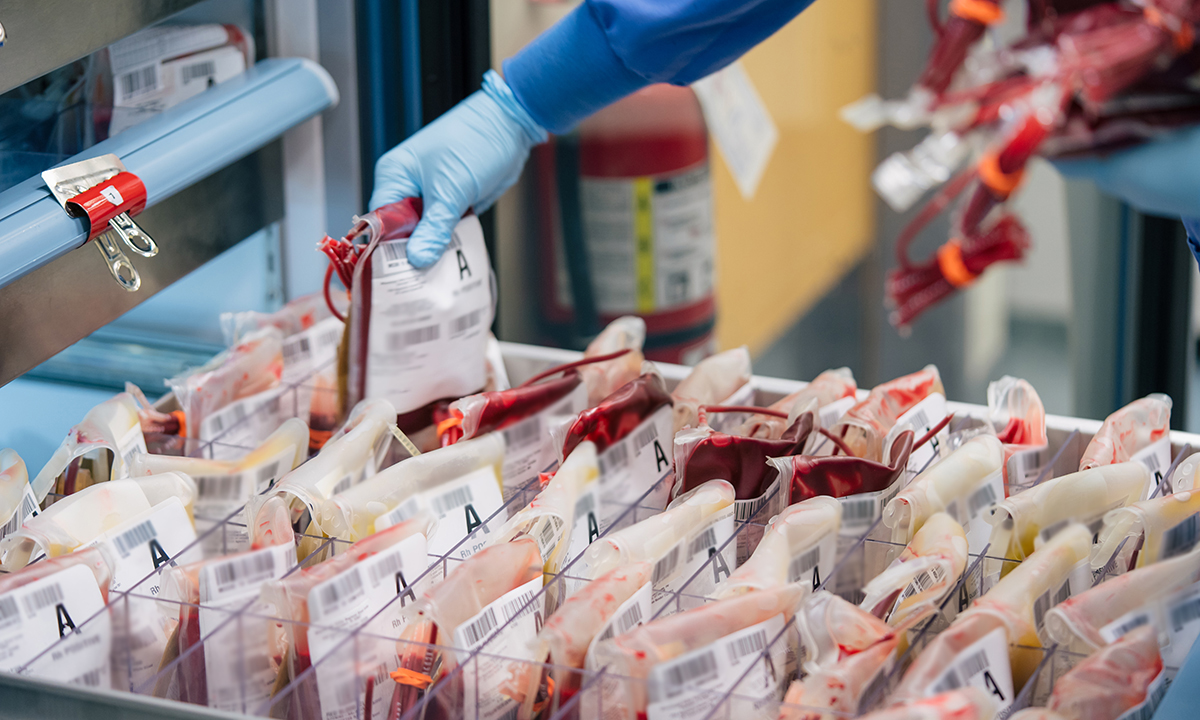 April 3, 2020
At the University of Utah Hospital, refrigerators are restocked daily and hold various types of donor blood products.
---
While most blood drives have been canceled, ARUP Laboratories' two blood donation centers have remained open.
ARUP has seen donations increase as more people have had time on their hands and have sought ways to help. At the same time, many elective surgeries have been postponed and people are avoiding hospital visits if they can.
"Right now, we have enough blood," said Kelly Cail, operations director of transfusion medicine at the University of Utah Hospital. "But donors need to remember this is a marathon, not a sprint."
She pointed out that it's important for the blood centers to have sustained donations, not just donations in times of emergency.
There are times when Utah hospitals desperately need more blood. For example, the need is high during the summer when the number of outdoor-related accidents increases.
Blood has a shelf life. Whole blood lasts about 35 days and platelets last for only five days. It takes careful coordination to keep the hospitals well stocked and to avoid expiration of donations. "It's always a balancing act meeting the blood needs at any given time; you don't want too much and you don't want too little," Cail explained.
While nonessential surgeries have been postponed, blood is still needed for trauma patients and those undergoing organ transplants, bone marrow transplants, or cardiac surgeries, and those with other conditions. The University of Utah Hospital is a Trauma 1 hospital and must maintain a supply of blood for major emergencies, such as a mass shooting or a natural disaster.
ARUP is the sole provider of blood for the University of Utah Hospital and clinics, Huntsman Cancer Institute, Shriners Hospital for Children, and the South Jordan Health Center.
ARUP's two donor centers, located in Sandy and in Research Park near the University of Utah, have taken steps to ensure donor safety during the COVID-19 outbreak. Appointments must be scheduled in advance. This allows for fewer people and more physical distancing within the donor centers. Donors are prescreened using a questionnaire to assess their health and exposure risk. Their temperatures are also checked.
"We really appreciate our donors—the repeat ones, and the new ones coming in," said Deborah Jordan, who helps oversee the blood drives. "We need them to continue to donate throughout the year, especially in those times when the blood supply is running low in our hospitals."
Peta Owens-Liston, Sr. Science Communications Writer