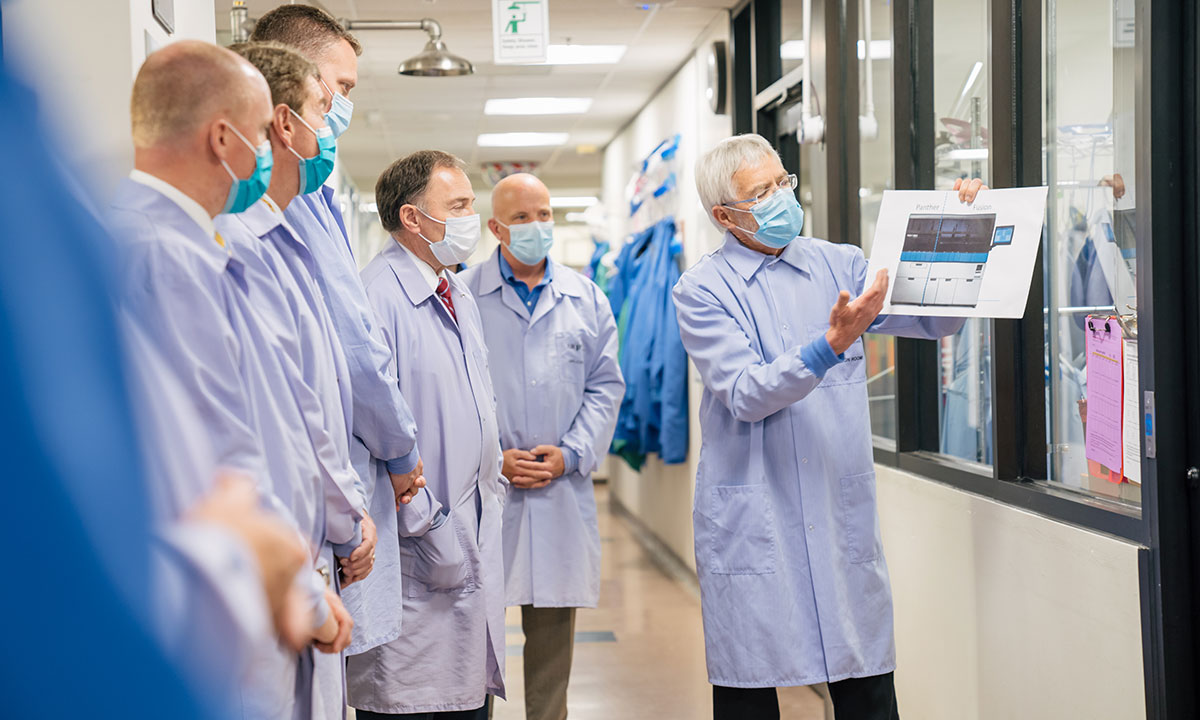 April 27, 2020
David Hillyard, MD, medical director of ARUP's Molecular Infectious Diseases Lab, explains instrumentation used for COVID-19 molecular diagnostic tests to (from right to left) ARUP President Andy Theurer, Utah Gov. Gary Herbert, Utah Public Safety Commissioner Jess Anderson, Maj. Gen. Jeff Burton, the leader of Utah's COVID-19 response, and Justin Harding, Herbert's chief of staff. The group toured ARUP labs that are performing COVID-19 testing.
---
SALT LAKE CITY—In the six weeks since ARUP Laboratories became the first clinical laboratory in Utah and one of the first in the nation to offer COVID-19 molecular diagnostic testing, ARUP has performed more than 40,000 tests in Utah alone and its tests have identified 55 percent of COVID-19-positive individuals in the state.
The laboratory, which is a nonprofit enterprise of the University of Utah, has the capacity to perform up to 4,500 diagnostic tests per day, and soon will be able to perform 7,500 tests daily as it continues to accept test orders from across the nation.
ARUP also is the first clinical lab in Utah and one of the first in the nation to offer COVID-19 antibody assays to test for exposure to SARS-CoV-2. Community hospitals, large health systems, academic medical centers, and other healthcare organizations in Utah and nationwide are sending their antibody testing to ARUP as they work in their communities to develop plans and surveillance programs that aim to safely get people back to work. ARUP expects it will soon be able to perform more than 30,000 antibody tests daily.
Although widespread supply shortages restricted the ability of all labs to meet the demand for COVID-19 testing early in the pandemic, "The perception that COVID-19 tests aren't available now isn't true," said ARUP CEO Sherrie L. Perkins, MD, PhD. "We have the capacity to do both diagnostic and antibody tests, and are committed to meet demand even as it grows."
"Utah is fortunate to be home to one of the nation's largest medical laboratories performing high-quality COVID-19 testing for patients in Utah and across the United States," Utah Gov. Gary Herbert said after touring ARUP today. "Widespread testing is a crucial part of our state's coronavirus response, and we're grateful for the capacity and expertise that ARUP brings to the table."
Well before the World Health Organization declared COVID-19 a pandemic, ARUP was developing diagnostic testing capability for SARS-CoV-2, drawing on the broad expertise of its medical directors, all of whom are also faculty members at the U of U School of Medicine. ARUP's laboratory scientists already had experience with the U.S. Food and Drug Administration's Emergency Use Authorization process required for the development of COVID-19 tests because they followed the process to develop tests for the Zika virus in 2016 and H1N1 in 2009.
As an academic reference lab, ARUP develops dozens of new tests each year, applying rigorous standards that include careful validation of each test to ensure results will be accurate before any individual is tested.
"We developed COVID-19 testing on an accelerated schedule, but did so without skipping a single step," said David Hillyard, MD, medical director of ARUP's Molecular Infectious Diseases Lab. "Throughout all phases of testing, we worked closely with state and local laboratories to help us achieve a high-capacity, high-quality testing capability."
In addition to COVID-19 diagnostic and antibody tests, ARUP's menu of more than 3,000 tests includes other assays that are proving to be useful during the COVID-19 crisis. In recent weeks, ARUP has seen orders for cytokine testing increase more than 20-fold. Providers are ordering the test as they consider how to treat a serious hyperimmune reaction that occurs in some patients with COVID-19.
Through its Clinical Trials team, ARUP is also participating in a number of clinical trials for possible COVID-19 treatments. These include clinical trials underway at the U of U and Intermountain Healthcare as well as nationally. In addition, ARUP will play a key role in a large study planned to determine the prevalence of SARS-CoV-2 infection in the state of Utah.
"Through our academic affiliations and many healthcare partnerships in Utah and nationwide, ARUP is uniquely positioned to help halt COVID-19 from all angles," said Julio Delgado, MD, MS, ARUP chief medical officer and director of laboratories. "We know testing, and we're committed to remain a leading source of all COVID-19-related tests."
About ARUP Laboratories
Founded in 1984, ARUP Laboratories is a leading national reference laboratory and a nonprofit enterprise of the University of Utah and its Department of Pathology. ARUP offers more than 3,000 tests and test combinations, ranging from routine screening tests to esoteric molecular and genetic assays. ARUP serves clients across the United States, including many of the nation's top university teaching hospitals and children's hospitals, as well as multihospital groups, major commercial laboratories, group purchasing organizations, military and other government facilities, and major clinics. In addition, ARUP is a worldwide leader in innovative laboratory research and development, led by the efforts of the ARUP Institute for Clinical and Experimental Pathology®. ARUP is ISO 15189 CAP accredited.
ARUP Media Contacts
Brian Jackson, MD, MS, ARUP medical director, brian.jackson@aruplab.com, 801-583-2787 ext. 3191
Lisa Carricaburu, ARUP managing editor, lisa.carricaburu@aruplab.com, 801-583-2787 ext. 3842
For photos or video footage of COVID-19 testing at ARUP, send an email to media@aruplab.com.