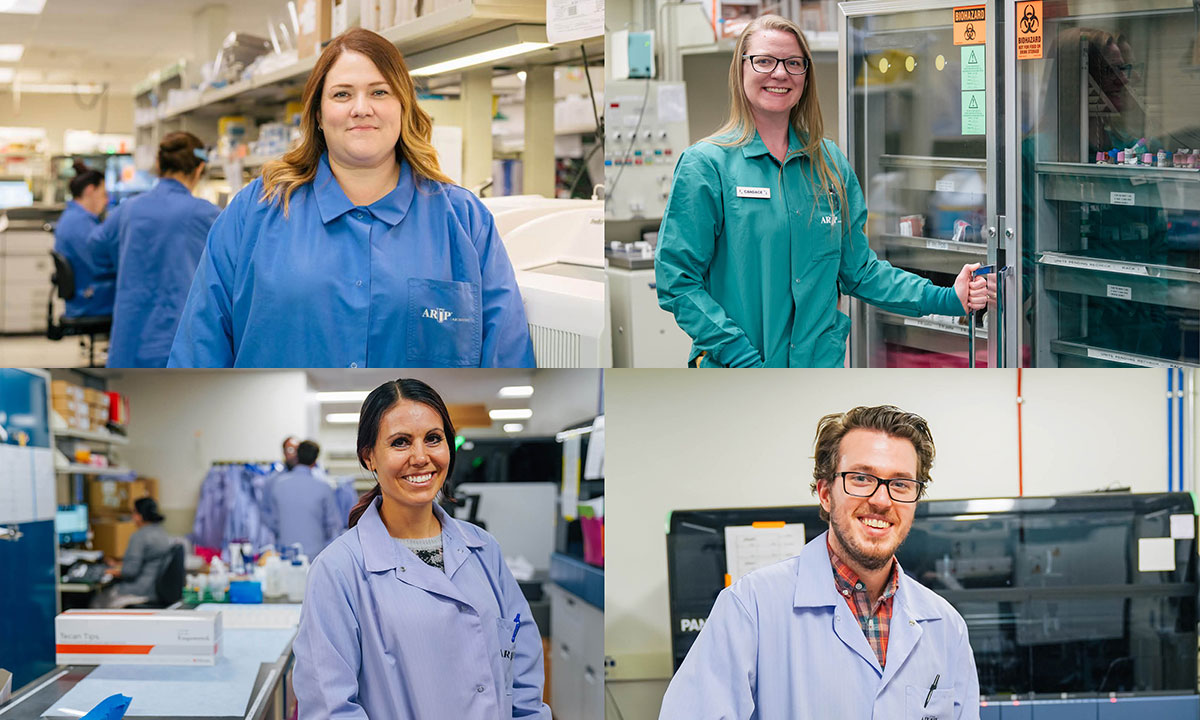 April 20, 2020
Not All Heroes Wear Capes
As part of National Medical Laboratory Professionals Week April 19-25, ARUP will profile laboratorians to help celebrate the meaningful and important work medical laboratory scientists do each day to benefit patients.
---
Hands-On Work and High Demand in the Lab Performing Cytokine Testing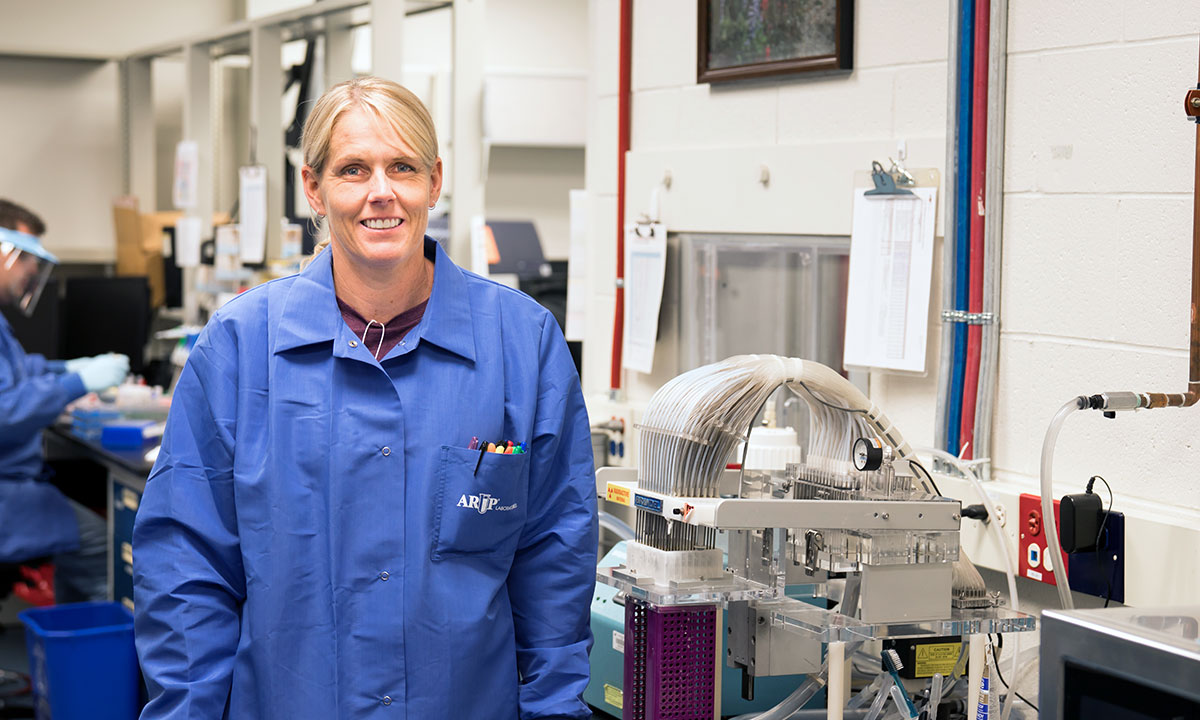 Sue Cummings
Medical Laboratory Scientist in the Cellular and Innate Immunology Lab
Sue Cummings had a zoology degree in 2005 when she took a job in the Cellular and Innate Immunology Lab at ARUP. "My plan was to work there until I could figure out what I wanted to be as an adult," she says.
ARUP's patient-centered corporate culture kept her in the lab. She says she also enjoys the hands-on quality of lab work, its predictability, and the autonomy of bench work.
After joining ARUP, Cummings earned her immunology certification and then took advantage of the company's tuition reimbursement program to earn a medical laboratory science (MLS) degree. Although Cummings has had the opportunity to move up to new positions, she has opted to stick with lab bench work and avoid the prospect of paperwork.
She says it can be hard to understand what a laboratorian does all day. "My kids imagine I'm surrounded by bubbling beakers and microscopes," says Cummings, with a laugh. Now that testing has been in the news so much, her kids and husband are expressing more curiosity about her profession.
The immunology lab is where cytokine testing is performed, including tests that detect interleukin 6 (IL-6) cytokines. Orders for IL-6 cytokine testing have climbed from an average of 500 a week to more than 7,000 a week. "It's been insane. Since January we have started seeing an increase in this test from all over the country," says Cummings. "We've had to pull people in from other labs to help us keep up."
More physicians are ordering these tests for patients who have had a severe response to COVID-19 and developed what is referred to as a "cytokine storm," in which the immune system goes into overdrive, attacking the organs.
Because IL-6 cytokines have been in the news, "It has certainly made my husband more interested in the type of testing I do," says Cummings. "We were an obscure part of the health system, now people are really seeing the role testing is playing. It's pretty cool."
Antibody Detectives Play an Important Role During Pandemic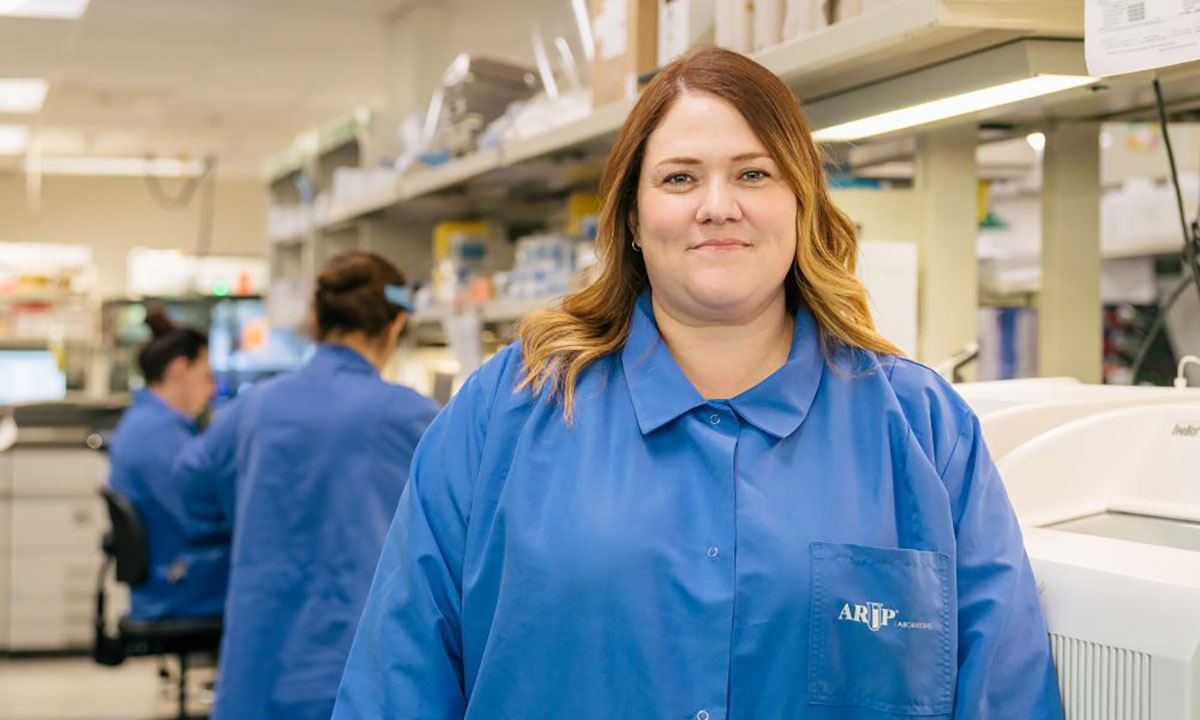 Katie Olson
Supervisor in the ARUP's Microbial Immunology 1 Lab
Fifteen years ago, when Katie Olson worked for a veterinarian, she got to know the microbiologist who picked up the lab specimens and told her more about the laboratory profession. Olson then pursued an undergraduate and master's degree in medical laboratory science (MLS). "The minute I stepped into the lab, I didn't want to leave," recalls Olson.
"I'm the type of person who loves the medical sciences and helping people, but it would be too stressful for me to work directly with patients," says Olson, who is now the supervisor of the Microbial Immunology 1 Lab. "This is perfect for me, being behind the scenes but still helping people."
Olson supervises a staff of 30, half of whom are technicians and the rest of whom have MLS or other scientific degrees. Her team performs mostly tests that detect antibodies linked to infectious diseases, e.g., Zika, dengue, chikungunya, West Nile virus, and Lyme disease. The tests look for IgM antibodies. These are the first antibodies produced by the body and they usually show up within a week of the infection. The lab also performs IgG antibody tests, which can detect past or chronic infections.
Initially, specimen volumes fell in the lab as healthcare providers halted all nonessential services including lab tests as the COVID-19 virus spread. Now Olson's team is ramping up to perform COVID-19 antibody tests. "My whole team is excited to jump in and get to work. They want to contribute to help our country during these times."
The attention drawn to laboratory testing during the novel coronavirus pandemic is bringing lab professions out of the shadows of healthcare
"Now when people get their blood drawn, they will realize that someone is testing it," Olson said. "They will realize it's not the doctor, or the nurse, but that there is someone else involved in your care. That's us."
Blood Component Specialists Thrive on Teamwork and Adrenaline in the Hospital Lab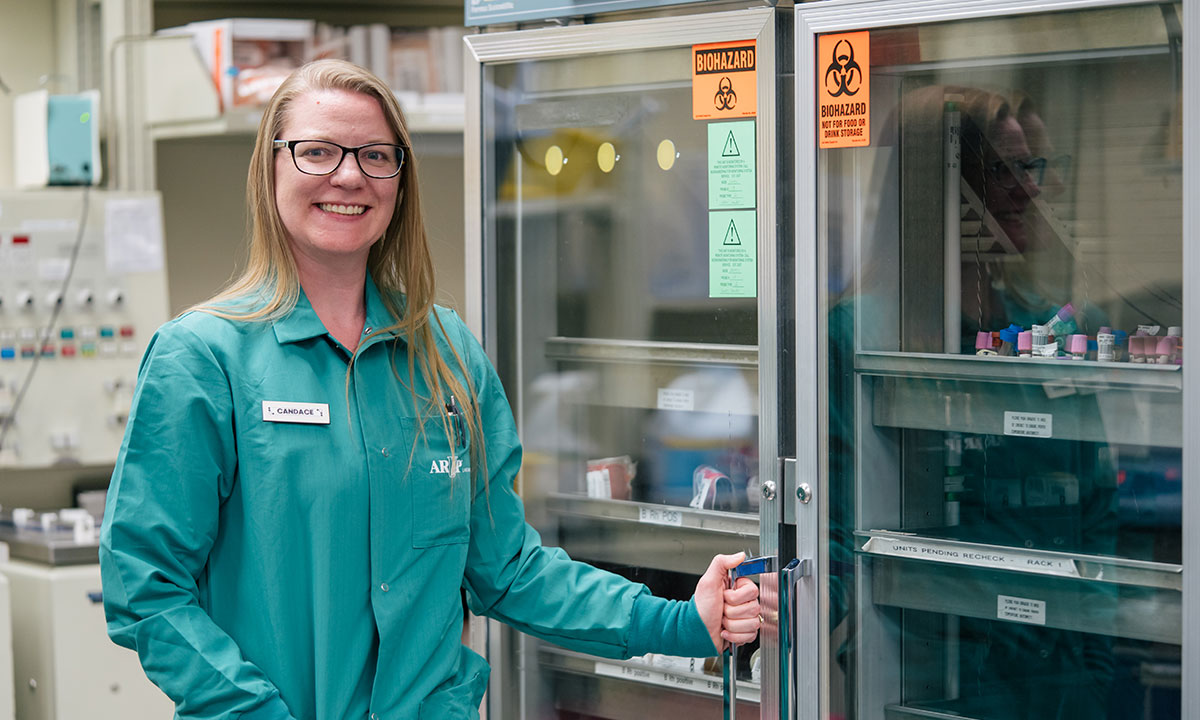 Candace Thomas
Blood component specialist & workflow coordinator, Transfusion Services
"You have to be an adrenaline junkie to work here," says Candace Thomas, who has worked as a blood component specialist (BCS) for 19 years in ARUP's Transfusion Services lab at the University of Utah Hospital. "There isn't any other job like this out there. It's never routine."
Thomas, who has an English degree (and has published a series of fantasy books), fell into blood banking, spent five years as a trainer, and is now the workflow coordinator. She learned everything on the job.
People come from all backgrounds, not just science, to work as BCSs. People pursuing medical laboratory science (MLS) degrees often fall in love with this work when they do a blood bank rotation.
In job candidates, Thomas looks for strong team players who are patient-care oriented and can work efficiently under high pressure. "When a trauma comes in and we have five minutes to get blood prepared, we turn into an organized beehive," Thomas says. BCSs must prepare other blood components in trauma cases—like plasma, for example, which takes 25 minutes to thaw. Investigative skills are also key to team members in Transfusion Services, who must ensure that all patients are receiving blood that is safe for them.
Although essential surgeries and cancer treatments continue, the COVID-19 crisis has cast a stillness over the lab, and over the entire hospital. "It's like winter and everyone has gone inside," Thomas says. "It's kind of eerie how quiet it is."
She notes that while everyone is on high alert and anxious, there is also a camaraderie too. "Everyone is under the same pressure, even if they aren't in your department. I see kindness. And I see people all around me becoming superheroes."
Certified Technologist Specialist Ensures Testing Instrumentation Runs Smoothly for COVID-19 Testing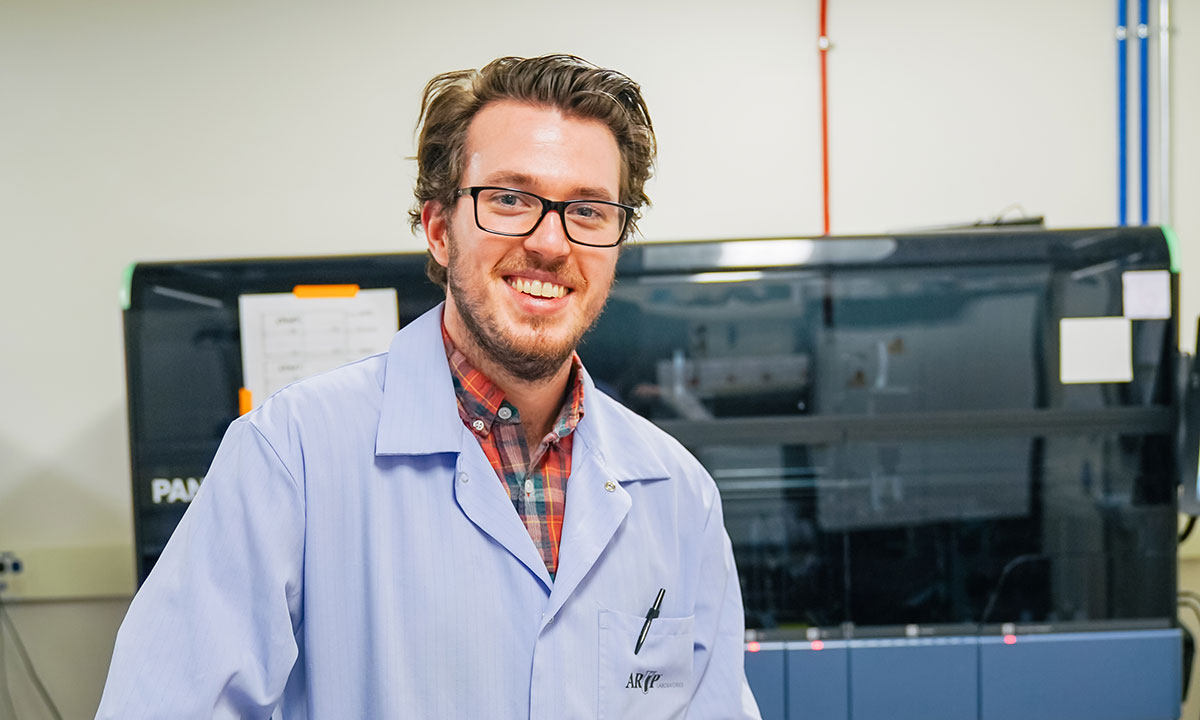 Chris Burns
Certified technologist specialist in ARUP's Molecular Infectious Disease Lab
Chris Burns has learned to be responsive in his role as a certified technologist specialist in ARUP Laboratories' Molecular Infectious Disease Lab. That ability was never more important than when he and his colleagues learned that they had five days to bring ARUP's COVID-19 molecular diagnostic test online.
One of the two instruments used to run the test at the time was down.* "Our entire ability to run the COVID test was banking on getting this fixed," Burns recalls. It was a Friday; the test would go live Monday. Burns, along with a Hologic technician, worked until midnight, then Burns worked through the weekend.
"I wasn't alone. A whole bunch of us were here and sharing the load." That weekend, his team received training on using the new reagents for the test. "These reagents were precious, like gold," Burns says. "The shipping folks would look for the labels and immediately bring the packages directly to us."
"My dad keeps saying, 'You're right at the epicenter of all this. You should take notes. You could write a book about this one day,'" Burns says with a shy smile. "It does feel good to be making a difference. The better we do, the better everyone is going to do."
*ARUP currently has five instruments running COVID-19 tests and the capacity to perform more than 4,600 tests a day.
Teaching Specialist's Skills in High Demand as Work Shifts to Support COVID-19 Testing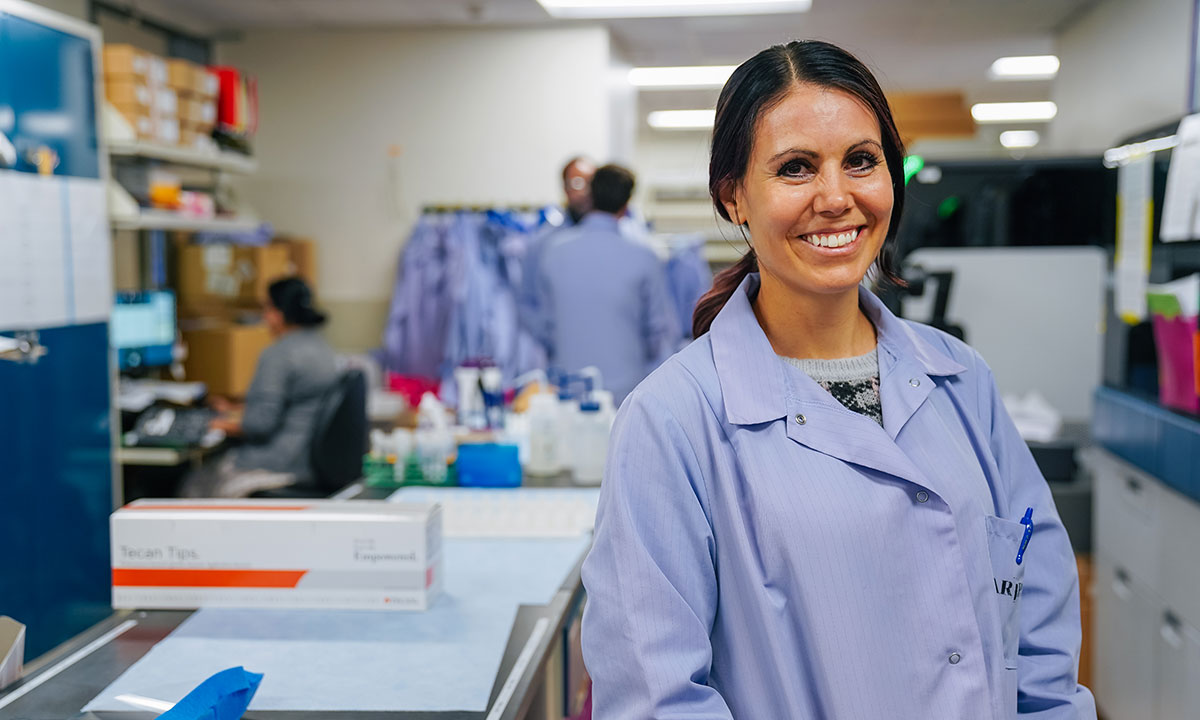 Emilee Hanney
New York-qualified medical laboratory science specialist in ARUP's Molecular Infectious Disease Lab
At first, Emilee Hanney wanted to be a math or physics teacher. Then, one semester shy of earning a degree in microbiology, she learned about a medical laboratory science program. Fast forward 15 years, and Hanney is now a medical laboratory scientist and a teaching specialist in ARUP's Molecular Infectious Disease (MID) Lab. "I guess you could call it coming full circle," Hanney says. "I love helping people understand things."
Hanney's teaching skills were in high demand when thousands of COVID-19 specimens started pouring into the MID lab in mid-March.
"My workload exploded," says Hanney, who started working 50 to 70 hours a week to train volunteers from other labs and departments at ARUP so they could assist with COVID-19 molecular testing. "I was hyperfocused on just getting people up and running so they could start performing the tests," Hanney recalls. "The energy and excitement they brought with them into the lab was impressive."
All the media coverage around COVID-19 testing has placed a spotlight on laboratory medicine as a profession. Now, when people ask Hanney if she works in a lab and does COVID-19 testing, she catches their attention.
"I'm kind of a big deal now," Hanney says, adding that a lot of her coworkers consider themselves to be introverts and never anticipated so much recognition. "But honestly, it feels good to be noticed and for people to know that what we are doing is good for society—it's kind of a boost."