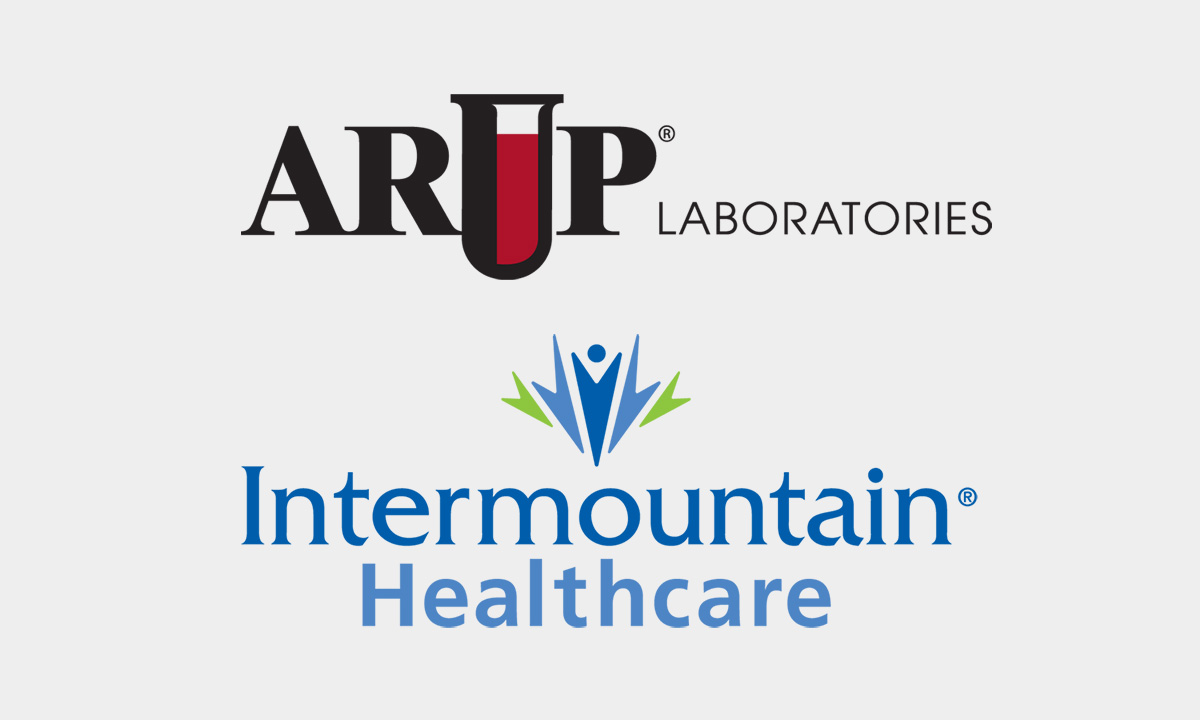 March 31, 2020
SALT LAKE CITY – As the state of Utah continues to expand testing to halt the spread of COVID-19, its two largest laboratory services providers are reaffirming their commitment to work together to meet all of the state's COVID-19 testing needs.
ARUP Laboratories and Intermountain Healthcare Laboratory Services have long collaborated to advance laboratory medicine in Utah and the region. During the current global medical emergency, the two Utah-based laboratories continue to team up to provide timely and accurate COVID-19 testing services.
"In this time of extraordinary pressure on our health systems, we're fortunate to have the partner we have in Intermountain," said Sherrie L. Perkins, MD, PhD, CEO of ARUP. "We are able to support one another and benefit from our combined strength to ensure the best patient care for the people of Utah and our region."
"ARUP and Intermountain have been able to work together in a seamless partnership with the Utah Department of Health to ensure the best response possible to the COVID-19 crisis," said Paul Urie, MD, PhD, medical director for Intermountain Laboratory Services.
"The COVID-19 pandemic has reinforced the value of our partnership as we've responded together to meet the needs of our community even when faced with this medical challenge and an earthquake," said Mikelle Moore, Intermountain senior vice president and chief community health officer. "Our shared focus remains steadfastly on our patients."
ARUP is a nonprofit enterprise of the University of Utah and performs COVID-19 testing for University of Utah Health and other ARUP clients in Utah. Intermountain Laboratory Services is also a nonprofit and provides COVID-19 testing for all Intermountain Healthcare facilities.
"ARUP and Intermountain are united in our goal to make sure everyone in Utah who needs a COVID-19 test gets tested," Perkins said.
About ARUP Laboratories
Founded in 1984, ARUP Laboratories is a leading national reference laboratory and a nonprofit enterprise of the University of Utah and its Department of Pathology. ARUP offers more than 3,000 tests and test combinations, ranging from routine screening tests to esoteric molecular and genetic assays. ARUP serves clients across the United States, including many of the nation's top university teaching hospitals and children's hospitals, as well as multihospital groups, major commercial laboratories, group purchasing organizations, military and other government facilities, and major clinics. In addition, ARUP is a worldwide leader in innovative laboratory research and development, led by the efforts of the ARUP Institute for Clinical and Experimental Pathology®. ARUP is ISO 15189 CAP accredited.
About Intermountain Healthcare
Intermountain Healthcare is a system of 24 hospitals, 215 clinics, a Medical Group with 2,500 employed physicians and advanced practice clinicians, a health insurance company called SelectHealth, and other health services in Utah, Idaho, and Nevada. Intermountain Healthcare is widely recognized as a leader in transforming healthcare by using evidence-based best practices to consistently deliver high-quality outcomes and sustainable costs.
Intermountain Laboratory Services is the laboratory provider for all Intermountain hospitals and clinics, as well as hundreds of affiliated partners in Utah. Intermountain also serves as a reference lab to facilities in Idaho, Nevada, Wyoming, and other states in the Mountain West.
ARUP Media Contact
Brian Jackson, MD, MS, ARUP medical director, 801-583-2787 ext. 3191
Intermountain Healthcare Media Contact
Daron Cowley, media relations director, 801-442-2834