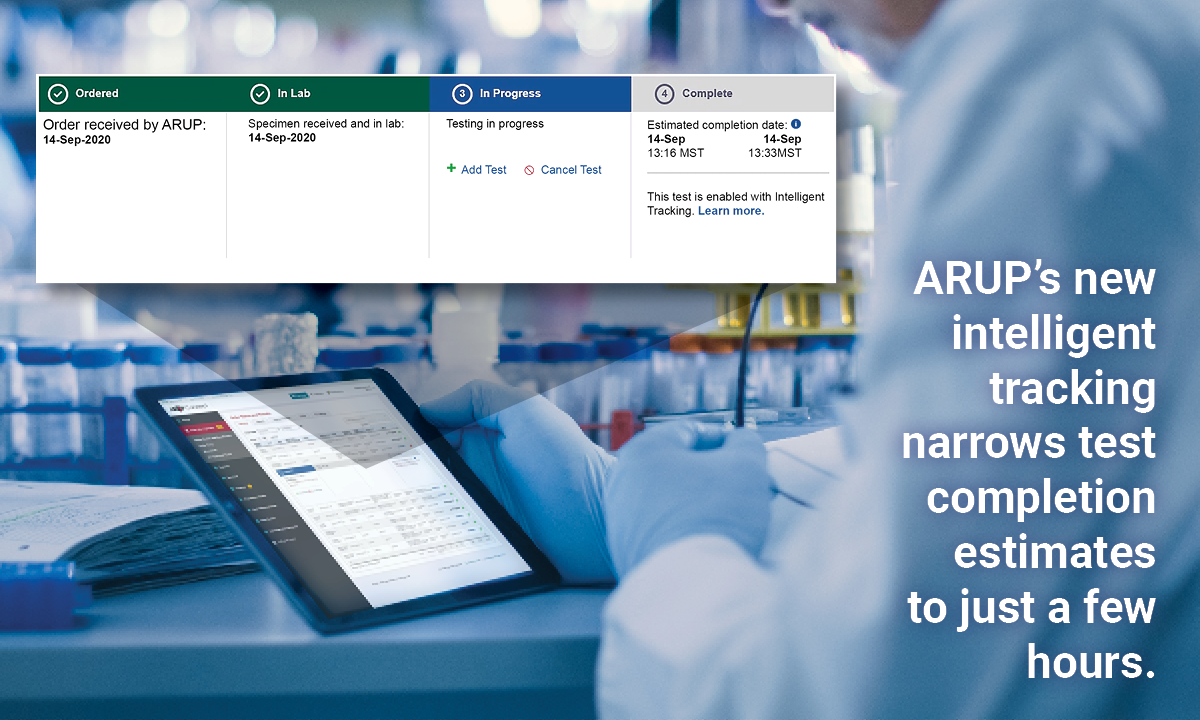 February 26, 2021
Thanks to new intelligent tracking technology, ARUP clients now have access to a new digital tool to more accurately predict when COVID-19 test results will be available.
The tool, available to clients who use ARUP Connect to order, track, and obtain results for COVID-19 tests, offers a dynamic estimated range based on hourly updates from machine-learning algorithms. This means that clients no longer have to rely solely on published turnaround times to estimate when they will get results. The tool has the potential to narrow that time frame down to just a few hours.
"Our aim was to identify and remove barriers that hindered our clients and improve their ability to contribute to the care team with on-demand information," said Parker Davis, ARUP informatics product manager.
The tool makes it possible for hospital lab staff to access specific, detailed information online and to respond more quickly and efficiently to a physician's questions about lab results. This not only lessens uncertainty while waiting for test results, but it also reduces the need to call ARUP for information, saving lab staff time and decreasing their workload.
Intelligent tracking is just one of several tools that ARUP has released recently to make processes more efficient. For example, ARUP released the population health test worklist, a report that filters out positive and negative COVID-19 results to help facilitate rapid communication and preventative actions. Another tool, Connect Single Sign-On, eliminates the need for Connect users to maintain an additional HIPAA-compliant password, and at the same time, improves data security.
Although many of these tools were already in development before the pandemic, ARUP teams accelerated their release to help alleviate COVID-19-related stressors.
"As we listened to our clients express their difficulties, we realized that many of their challenges resulted from problems that already existed in day-to-day workflows, but COVID-19 compounded them exponentially," said Steven Bulkley, manager of ARUP Informatics Product Management.
Intelligent tracking, which launched in October 2020, is an enhancement to ARUP's original tracking system, which launched in October 2018. Since its initial 2018 release, the tracking system has been accessed more than 36,000 times per month, on average.
"These numbers demonstrate the need for information that's more accessible, more expedient. Our strategic focus is always to highlight our lab partners as valuable members of the care team by enabling them to provide information for effective clinical decisions," Davis said. "We are committed to improving our products and solutions based on client needs and feedback." In addition to providing estimates for completion times, lab staff receive a push notification as soon as COVID-19 testing results are available, giving them more instant access to critical information.
Intelligent tracking proved crucial at a time when hospital systems relied on accurate, timely information as they dealt with the backlog of cases still prevalent since the March shutdown. Clinicians were able to utilize the more accurate estimates provided by intelligent tracking to navigate a scheduling nightmare.
"Tools like intelligent tracking offer significant clinical value because patient care relies on fast turnaround times to make clinical decisions and start treatment. By making it possible for hospital labs to access that information almost instantly, we have an opportunity to improve patient care," said Brian Jackson, MD, medical director of Support Services, Business Development, and IT.
Although the intelligent tracking is currently only available for COVID-19 testing, ARUP is already looking to expand this predictive capability to include other tests, as well as add features that will enable labs to automatically send results by fax and email to clinicians as soon as they are available.