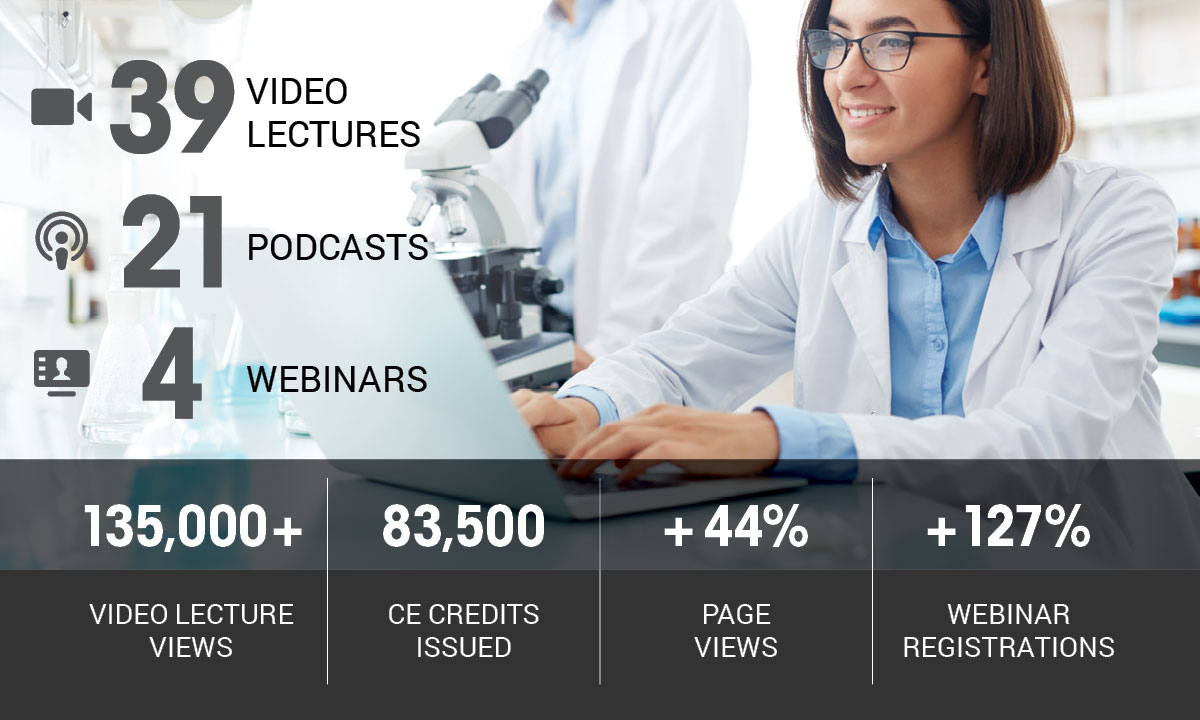 February 16, 2021
In 2020, medical professionals visited the ARUP Institute for Learning (IFL) education website in record number to complete their continuing education (CE). The IFL worked with ARUP's over 90 medical directors and faculty, as well as guest lecturers, to create new CE courses every month, resulting in hundreds of thousands of page views in 2020.
IFL Year in Review
Last year, the IFL team published 39 new video lectures and 21 podcasts and held four webinars. In addition, the IFL hosted the annual Park City Anatomic Pathology Update CME course in February. Much of the published IFL content related to COVID-19. These educational offerings were participated in, listened to, and viewed by professionals worldwide, as far north as the United Kingdom and as far east as Japan.
An analysis showed the following increases in IFL's 2020 web traffic compared to that of 2019.
83,500 CE credits issued (74% increase)
135,000+ video lecture views (41% increase)
44% increase in page views
127% increase in webinar registrations
IFL in 2021
The IFL's education website has provided free CE content for ARUP clients, laboratory professionals, and industry organizations for the past 12 years and will continue to develop new materials to assist with the advancement of laboratory medicine and patient care in 2021. Every course, podcast, webinar, and video lecture is created with the expert guidance of medical leadership within ARUP Laboratories and the University of Utah School of Medicine Department of Pathology. These resources are invaluable for medical professionals who need annual CE credits. 2021 is expected to be another great year for education, thanks to the outstanding work of the IFL team and ARUP's medical directors and faculty.