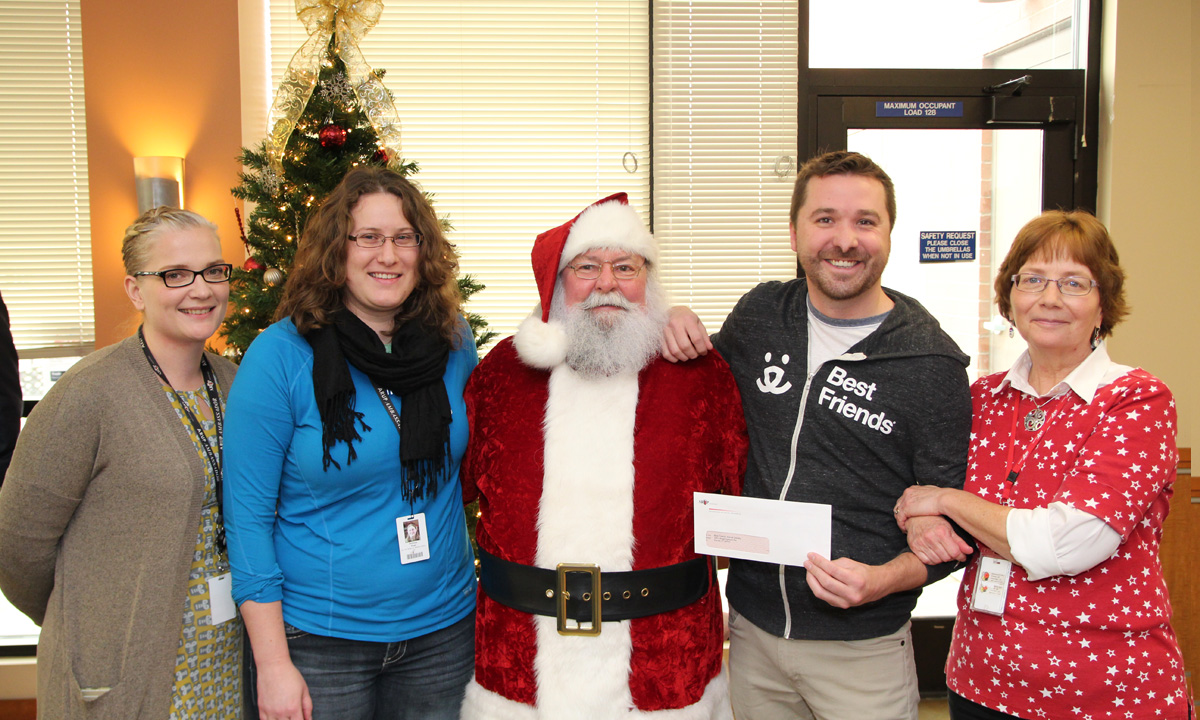 December 18, 2015
---
"Organizations like ARUP Laboratories help us keep our lights on and our doors open," said Nathan Meason of Best Friends Animal Society, who admitted how thrilled his colleagues were at being selected as one of the ARUP's ambassador charities for 2015.
This annual act of generosity by ARUP employees (through payroll deduction) resulted in more than $19,000 for three selected charities, including The Maliheh Free Clinic and Habitat for Humanity, plus $13,000 for United Way and more than $5,000 for the University Hospital Foundation, both ongoing recipients of ARUP employee donations.
"The donation from ARUP is especially meaningful to the University Hospital because it comes directly from ARUP employees," says Chris Nelson, the executive director of the University Hospital Foundation. "Philanthropic support of the hospital through the foundation is critically important because it provides funding for services that otherwise would not be possible." This year, ARUP's gift will help send eight burn survivors to a summer camp that the U of U Burn Center operates as part of the healing process.
ARUP ambassadors, drawn from individuals who have received recognition within the company as employee of the month or supervisor of the quarter, vote on three organizations to support for a two- year period. On December 2 in ARUP's cafeteria, Santa Claus joined three of ARUP's ambassadors (Amy Stradley, Susan Reese, and Melissa Post) in gifting checks to each organization's representative.
"I am in awe of your employees' willingness to give back," said Jeanie Ashby of the Maliheh Free Clinic, which provides medical care for underserved and un-insured populations "It's especially touching to us because [ARUP employees] work in the medical field and, like most of us, probably have modest incomes. Yet they give back." The money will help the clinic buy supplies to help care for their current 6,000 patients.
"The majority of our donations come from organizations such as ARUP Laboratories," said Greg Summerhayes of United Way. "It is the people at places like ARUP who allow us to expand our reach, which this year entails a big emphasis on strong preschool education for more kids."
ARUP ambassadors serve for one full calendar year and, in addition to creating charitable opportunities for employees, provide ARUP leadership feedback on how certain policies, programs, and activities will affect employees and be received.
By Peta Owens-Liston, ARUP Science Communications Writer