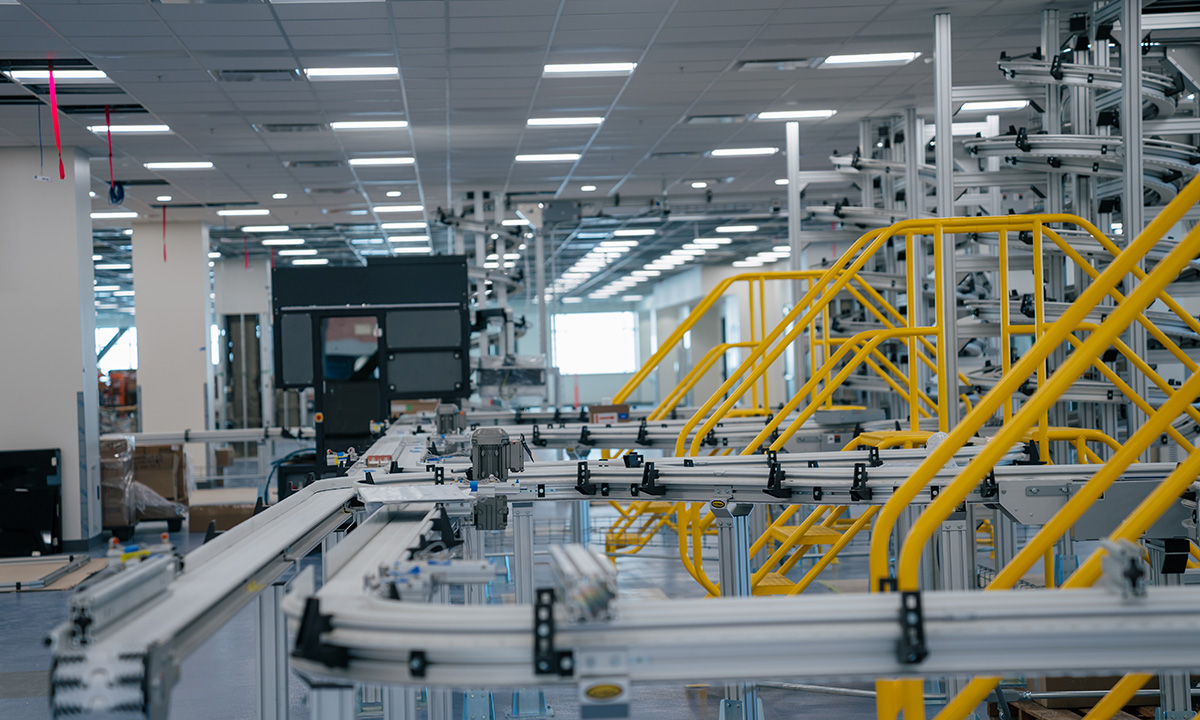 December 17, 2020
ARUP's new automation system was custom designed to increase efficiency and ensure specimens are quickly and accurately processed.
---
ARUP Laboratories' new 220,000-square-foot, state-of-the-art facility will feature an advanced automation track that spans two separate buildings and travels up and down three floors in total. Specimens are sorted to different areas of ARUP for testing as they travel along the track.
To create this extensive track, ARUP's team solved a 3D puzzle of real-life proportions, placing each intricate piece with precision while custom designing machinery and products, testing prototypes, and juggling a variety of vendors, contractors, and manufacturers, all working on separate pieces of the puzzle.
"It's been a whirlwind to organize so many moving parts and groups of people. The project has required an ability to shift on the fly and pivot as needed," said Adam Christensen, ARUP technical project manager in Support Services. "Throughout this process, our focus has been to design the shortest, most efficient system possible to ensure specimens are quickly and accurately processed and routed."
Optimized Space for Optimal Results
At about 1.4 miles long, the new conveyor will carry specimens at speeds of 90 feet per minute.
Those who want to see it in action will need to look up. The conveyor travels largely overhead, leaving critical floor space available for other uses. Giant spirals and elevators will transport boxes and specimens vertically, carrying them from the track above to the ground as well as between floors.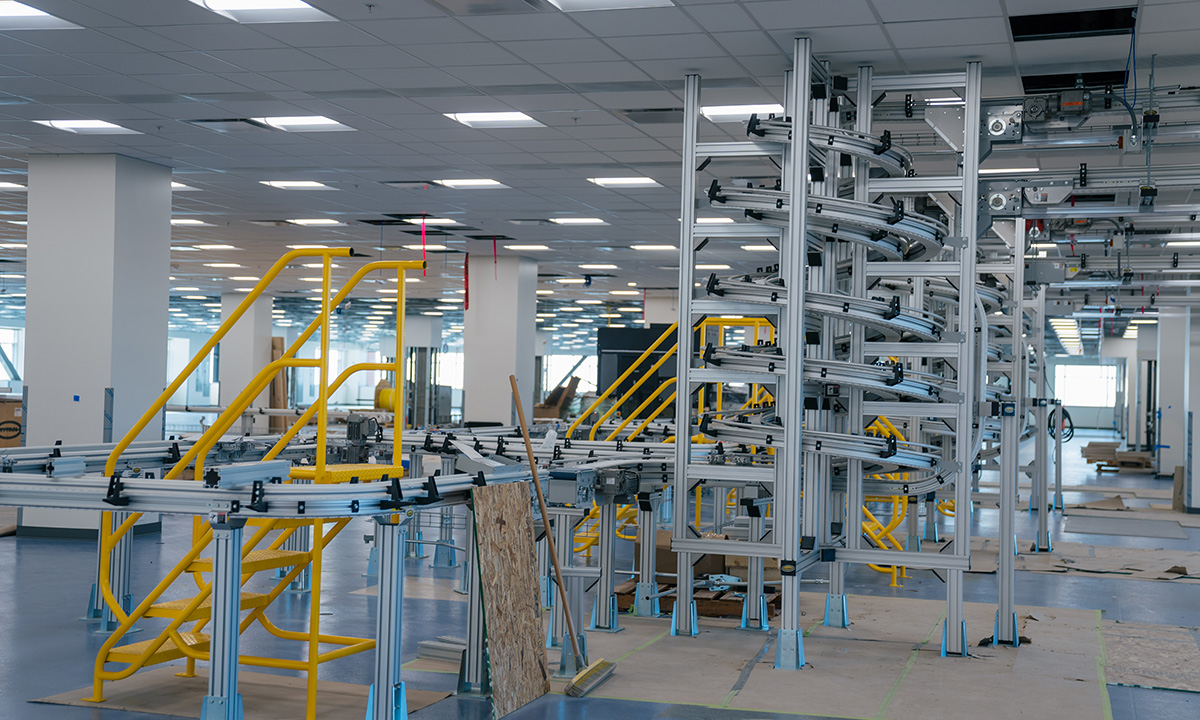 "In the existing building, we are landlocked by a conveyor system at ground level, which creates limitations. Now we will have more flexibility to determine how we grow and use space in the future," Christensen said.
The design has intentionally left room to add equipment and stations to accommodate future growth. As ARUP has expanded operations over the past two decades, Specimen Processing has outgrown the space available in the current building, spilling out into multiple areas. Consolidating Specimen Processing into a single area will allow ARUP to streamline processes, reducing time and distance that specimens need to travel.
In addition to more space, the new system will also improve specimen tracking. The specimen racks will be labeled on all four sides so they can be located at any point along the track. By using a software program designed alongside the new automation, laboratories will be able to query the specific location of sorted specimens and locate the specimen anywhere on the conveyor.
"Our advanced automation has already allowed us to achieve Six Sigma standards, particularly in lost specimens. The increased trackability of the new automation will only further improve our track record," said ARUP Operations Director Clint Wilcox, who has overseen the project.
The new conveyor design will also automate the transport of specimen types that arrive in a variety of containers that currently cannot be placed on the track. Previously, these nonstandard containers were collected and delivered manually.
"Optimizing our processes in ways that solve some of these inefficiencies will benefit our clients," Wilcox said. "Everything we can do more efficiently and accurately will improve turnaround times and specimen tracking."
Custom Design from Track to Tote
So much detail has gone into this automation design that the customization extends beyond the space, conveyor, and process. Even the specimen carrier bins ARUP refers to as "totes" were custom designed to meet the very specific challenges of conveying temperature-sensitive specimens.
"There were many nuances in the design of the totes regarding what we wanted them to handle and how we wanted them to interact. We couldn't find a tote that met our needs, so we designed our own tote and worked with a partner to manufacture them," Christensen said.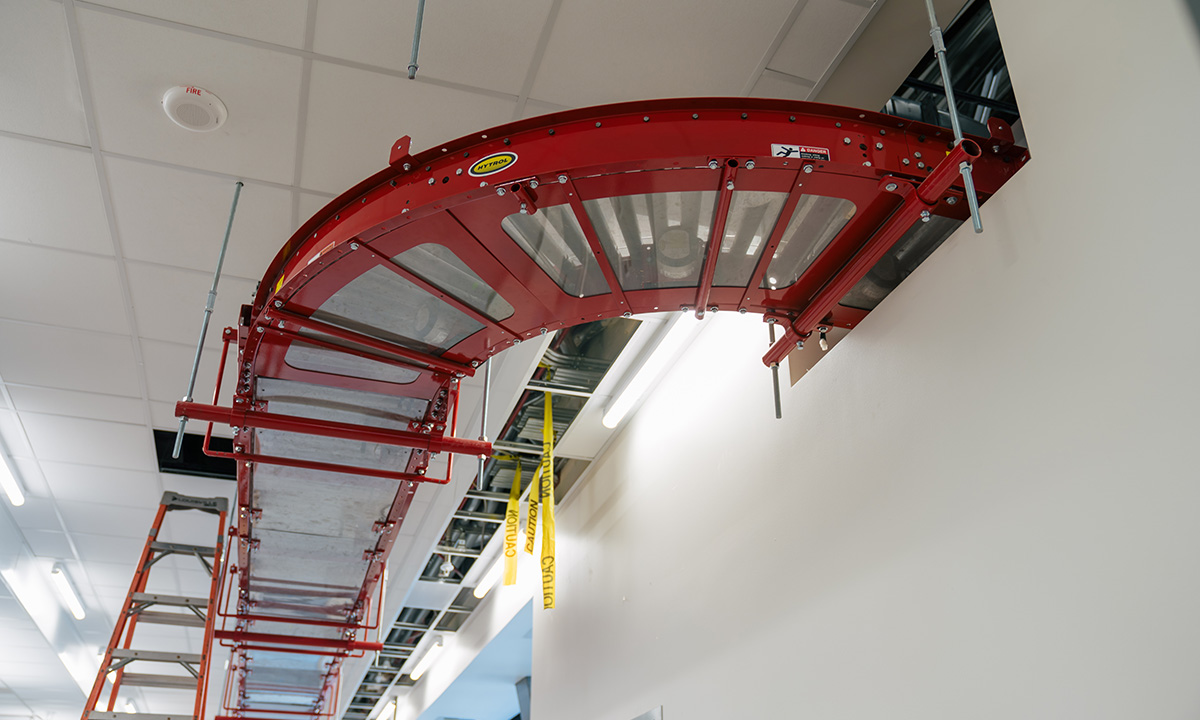 To build prototypes of the totes, Christensen turned to his favorite hobby, 3D printing, which proved instrumental in accelerating the pace of an already time-consuming and involved project that lasted more than 8 months. Rather than waiting for prototypes from the vendor, Christensen's team was able to print prototypes, make modifications on the spot, and then test them on the scaled model built in the automation shop.
In addition to the totes, ARUP has also designed some of the machinery along the automation track, such as the binders that transfer specimens from the delivery conveyor racks to individually tracked magnetic pucks that travel along the MagneMotion track to the high-speed robotic sorting machines.
"The effort that has gone into designing every detail of this automation demonstrates what lengths ARUP will go to in order to deliver patient results," Christensen said.
The Next Phase: Bringing the Design to Life
As the building nears completion and parts of the automation are installed, Wilcox's teams are preparing for the next stage of development: moving the track from design to operation.
"I'm excited to see the design we've so carefully constructed become reality, but we are not at the end. We are entering the next challenging phase. Everything looks straightforward on paper, but you realize the nuances once you begin testing," Wilcox said.
The process of transitioning the automation from the old building to the new one will take approximately two months. Wilcox's teams will need to dismantle the existing automation and reassemble it in the new building without slowing down specimen testing. To facilitate the transfer, they have expanded the Sort to Light, an original system designed by ARUP that allows staff to sort specimens manually using color-coded scanners, by 50% to handle the increased number of specimens that will need to be sorted manually during the transfer.
Wilcox plans to have the automation operating by spring of 2021. Once live, the automation will set the stage for ARUP to process, transport, and sort specimens more efficiently than ever before.
"We are building a framework for the future. This automation will allow ARUP's magnificent growth to continue and will serve as the foundation for new systems and concepts with the potential to transform our processes." Wilcox said.
Kellie Carrigan, Science Communications Writer