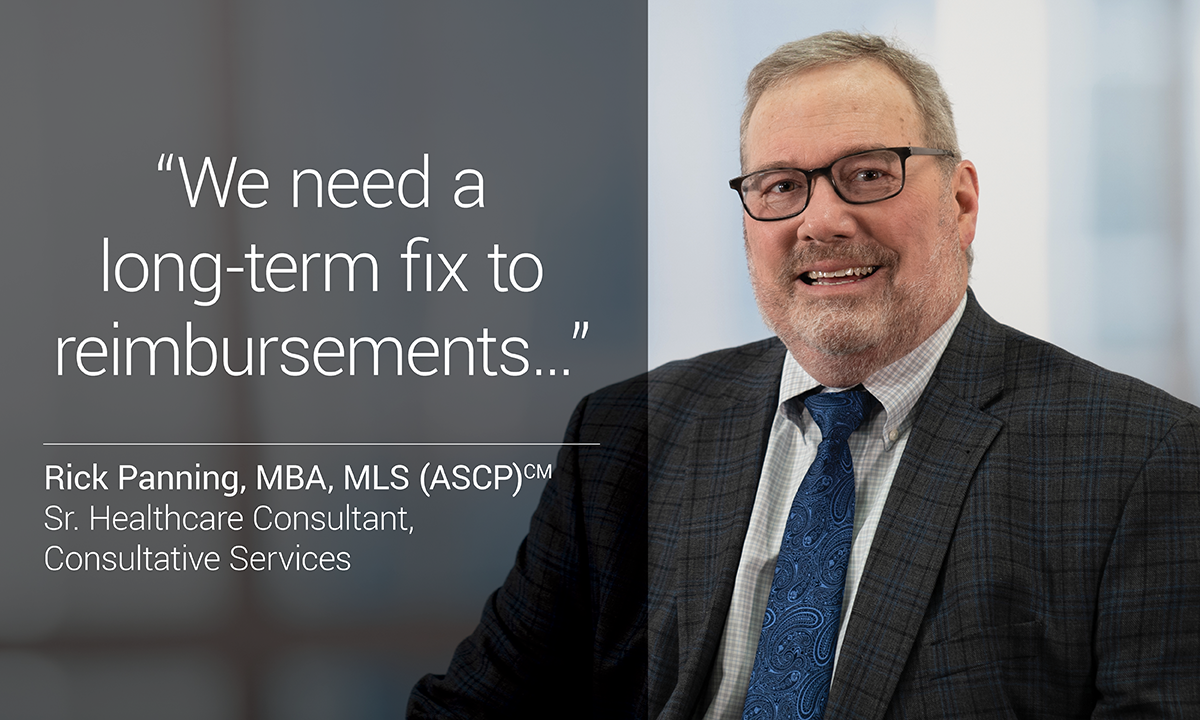 December 16, 2021
SALT LAKE CITY—Tucked inside the bill that President Biden signed to raise the national debt ceiling was a holiday gift for clinical laboratories and Medicare patients: a one-year delay in planned cuts to laboratory testing reimbursement rates and required lab data reporting regulations.
Congress passed Senate Bill 610, the Protecting Medicare and American Farmers from Sequester Cuts Act, on December 9, and the president signed it into law the following day.
"This is good news for all medical laboratories whose outpatient clinics, physician offices, and outreach businesses are reimbursed under the Medicare fee schedule," said Rick Panning, MBA, MLS (ASCP)CM, a senior healthcare consultant on ARUP's Consultative Services team.
The bill staves off a second round of data regulations and payment reductions established by the Protecting Access to Medicare Act (PAMA) and resets those deadlines for January 2023, Panning said.
Had Congress not acted last week, Medicare reimbursement rates for about 600 commonly ordered laboratory tests would have been reduced by up to 15% on January 1, 2022, potentially limiting patient access to assays used to diagnose and treat health conditions such as diabetes, kidney disease, prostate and colon cancers, and more.
Passed in 2014, PAMA called for a uniform reimbursement system for laboratory testing and other health services by changing the way Medicare pays for, codes, and covers clinical laboratory tests. Unfortunately, the implementation of regulations by the Centers for Medicare and Medicaid Services (CMS) proved detrimental to reimbursement plans for hospitals and clinical labs, Panning said.
Under PAMA, a three-year schedule of reduced lab test reimbursements began in 2019. In the same year, clinical labs earning at least $12,500 in Medicare revenue from lab services billed on the CMS-1450 14X bill type were also required to gather six months of private payer prices and volume data for use in restructuring future fees.
The COVID-19 pandemic put a pause on implementation of PAMA's rules over the past two years, but PAMA's early impact was already clear, Panning said. Revenue lost through reimbursement reductions quickly put financial pressure on labs. Future decreases could have a devastating impact on labs of all sizes, including ARUP and its clients.
"If our clients can't grow outreach or have to end their outreach programs, their prices per test will increase at a time when healthcare organizations are already looking to cut costs," Panning said. "In addition, lower Medicare reimbursement ultimately trickles down and impacts reimbursement under Medicaid and private payers."
Hopefully, the current delay in the full PAMA implementation will provide an opportunity for the laboratory industry and Congress to work together to make necessary changes that will impact hospitals, physician offices, and clinical laboratories more favorably, Panning said.
That would include shifting the way data are collected and used. In the first round of cuts in 2019, he noted, most of the data came from large national laboratories such as Quest and LabCorp, not from smaller labs in hospitals and clinics. This resulted in deep cuts that have been difficult for smaller health systems to absorb.
What is needed is a process that reflects the breadth of the entire laboratory market and therefore, true market pricing, Panning said.
"Patients deserve access to the laboratory tests that are central to their healthcare needs," he added. "We need a long-term fix to reimbursements that allows laboratories to continue that critical work without sacrificing any aspect of quality patient care."
Jennifer Dobner, jennifer.dobner@aruplab.com