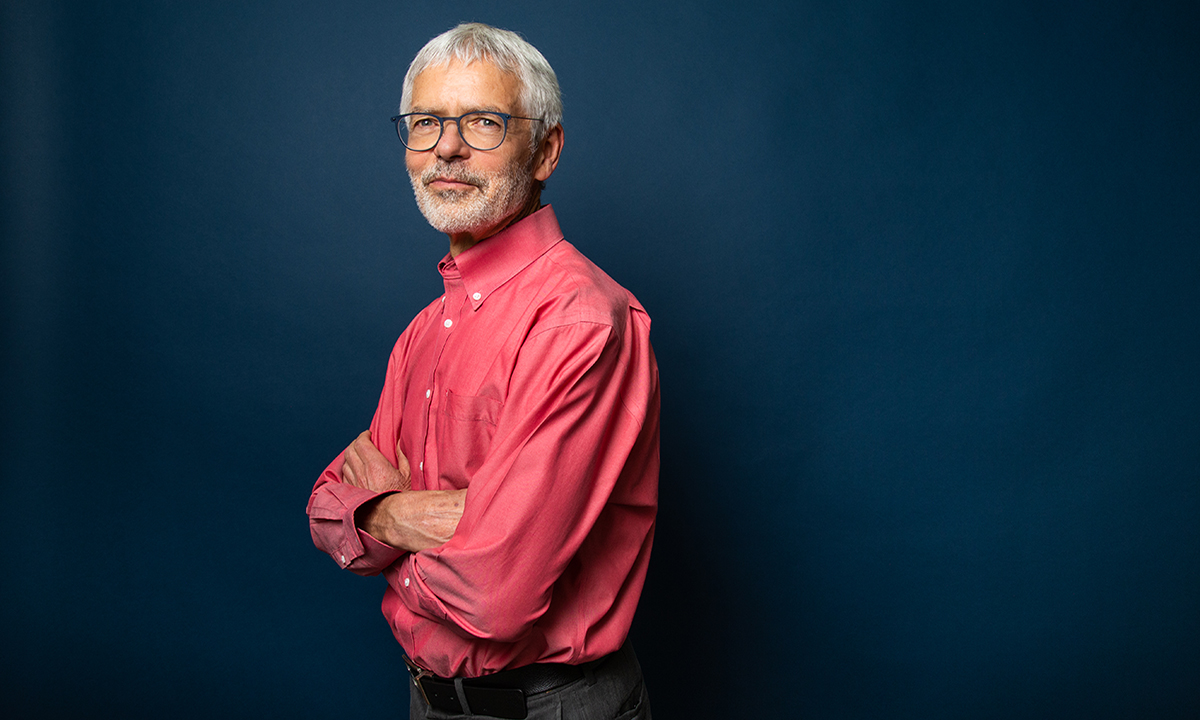 November 4, 2020
SALT LAKE CITY — David Hillyard, MD, ARUP medical director for molecular infectious disease, is among 20 individuals and organizations honored by Utah Business magazine with a Healthcare Hero Award.
The honor, announced November 2, 2020, recognized Hillyard for the ways he supported healthcare efforts during the COVID-19 pandemic by providing testing capabilities and collaborating to improve community outcomes.
"This year, Utah's healthcare leaders went above and beyond, pivoting their time, creativity, ingenuity, and magnanimity to face off against a global pandemic," according to Utah Business magazine. "This is only the beginning of our nation's battle against COVID-19 … and we are so grateful to these warriors for leading the charge."
"This honor should really go to the fantastic team of individuals I've been working with who have made high-capacity, quality COVID testing possible," Hillyard said. "It's very flattering, but every day I just think about the critical contributions front-line laboratory workers make for this effort every day."
Hillyard has been instrumental in establishing testing to meet the nationwide demand for COVID-19 testing. Starting in January, he and researchers at ARUP validated one of the first high-throughput diagnostic COVID-19 tests in the nation. Once the test received Emergency Use Authorization from the U.S. Food and Drug Administration (FDA) in late February, Hillyard and his team worked around the clock to ensure they had a test ready to launch on March 12 — a turnaround time of less than two weeks.
"Dr. Hillyard's expertise and dedication have been essential in enabling ARUP to provide COVID-19 testing to individuals throughout our state and nationwide," said ARUP CEO Sherrie Perkins, MD, PhD. "We're really lucky to have him on our team."
Since launching the test, Hillyard's laboratory has performed a high volume of diagnostic COVID-19 tests for healthcare facilities in the state of Utah, as well as for hospitals and academic labs throughout the country. Additionally, he and his team have validated tests on additional testing platforms to steadily increase testing capacity while creating resilience against supply shortages and instrument downtimes.
"There are so many surprises with COVID-19 that you're never fully prepared, no matter how ready you think you are," said Hillyard, as he described preparing for flu season with COVID-19 cases continuing to rise. "The flu season hasn't been very bad in the southern hemisphere this year, perhaps because of physical distancing and other measures taken to mitigate COVID-19 spread, but the flu will come."
Hillyard also has been a major contributor to regional COVID-19 research. He has collaborated with the Utah Department of Health (UDOH) Public Health Laboratory (UPHL) and Ginkgo Bioworks to study the genetics of the COVID-19 virus in Utah and analyze how the molecular makeup of the virus is evolving. The findings of this research help epidemiologists and healthcare professionals understand how COVID-19 has spread in Utah and assist with current case tracking and infection prevention. Hillyard collaborated with Intermountain Healthcare, UPHL, and others on a major study comparing testing accuracy across different labs and instrument platforms.
"I'm very proud of the collaboration we've been able to achieve with our colleagues and various companies throughout Utah," Hillyard said. "It has helped us build stronger relationships and provide better patient care beyond what we normally could have done."
About ARUP Laboratories
Founded in 1984, ARUP Laboratories is a leading national reference laboratory and a nonprofit enterprise of the University of Utah and its Department of Pathology. ARUP offers more than 3,000 tests and test combinations, ranging from routine screening tests to esoteric molecular and genetic assays. ARUP serves clients across the United States, including many of the nation's top university teaching hospitals and children's hospitals, as well as multihospital groups, major commercial laboratories, group purchasing organizations, military and other government facilities, and major clinics. In addition, ARUP is a worldwide leader in innovative laboratory research and development, led by the efforts of the ARUP Institute for Clinical and Experimental Pathology®. ARUP is ISO 15189 CAP accredited.
ARUP Media Contact
Lisa Carricaburu, 801-541-5041, lisa.carricaburu@aruplab.com