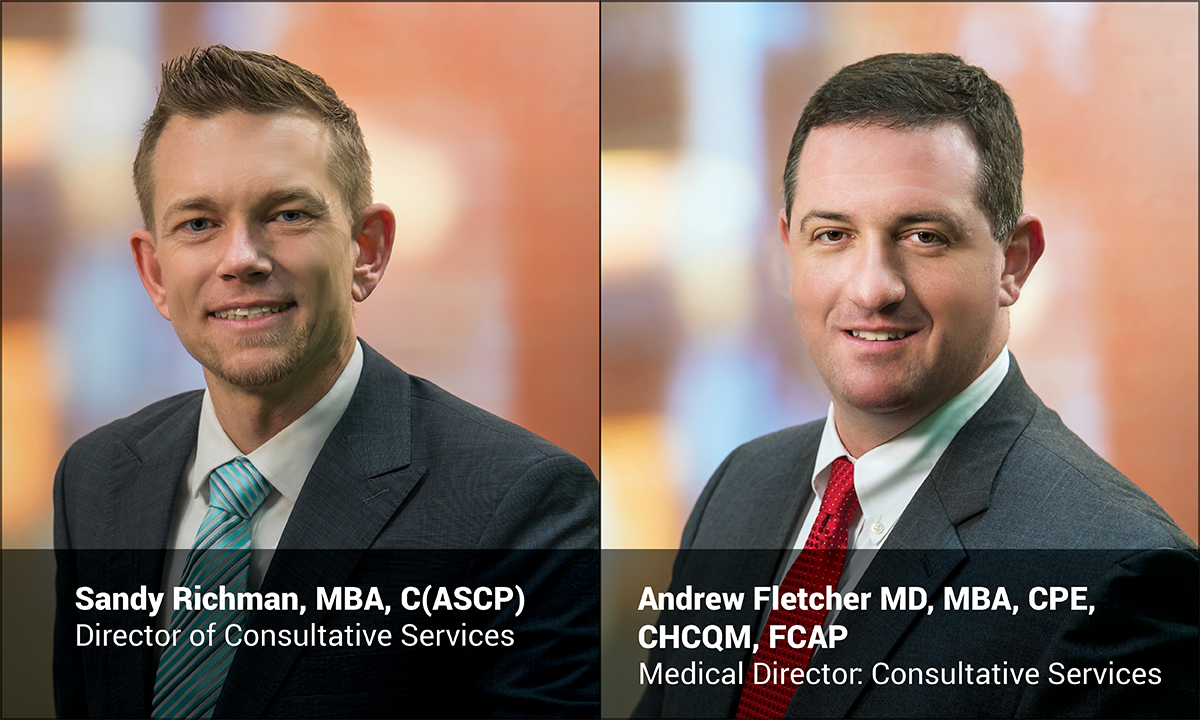 November 2, 2020
ARUP's Andrew Fletcher, MD, MBA, CPE, CHCQM, FCAP, medical director of Consultative Services (right), and Sandy Richman, MBA, C(ASCP), director of Consultative Services (left), offer strategies that can empower laboratories to strengthen their competitive advantage in a changing industry
---
Before the pandemic, telemedicine accounted for less than 1% of all physician visits, but that number spiked to over 50% after the appearance of COVID-19 cases in the United States. Telemedicine encounters have since leveled off to approximately 15% of physician visits, but the continued use of virtual care models has the potential to disrupt current laboratory business models, according to ARUP experts.
In a white paper published by ARUP, Dr. Andrew Fletcher, medical director of Consultative Services at ARUP, and Sandy Richman, director of Consultative Services, explore strategies that can empower laboratories to strengthen their competitive advantage in this rapidly changing industry.
"As patients become accustomed to the convenience of receiving healthcare from home, hospital laboratories need to consider how they can offer that same level of convenience to retain customers who might otherwise opt for alternatives such as retail sites or commercial laboratories," Fletcher said.
To better understand how the pandemic is affecting clinical labs, ARUP surveyed clients to determine the impact on both outreach and inreach revenue.
"Our goal was to not only gauge the impact of telemedicine on laboratories, but to identify whether laboratories have strategies in place to counter possible downstream effects from the transition," Richman said. "The results of the survey suggest that laboratories may not realize the potential impact on their business model."
The survey results, as well as other industry metrics around ancillary services, are discussed in detail in the white paper and an associated webinar.
"We hope that presenting this information will enable laboratories to proactively identify and implement solutions that will strengthen their position in an increasingly competitive market," Fletcher said.
The white paper also covers several strategies labs can utilize to create a streamlined and accessible user experience that rivals what consumers have come to expect from their retail experiences.
"The healthcare industry has arrived at a crucial transition. By employing a strategy that embraces this transition, one that offers a convenient user experience, laboratories can solidify their position in an evolving market," Fletcher said.