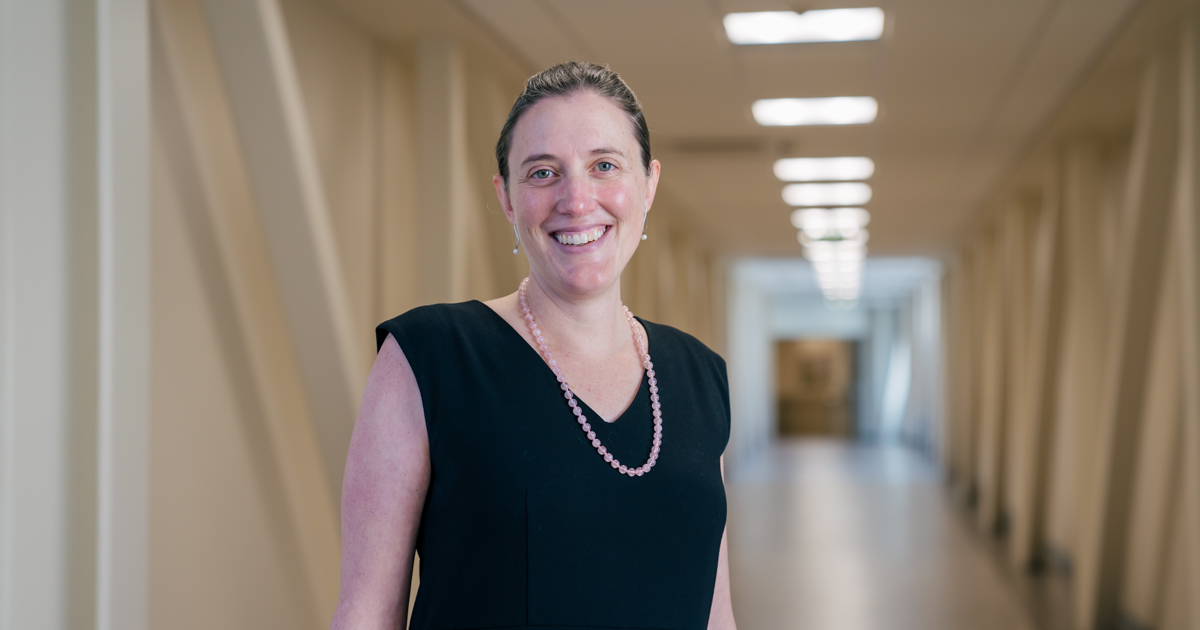 Lauren Pearson, DO, MPH, is the first appointed chief medical officer of ARUP at University of Utah Health. Her new role will support ARUP's commitment to continuous quality improvement for clinical laboratory services across the University of Utah Health system.
November 17, 2022
ARUP Laboratories has appointed Lauren Pearson, DO, MPH, to serve as chief medical officer of ARUP at University of Utah Health. She is the first appointee to the position, which was created in support of ARUP's commitment to best practices in innovation, laboratory utilization, and patient care for all clinical laboratory services across the U of U Health system.
Pearson, who has been with ARUP for five years, will continue her role as Clinical Laboratory Improvement Amendments (CLIA) laboratory director for ARUP at U of U Health and as an associate professor in the University of Utah Department of Pathology. She received her medical degree and master's degree in public health from Touro University California and completed her residency in anatomic and clinical pathology at the University of Vermont College of Medicine.
"Dr. Pearson is uniquely qualified for this role, given her career emphasis on test utilization and quality improvement and her overall focus on community health," said Jonathan Genzen, MD, PhD, ARUP chief medical officer. "Lauren understands the complexity of laboratory services across health systems, as well as the unique clinical diagnostic needs across a variety of services."
In considering this new role, ARUP recognized the benefit that this position could provide in helping to shape U of U Health's clinical laboratory ecosystem where, according to Genzen, all teams value multidisciplinary collaboration and communication.
"A centralized leadership interface between the ARUP laboratory services and the U of U Health system helps to ensure that we're continually striving to offer the right testing, at the right locations, with the right turnaround time to meet patient needs," Genzen said. "This new role helps unify oversight, strategy, and decision-making related to ARUP's laboratory offerings in the health system. I think that's particularly important in our future expansion efforts."
Pearson is looking forward to facilitating ARUP's inclusion in U of U Health's strategic planning. She believes that by alleviating obstacles to collaboration between clinicians and laboratory leadership, ARUP can better coordinate its laboratory services across the health system and continue to deliver the highest quality diagnostic results to support patient care.
"This is an opportunity to develop a robust vision for the long-term scope and delivery of laboratory services at University of Utah Health clinical sites, and to make sure that vision is in lockstep with university needs," Pearson said. "As the university grows, we have to look at laboratory resources and ask, 'What should we be offering? What can we do to start shifting operations to accommodate what is needed for the best patient care?'"
In addition to her clinical expertise, Pearson's background in public health will support the university's mission to increase access and availability of basic healthcare services.
"It's exciting to think about how this position could be leveraged to enhance the work that the university is trying to accomplish, and how ARUP could support that mission as well," Pearson said. "I want this role to be inclusive of what other people in the health community see as opportunities, because that will help us be maximally effective."
Camryn Fife, camryn.fife@aruplab.com