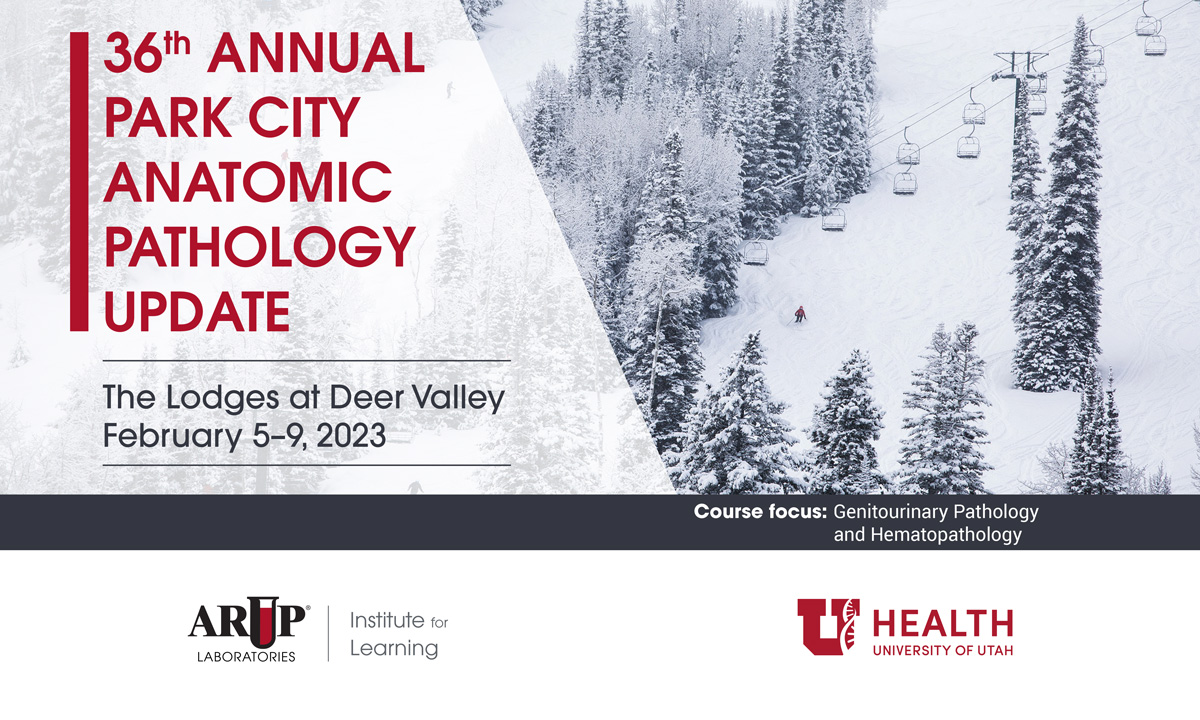 The 36th Annual Park City Anatomic Pathology Update will offer an opportunity for pathologists to connect and share best practices in hematopathology and genitourinary (GU) pathology, including how to apply the latest updates from the World Health Organization (WHO) on the classification of tumors.
November 16, 2022
The University of Utah Department of Pathology and ARUP Laboratories will host the 36th Annual Park City Anatomic Pathology Update from February 5–9, 2023. The course will focus on key updates in both hematopathology and genitourinary (GU) pathology, including the significant updates that the World Health Organization (WHO) and International Consensus Classification (ICC) recently published on the classification of tumors.
Attendees will have an opportunity to connect with other pathologists in a group setting to share best practices and applications of these new updates.
"We want to reconnect with community physicians and discuss the topics that are their bread and butter. We hope to offer suggestions and practical advice on how they can approach diagnosis," said Anton Rets, MD, PhD, a medical director of Hematopathology at ARUP Laboratories and assistant professor at the University of Utah.
Rets, who specializes in benign and malignant hematopathology and myeloproliferative and myelodysplastic neoplasms, is one of two course directors for this year's update. The second is Jonathon Mahlow, MD, who has expertise in GU pathology, as well as breast and cardiac pathology.
The course will feature guest speaker Olga Pozdnyakova, MD, PhD, associate pathologist at Brigham and Women's Hospital and an associate professor at Harvard Medical School. Pozdnyakova is a renowned expert in myeloid neoplasms.
"Dr. Pozdnyakova not only is abreast with the most current academic research, but she is also familiar with the cases physicians see in their everyday practice," Rets said. "She will discuss the very practical aspects of diagnostic hematopathology, including how to decide which test to order and how to interpret the results."
Pozdnyakova will give three presentations during the conference:
In the Beginning There Was Blood: Importance of Peripheral Blood Smears
Having a Blast? Acute Leukemia and Beyond
It Takes a Village: A Comprehensive Approach to Myeloproliferative Neoplasms
Jesse K. McKenney, MD, the vice-chair of faculty development and section head of surgical pathology at Cleveland Clinic, will also join the conference as a featured guest speaker.
"Dr. McKenney is an expert on kidney and prostate tumors and soft tissue neoplasms of the GU tract, and he's a contributing editor on the WHO update. He has excelled at Cleveland Clinic and has become nationally and internationally recognized for his expertise," said Mahlow.
McKenney will give two presentations during the conference:
Emerging Eosinophilic Renal Tumors and Their Place in the Spectrum of Low-Risk Renal Neoplasia: What Are Reasonable Expectations for Routine Practice?
Prostate Cancer Grading and Reporting: A 2023 Update
In addition to the two featured guests, faculty pathologists from the University of Utah School of Medicine also will give presentations. Speakers will present on a wide range of topics relevant to hematopathology and GU pathology. The full agenda is available online.
The course will be held at The Lodges at Deer Valley in Park City, Utah, a historic mining town known for the quality of its two world-class ski resorts, as well as its upscale dining and shopping experiences.
"The atmosphere is fun, fun, fun. What really makes this Park City conference very unique is our success in combining fun activities like skiing with meaningful educational opportunities," Rets said. "The reason I return to this Park City update—either as a presenter or an attendee—is the productive interaction with my colleagues in an informal setting. There's a lot of camaraderie among the participants," Rets said.
The schedule of the conference is specifically designed to provide attendees ample time to enjoy the phenomenal Utah slopes along with the many other area winter activities.
"The ultimate goal is to aid community pathologists with their practices. We want to share some of these new insights and help pathologists put that knowledge into practice, whether it saves them time, money, or, most importantly, helps patients get the right diagnosis," Mahlow said.
Kellie Carrigan, kellie.carrigan@aruplab.com