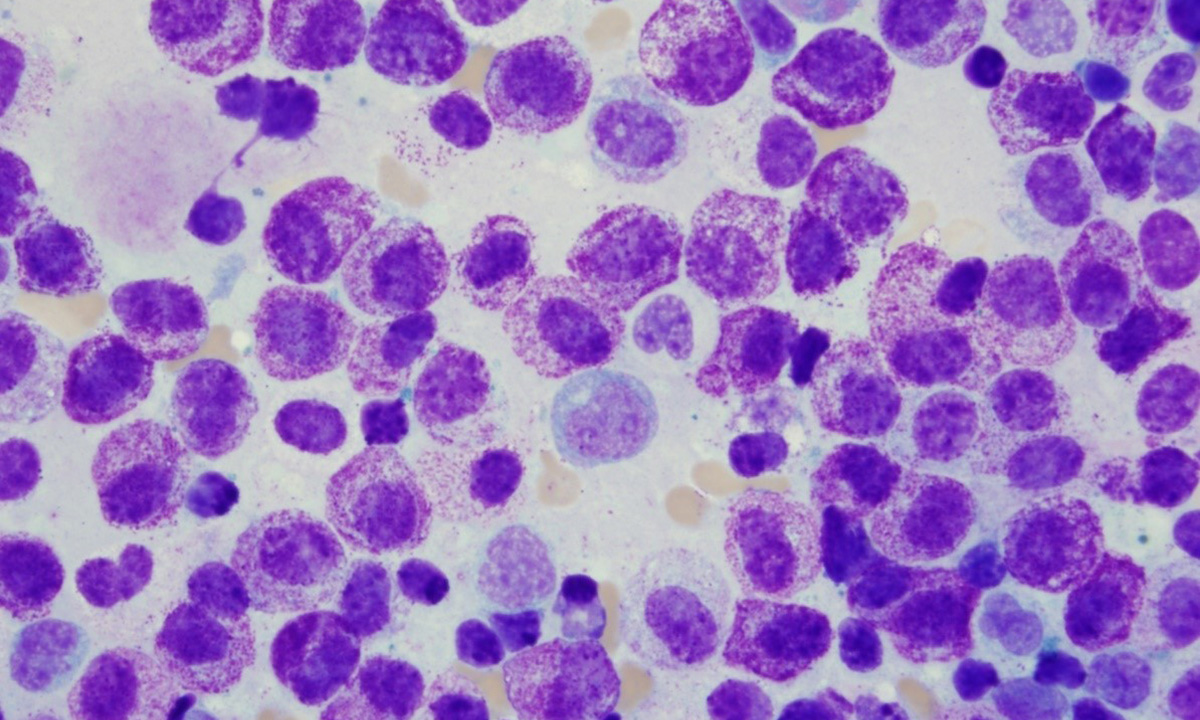 November 16, 2020
Mast cell disorders are a diverse group of conditions characterized by inappropriate mast cell activation and/or the proliferation and accumulation of abnormal mast cells throughout the body. This image shows mast cells from a patient with mast cell leukemia.
SALT LAKE CITY – A new ARUP Laboratories test to aid in the diagnosis of mast cell disorders is among the first to detect the presence of the KIT D816V mutation in both peripheral blood and bone marrow.
The KIT (D816V) Mutation by ddPCR, Quantitative assay offers an alternative to most currently available KIT D816V assays, which can be performed only on bone marrow, a specimen type that can be painful and difficult to collect.
All individuals being evaluated for a mast cell disorder should undergo KIT mutational analysis, according to National Comprehensive Cancer Care Network (NCCN) guidelines. Until recently, these guidelines recommended first-line testing on bone marrow.
Updated guidelines, however, include more modern techniques, paving the way for ARUP's new assay, which uses digital droplet polymerase chain reaction (ddPCR) on either peripheral blood or bone marrow to provide accurate, quantitative results for the detection of the KIT D816V mutation, said ARUP Chief Medical Officer Tracy George, MD, an internationally recognized expert on mast cell disorders.
"ARUP's new ultrasensitive assay is easily performed on peripheral blood and can serve as an initial test to ensure that more invasive methods are only performed if it is necessary," George said. "We are excited to offer something that will improve patient care."
Because many possible symptoms could suggest a mast cell disorder, it is difficult to know who should receive testing, she said.
"Severe anaphylaxis, for example, may be caused by an underlying mast cell disorder, but these patients often do not receive KIT D816V testing because bone marrow biopsies are invasive, and diagnosis of mastocytosis is relatively rare," George said.
Patients who are positive for a KIT D816V mutation using the ddPCR assay will still have to undergo a bone marrow biopsy to narrow down the diagnosis and determine appropriate treatment. However, patients who are negative for the mutation will generally not have to undergo an unnecessary and invasive procedure.
"It is exciting to be among the first laboratories to offer this testing, and we are excited for the way it will improve patient care," George said.
About ARUP Laboratories
Founded in 1984, ARUP Laboratories is a leading national reference laboratory and a nonprofit enterprise of the University of Utah and its Department of Pathology. ARUP offers more than 3,000 tests and test combinations, ranging from routine screening tests to esoteric molecular and genetic assays. ARUP serves clients across the United States, including many of the nation's top university teaching hospitals and children's hospitals, as well as multihospital groups, major commercial laboratories, group purchasing organizations, military and other government facilities, and major clinics. In addition, ARUP is a worldwide leader in innovative laboratory research and development, led by the efforts of the ARUP Institute for Clinical and Experimental Pathology®. ARUP is ISO 15189 CAP accredited.
Media Contacts
ARUP: Lisa Carricaburu, lisa.carricaburu@aruplab.com, 801-541-5041