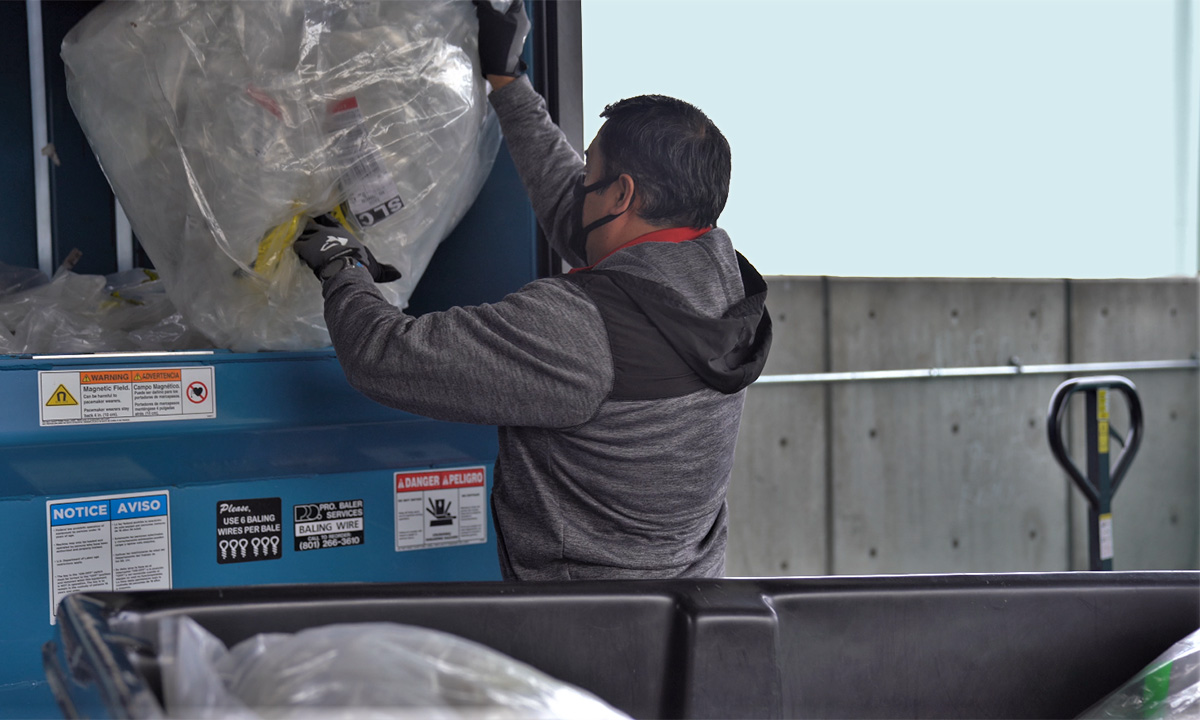 November 12, 2021
SANDY, Utah—The Recycling Coalition of Utah (RCU) on November 12, 2021, honored ARUP Laboratories with its Thomas A. Martin Business Recycler of the Year Award in recognition of the company's recycling program efforts, which keep about 300 tons of material out of Utah landfills annually.
"ARUP is truly leading the way for how organizations in Utah consider their responsibility and stewardship for Utah's environment," said Brad Mertz, the coalition's executive director. "ARUP takes time to do it right, and their program exceeds that of a typical business."
The award was presented during RCU's annual conference at Salt Lake Community College's Sandy campus. Also honored with awards for their recycling programs were Greystar Property Management, Lehi City, and Ryan Smith of Recyclops. "ARUP has a long-standing commitment to recycling, and our employees have worked hard to continuously improve our recycling program," CEO Andy Theurer said. "We're proud to be earning this recognition for a program that is key to ARUP's effort to be a good environmental steward."
ARUP's recycling program operates in a relatively small space, but the volume of materials it handles is large, said Jeff Harris, whose responsibilities as ARUP manager of housekeeping and security include recycling.
Over the past year, ARUP has recycled 78.5 tons of Styrofoam, cardboard, and plastics, 52 tons of comingled waste, 50 tons of metals, 30 tons of food waste, 26 tons of electronic waste, and 25 tons of glass. It would be cheaper to throw things out, Harris said, but instead, the company is invested in doing more.
"ARUP has a set of core values, one of which is to act responsibly in the community," Harris said. "We believe one way to do that is to treat our planet with respect and recycle everything we can."
The Recycling Coalition of Utah is a nonprofit organization that comprises local governments, businesses, institutions, and recycling innovators committed to improving recycling in Utah. Its annual Thomas A. Martin Award is given to a private sector organization that goes above and beyond in its recycling efforts. More information about RCU can be found at https://utahrecycles.org/.
To learn more about ARUP's recycling program, watch our video.
About ARUP Laboratories
Founded in 1984, ARUP Laboratories is a leading national reference laboratory and a nonprofit enterprise of the University of Utah and its Department of Pathology. ARUP offers more than 3,000 tests and test combinations, ranging from routine screening tests to esoteric molecular and genetic assays. ARUP serves clients across the United States, including many of the nation's top university teaching hospitals and children's hospitals, as well as multihospital groups, major commercial laboratories, group purchasing organizations, military and other government facilities, and major clinics. In addition, ARUP is a worldwide leader in innovative laboratory research and development, led by the efforts of the ARUP Institute for Clinical and Experimental Pathology®. ARUP is ISO 15189 CAP accredited.
ARUP Media Contact
Jennifer Dobner, media@aruplab.com, 801-718-2123