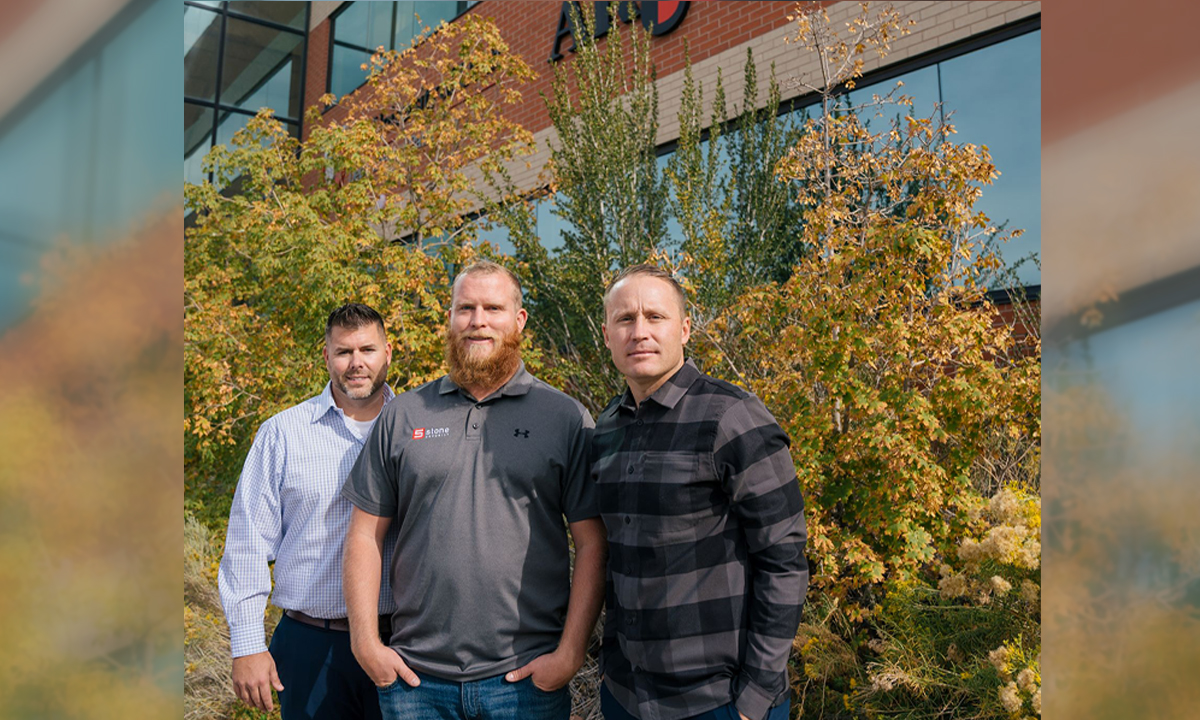 November 11, 2020
ARUP's Rob Martin (left), a security systems specialist, worked closely with Tjay Mitchell (center) and Joey Edmunds (right) from Stone Security to upgrade ARUP's security system as ARUP worked to build capacity to meet demand for COVID-19 testing.
SALT LAKE CITY – ARUP Laboratories and Stone Security are recipients of the 2020 Security Vanguard Award presented by Security Business and Security Technology Executive magazines. The award recognizes the best collaborative security effort between a team of systems integrators and security solutions providers when facing unique challenges.
"What caught our attention was the quick pivot that ARUP had to make due to the COVID-19 pandemic to redesign and implement custom-designed security features for new laboratory space that had to be quickly opened up for additional testing," said Steve Lasky, the editorial director of the security media group that publishes the two magazines. "The coordinated efforts of all involved, including Stone Security, provided ARUP with an advanced and integrated solution to help it flourish during a crisis and beyond."
ARUP was chosen as the winner from among 30 candidates. Runners-up included Augusta-Richmond County Judicial Center and the Commonwealth of Puerto Rico's school system.
"Our ARUP Security and Facilities teams are so pleased to have received this award," said Curtis Hansen, ARUP's director of Facilities. "The efforts this award recognizes align with one of our corporate goals to modernize key IT systems."
Security Business magazine featured the ARUP/Stone Security collaboration in a cover story in its November 2020 issue.
"Our Security manager Jeff Harris and his team have done an incredible job of integrating new technology with existing platforms combined with new construction to create a state-of-the-art security and tracking system at ARUP, " Hansen added. "We can all be proud of their ongoing efforts to keep our employees and client samples safe and secure."
About ARUP Laboratories
Founded in 1984, ARUP Laboratories is a leading national reference laboratory and a nonprofit enterprise of the University of Utah and its Department of Pathology. ARUP offers more than 3,000 tests and test combinations, ranging from routine screening tests to esoteric molecular and genetic assays. ARUP serves clients across the United States, including many of the nation's top university teaching hospitals and children's hospitals, as well as multihospital groups, major commercial laboratories, group purchasing organizations, military and other government facilities, and major clinics. In addition, ARUP is a worldwide leader in innovative laboratory research and development, led by the efforts of the ARUP Institute for Clinical and Experimental Pathology®. ARUP is ISO 15189 CAP accredited.
ARUP Media Contact
Peta Owens-Liston, peta.liston@aruplab.com, 801-414-5652