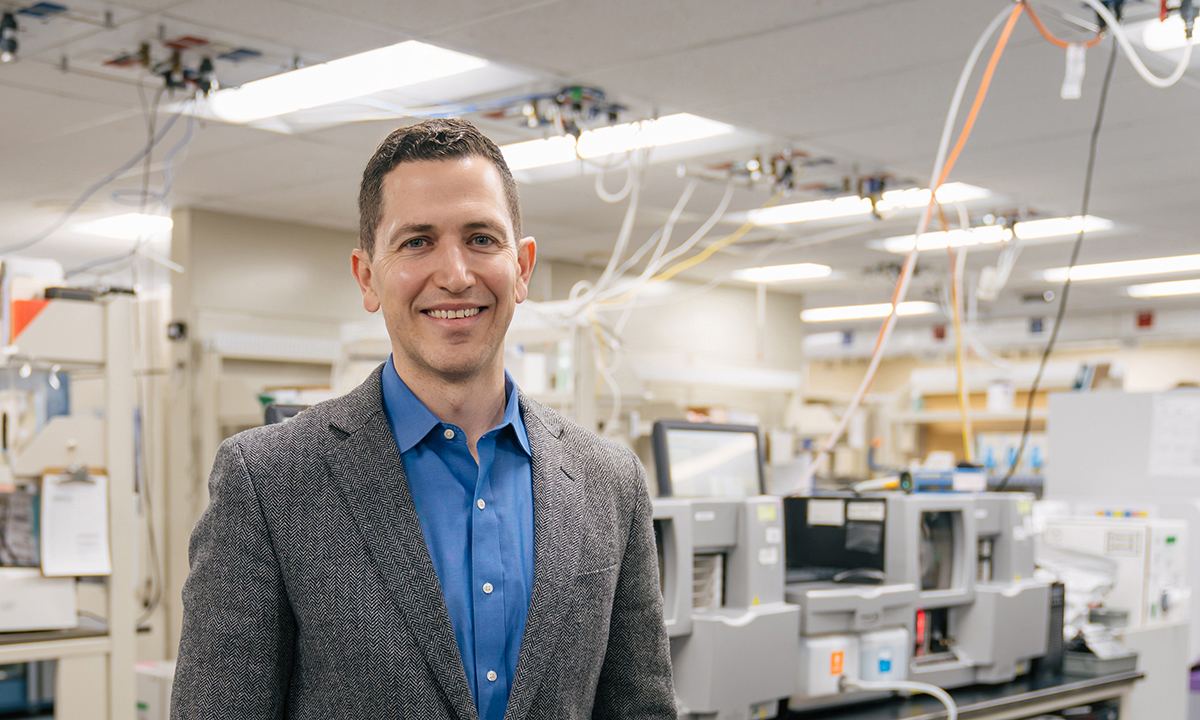 ARUP's Section Chief of Transfusion Medicine and Medical Director of the Transfusion Service, Ryan Metcalf, MD, contributed to recently updated guidelines for red blood cell transfusion by the Association for the Advancement of Blood and Biotherapies (AABB).
November 7, 2023
The Association for the Advancement of Blood and Biotherapies (AABB) has published new guidelines that recommend a restrictive red blood cell transfusion strategy, suggesting that providers should consider transfusion when the patient's hemoglobin concentration is less than 7 g/dL. The new guidelines, for which an ARUP Laboratories expert was a panel member, aim to promote the best patient outcomes by preventing unnecessary transfusions, therefore reducing the risk of adverse events.
"When looking at the data, there tends to be no difference in the main outcome, which was 30-day mortality," said Ryan Metcalf, MD, ARUP's section chief of Transfusion Medicine and the medical director of the Transfusion Service. "If there's no difference in outcome, then the right thing to do in that setting is to not put the patient through an unnecessary procedure and to be judicious with the blood supply."
According to Metcalf, transfusion is the most common therapeutic procedure, but blood products are a limited resource. It's important to conserve blood supplies to ensure that these products are available for those who need them most.
Metcalf participated in the development of the new guidelines as a member of the AABB Clinical Transfusion Medicine Committee. The committee evaluated data from 45 randomized controlled trials with 20,599 adult participants and seven randomized controlled trials with 2,730 pediatric participants. The new guidelines update previous guidelines that were published in 2016.
"The prior guidelines also recommended a restrictive threshold, but now we have more evidence and more studies," Metcalf said. "However, we made additional recommendations for inpatients with cancers and hematologic cancers."
Although the studies consistently demonstrated that there were no additional benefits to a more liberal transfusion strategy across various patient populations, it's still important for providers to consider the individual circumstances of each patient.
"When it comes to blood transfusions, less might be more," said Julio C. Delgado, MD, MS, executive vice president of ARUP Laboratories. "These recommendations emphasize the importance of individualized care. Transfusions should be based on a patient's unique situation and overall health."
In addition to experts in transfusion medicine, the committee included individuals from fields such as hematology, anesthesiology, and surgery, as well as a patient partner.
"It's important to get broad representation from other societies and from those who practice medicine in many different environments to ensure that we consider the question from all angles," Metcalf said.
Recently, Metcalf was appointed as the chair of the AABB Clinical Transfusion Medicine Committee, following Monica B. Pagano, MD, the division head of Transfusion Medicine at the University of Washington Medical Center.
"We want to make sure that we help providers make the best transfusion decisions possible based on the current available evidence, most importantly for the benefit of the patient, as well as to benefit public health and health systems," Metcalf said.
Kellie Carrigan, kellie.carrigan@aruplab.com