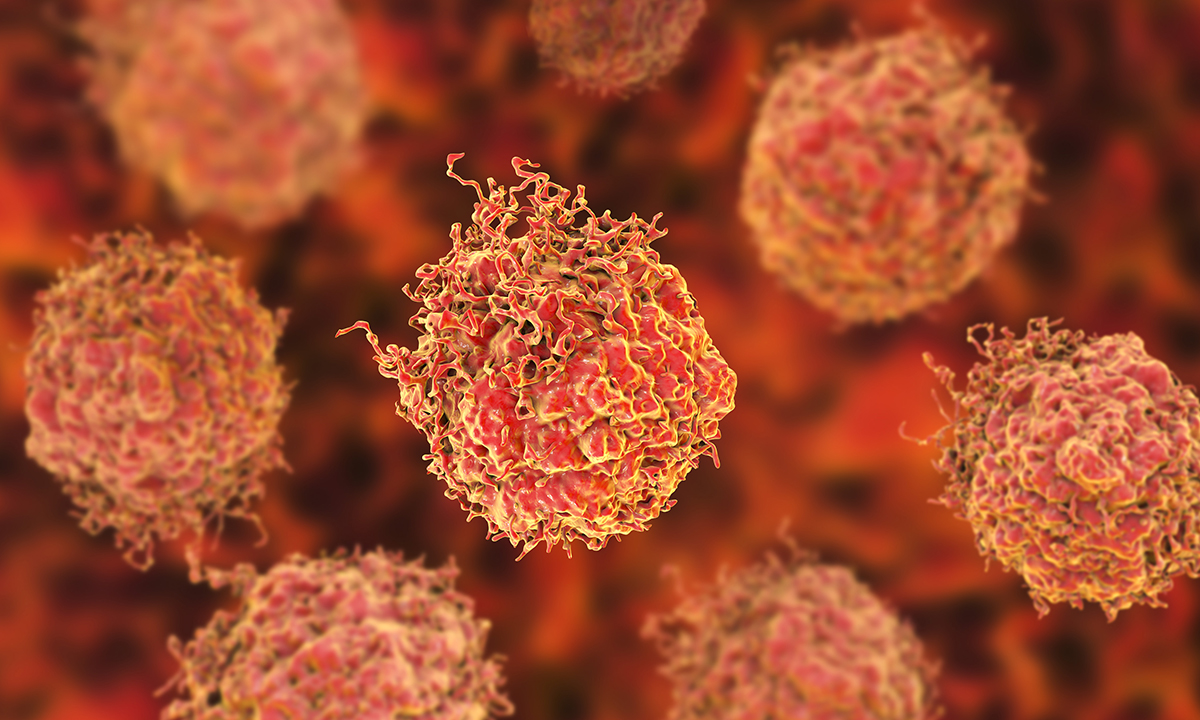 ARUP is using Deep Bio's artificial intelligence-based software in research to evaluate how use of the software may aid in detection and classification of prostate cancer cells, such as the cells pictured here.
October 24, 2021
SEOUL, South Korea—Deep Bio, a leading company in artificial intelligence (AI) cancer diagnostics, announced it obtained an approval from the University of Utah Institutional Review Board (IRB) for a real-world implementation study. The company will conduct a prospective study to validate the performance of its AI-based prostate cancer diagnosis software, DeepDx® Prostate, at ARUP Laboratories, a leading reference laboratory in the United States.
The study is intended to assess the impact of DeepDx® Prostate in a real-world environment. This study will follow three pathologists on service who will diagnose incoming slides of prostate core needle biopsy specimens using the microscope. Then, after a minimum washout period of three weeks, the same pathologist will review the same slides once again, this time with the assistance of DeepDx® Prostate.
The study will evaluate the impact of aided review with DeepDx® Prostate on the diagnostic accuracy and efficiency of pathologists in regard to cancer detection and Gleason grading, among other diagnostic measures. A reference standard diagnosis will be formed for each slide based on the consensus of three other pathologists, and this will serve as the ground truth for diagnostic performance comparisons.
"Most of the studies that evaluate the performance of AI-based medical solutions are retrospective studies, which are based on existing diagnosis data. This prospective study is significant in that it validates the overall performance of DeepDx® Prostate on real-world patient data," stated Sun Woo Kim, CEO of Deep Bio. "We expect our AI solution to provide pathologists with faster and more consistent diagnostic support when applied to clinical workflows," he added.
"We have high expectations for the impact of DeepDx Prostate in a clinical practice environment," said Beatrice Knudsen, MD, PhD, ARUP medical director of Digital and Computational Pathology and the principal investigator of the study. "We also anticipate the study will provide data to show how AI solutions can be used by pathologists to increase efficiency of clinical workflows and accuracy of diagnosis."
In addition to this study, Deep Bio and ARUP have plans to collaborate on other clinical research related to cancer diagnosis, prognosis, and prediction.
About Deep Bio
Deep Bio Inc. is an AI biotech company with in-house expertise in deep learning, pathology, life sciences, and pharmacotherapeutics. As the country's first to obtain Korea's MFDS approval of an AI-based cancer pathology solution, Deep Bio envisions a suite of AI-based IVD SaMDs (in vitro diagnostics software as a medical device) for diagnosis and prognosis of multiple cancers. Deep Bio is actively engaged in the research space and maintains ongoing collaborations with top U.S. medical centers. To learn more, visit www.deepbio.co.kr.
DeepDx® Prostate is a clinically validated AI for prostate core needle biopsy tissue image analysis. Whole-slide images (WSIs) of H&E-stained biopsy tissue specimens are analyzed for prostate cancer, Gleason scores, and grade group. Extensively tested at a U.S. CLIA lab (>500k cores as of June 2021), DeepDx® Prostate can alleviate the shortage of pathologists and the resultant increase in workload, while reducing diagnostic subjectivity and variability. To learn more, visit www.deepbio.co.kr.
About ARUP Laboratories
Founded in 1984, ARUP Laboratories is a leading national reference laboratory and a nonprofit enterprise of the University of Utah and its Department of Pathology. ARUP offers more than 3,000 tests and test combinations, ranging from routine screening tests to esoteric molecular and genetic assays. ARUP serves clients across the United States, including many of the nation's top university teaching hospitals and children's hospitals, as well as multihospital groups, major commercial laboratories, group purchasing organizations, military and other government facilities, and major clinics. In addition, ARUP is a worldwide leader in innovative laboratory research and development, led by the efforts of the ARUP Institute for Clinical and Experimental Pathology®. ARUP is ISO 15189 CAP accredited.
ARUP Media Contact
Lisa Carricaburu, 801-541-5041, lisa.carricaburu@aruplab.com