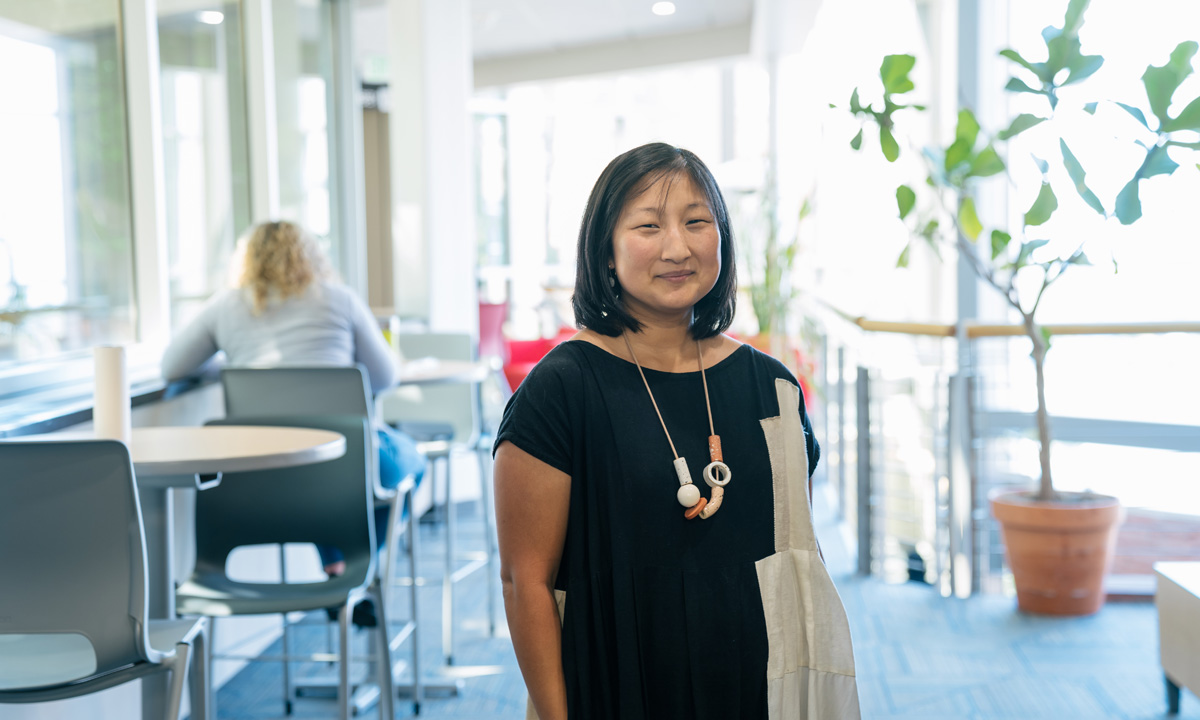 In 2008, Megan Flipse started in ARUP's Exception Handling department in an entry-level role. Now, she oversees multiple departments as a Support Services group manager.
October 5, 2022
Career Growth Profile
The career growth spotlight series shows the myriad career paths possible at ARUP, inside and outside more than 65 laboratories and in more than 180 departments. Employees can excel and advance through extensive on-site training, lab mentorship programs, and a tuition reimbursement program.
Learn more
In 2008, Megan Flipse, now a Support Services group manager, applied for an entry-level role in ARUP's Exception Handling Department with one modest goal: "not to be miserable."
After leaving a job where she felt overworked and underappreciated, she was ready for something more fulfilling. Although she didn't know exactly what she was looking for, she was confident in her decision to give ARUP a chance.
"I didn't have any long-term plans," Flipse said. "I was glad that ARUP was a healthcare company. My undergrad degree was in physiology. I liked science. But at that point, I didn't know what I wanted to do with my life."
Her leap of faith became one of growth and learning as she took on new roles, advanced her education, and learned about the different facets of healthcare. Following her start at ARUP as a laboratory client support technician (LCST), Flipse then held various leadership positions within the company and later earned a second bachelor's degree in medical laboratory science (MLS). Now, as a group manager, Flipse attributes many of her successes to the support she's received at ARUP, both from her mentors and from the company itself.
As she advanced at ARUP, Flipse found a new direction for her career and an unexpected passion for management. "Some of my positions along the way were less people oriented, which I thought I would find a welcome change," Flipse said. "It turns out, I missed the people-management side of things."
Flipse may have climbed the career ladder quickly, but she confessed she needed a bit of guidance to pursue new goals. "I've never been one who feels ready for the next position. I actually needed a little nudge to apply," she said, recognizing the mentors and colleagues at ARUP who continually pushed her toward realizing her full potential.
In an interview for a leadership role with Kaarin Nisbet, operations director for Support Services, Flipse made the final decision to go back to school to earn an MLS degree at Weber State University. "In my lead interview, Kaarin looked at me and said, 'So, why haven't you done the MLS program yet?' That was my final nudge."
After starting the program, another mentor, Angie Sharp, operations director for Technical Operations, inspired Flipse to push through and complete the program. "Angie did the MLS program before me. She showed me it was possible. On the tough days, her example, encouraging words, and advice helped me through," Flipse said. "It's a huge advantage to work with people who have been where you are."
"I didn't even know [MLS] was a program or a job before being at ARUP. I wanted to go into science my whole life, and I didn't know that was a thing," she said. Flipse is grateful that ARUP introduced her to the MLS program, provided tuition reimbursement, and adjusted her schedule to accommodate the classes.
Flipse highly recommends this program to anyone pursuing laboratory science, especially those working at ARUP. "Because Weber's classes were all online, I could do them outside of my work hours. Weber and ARUP made it doable," she said.
Now, as a group manager herself, Flipse pays it forward by supporting students in her division. "We have so many students, and it's such a win-win situation. ARUP is open 24/7, so you can get all kinds of super creative shifts. Whatever works for you, you can find it here."
Moving forward, Flipse is excited to continue working at ARUP and advises anyone seeking new work to apply. "This is a company you can really stand behind," she said. "I know I'm not in a minority of people who feel that way. I'm always amazed by how many people have worked here for so long and still love what they do."
To learn more about the LCST role and our other entry-level positions, visit ARUP's Careers page.