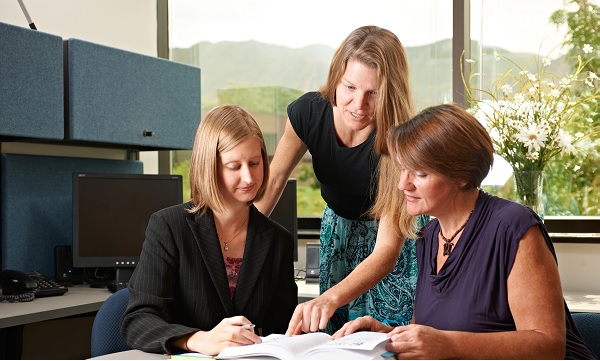 October 4, 2018
Currently a team of 16 genetic counselors collaborate with each other and experts throughout ARUP to provide answers to patients. "We rarely have a typical or boring day—every day we learn something new," is a common sentiment among genetic counselors at ARUP.
---
As the field of genetics rapidly grows and evolves, so does ARUP's team of genetic counselors. As a national reference laboratory, ARUP offers a unique setting for genetic counselors. Lab tests are sent here from hospitals and laboratories nationwide that lack the expertise or resources to do more sophisticated and complex testing. Often ARUP provides answers for the most difficult-to-diagnose patients. Approximately 300 genetic tests are part of ARUP's 3,000-plus test menu, involving genetic counselors' expertise.
For the last several years, Samantha Wiley has been working as a genetic counselor at ARUP, focusing on molecular genetics. Previously, she worked in a cancer center where she met with patients to discuss their risk of developing hereditary cancers.
Wiley found her passion for genetic counseling when she worked as a medical technician for a cytogenetics lab. "I discovered that genetic counseling is the perfect balance between the hard science of genetics and the psychosocial skills used to deliver the best patient care."
"The genetic counselors are an integral part of our teams, participating in decision making in a variety of different testing areas, including exome, prenatal testing, next generation sequencing gene panels, to name a few. They work very close with us, as well as with our R&D group and clinical variant scientists. Their expertise and communication skills are crucial in helping us provide physicians and their patients with answers."
Rong Mao, MD
Section Chief, Molecular Genetics and Genomics.
Below is her personal take on what it's like to work as a genetic counselor at a large reference laboratory versus other settings.
How is working at a large national reference laboratory like ARUP different than working in a clinical setting?
In a traditional clinical setting, genetic counselors spend face-to-face time with individual patients, discussing their past medical history, family history, and associated risks. Clinical genetic counselors help patients understand the benefits, limitations, and risks with genetic testing, as well as decide if genetic testing is something they want to pursue.
Here at ARUP, we do not work directly with patients. However, we advise healthcare providers and clients as they select genetic testing for those in their care. This consultant-type position allows us to provide our expertise to dozens of patient cases every day, instead of the four to six patients we might interact with in a patient-facing role.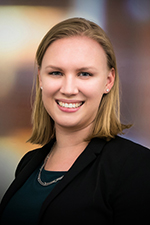 Samantha Wiley, MS, LCGC
Genetic Counselor
How is it different than working for a small, boutique lab?
ARUP is different because we are a large national reference laboratory with deep academic-medical roots, so we are a hub for research and education. Our enormous test menu and higher education resources make ARUP a unique laboratory to work for among other commercial labs.
Given the specialization of boutique labs, they often do not have access to other testing methodologies or rare assays. Our academic ties allow us time and expertise to delve into problematic genes and develop unique assays. For example, ARUP has developed specialized strategies for the difficult genes PMS2 and FMR1. Sometimes when other laboratories have rare and complex cases, they send them to us to figure out!
Do you still feel like you are helping patients?
Absolutely! I feel like working at ARUP has magnified my ability to help patients because I touch so many more cases now than when I worked in clinic. The genetic counselors are often responsible for correcting an incorrect test order that may have missed a family gene mutation, or saving the client/patient thousands of dollars by presenting alternative testing options.
What are four different activities you might do in a typical day at work?
Genetic counselors are involved in all aspects of genetic testing at ARUP, which means our days are varied and full of complex tasks. The main four such roles include:
Reviewing complex genetic test orders to ensure the correct and most cost-effective test has been ordered for a specific patient based on their personal and/or family history.
Fielding consultation requests from ordering healthcare providers and clients who are looking for help finding the best test for their patient.
Reviewing and customizing our genetic test reports for accuracy and relevance, as well as making them understandable to individuals of varying educational levels.
Keeping a close eye on prenatal specimens/testing. These samples, taken directly from the pregnancy, are often irreplaceable because of the invasive nature of the procedure. In addition, results are needed in a short time frame in order to be used for pregnancy management decisions. A genetic counselor will be involved in every step, from before the specimen is drawn to alerting the provider that the result is ready.
Why do you like best about your job?
The thrill of constant learning and the variety of cases are what I like best about working at ARUP. Two days are never the same in this role, and complex, challenging cases are constantly arising. I learn something new every day! The supportive environment means I can reach out and collaborate with other ARUP experts, and expand my knowledge in the process.
Peta Owens-Liston, Sr. Science Communications Writer
Related blog
"Genetic Counseling Students at ARUP: Watch Rookies Learn from the Pros"