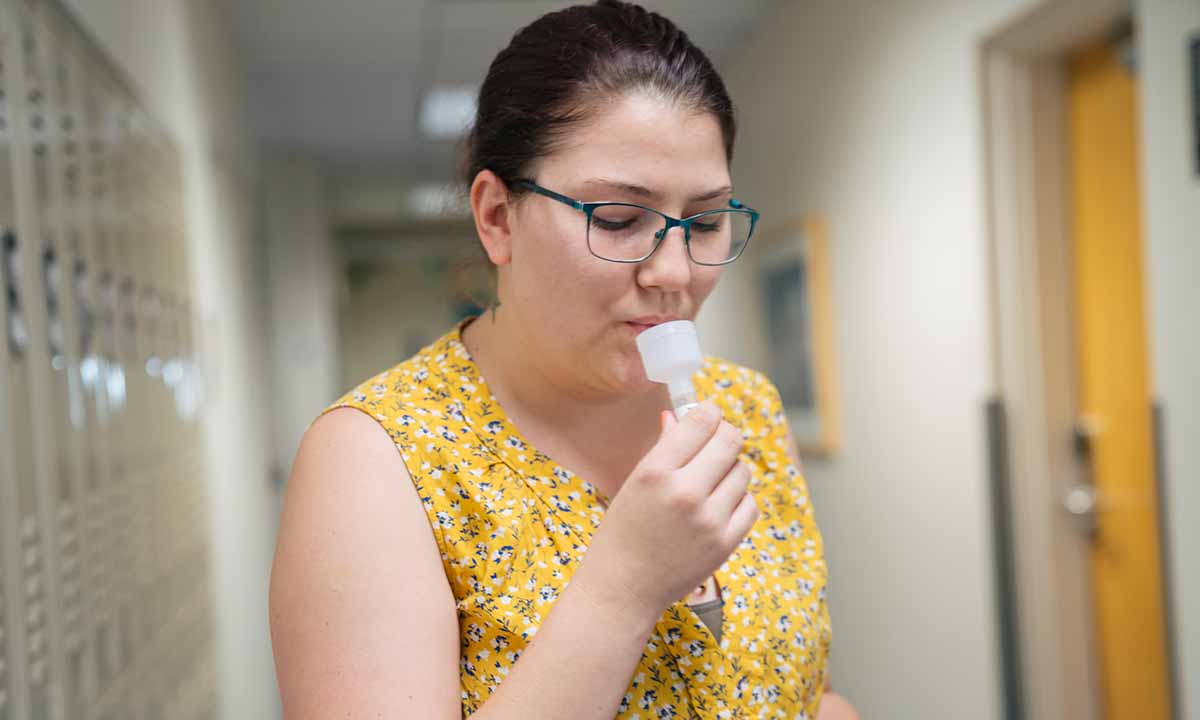 A woman collects a saliva sample, a specimen type validated for the COVID-19 molecular diagnostic test developed during the COVID-19 pandemic as a laboratory-developed test.
October 2, 2023
ARUP Laboratories has joined the American Clinical Laboratories Association (ACLA) and other industry partners in opposing a proposed rule published by the FDA on September 29, 2023, that seeks to define all in vitro diagnostic products (IVDs), including laboratory-developed tests (LDTs), as medical devices under the Federal Food, Drug, and Cosmetic Act. Along with the newly proposed rule, the FDA proposed phasing in general enforcement to regulate LDTs.
These proposed rules follow multiple attempts by the FDA to regulate LDTs, including through the Verifying Accurate Leading-edge IVCT Development (VALID) Act, which Congress did not pass earlier this year. The FDA's rulemaking approach differs from VALID because the FDA would use an existing framework for regulating medical devices to regulate all IVDs, including LDTs, rather than creating a new framework.
"The proposed rules on LDTs, if enacted, would represent a dramatic expansion of FDA authority over activities currently being safely performed in nearly all high-complexity clinical laboratories across the country," said ARUP Chief Medical Officer Jonathan Genzen, MD, PhD. "The FDA continues to present a one-sided perspective on LDTs, using a framework of manufacturing and commercial distribution that simply doesn't fit well to clinical laboratory environments."
LDTs play a critical role in patient care because they can be developed and produced rapidly by qualified medical professionals working in well-regulated environments. They encompass new tests and modifications made to FDA-approved tests (e.g., to enable testing on alternative specimen types). Due to the flexible nature of LDTs, laboratory professionals can design them in response to new threats to public health and to address other clinical needs of their healthcare facilities.
The FDA specified it would consider exceptions to LDT regulation in certain emergencies such as the emergency use authorization (EUA) process used in the COVID-19 pandemic. However, the proposed rule does not provide a pathway for clinical laboratories to respond to urgent public health threats in the absence of a formal declaration of a public health emergency, thus delaying potential recognition and treatment of future pandemic threats across communities.
It also does not recognize the critical importance of LDTs in addressing public health issues such as the opioid crisis. The only diagnostic tests currently offered to confirm the presence of fentanyl and xylazine are LDTs. Both drugs currently pose a threat to public safety, and LDTs have been instrumental in informing patient care and recovery efforts.
If implemented, the proposed rules would significantly alter the diagnostic testing market, Genzen said. It can sometimes take years for the FDA to review and approve a single IVD, making the process expensive and time-consuming. Many of the LDTs offered by ARUP and other laboratories are routine and not representative of the highly complex "black box" tests that are often referenced in discussions about LDTs. Routine LDTs are often used to measure vitamin levels, hormones, or the presence of trace and toxic elements when no commercial manufacturer has developed an FDA-cleared/approved assay. Applying excessive rules across all LDTs would disrupt offerings of a wide array of routine and complex tests across many settings.
"Hospital labs and academic medical centers may decide it is no longer financially possible to perform LDTs locally and send that testing out," Genzen said. "This could result in test delays, specimen stability issues during transportation, and ultimately more testing being done further away from the patient, which is the exact opposite of what most clinicians would advocate for their patients."
Moreover, FDA regulation of LDTs would present greater expenses to laboratories and, in turn, patients. "Using the FDA's own estimates, the additional regulatory costs to the clinical laboratory community will be staggering, representing billions of dollars in additional costs to laboratories and health systems that are already facing severe reimbursement cuts due to PAMA." The Protecting Access to Medicare Act (PAMA), has resulted in three rounds of 10% cuts to reimbursement for a number of screening and diagnostic tests, and an additional round of 15% cuts has been proposed to take place in 2024.
The FDA has expressed concerns about inaccurate or misleading laboratory testing and attributes what it deems "problematic LDTs" to a lack of oversight. Despite these concerns, reference laboratories are currently regulated by law through the Clinical Laboratory Improvement Amendments (CLIA). While the FDA states that CLIA does not require evidence of clinical validity for LDTs, it fails to mention that many CLIA accreditation organizations (e.g., CAP) and exempt states (i.e., New York) already go beyond CLIA requirements and include evidence of clinical validity in existing LDT requirements.
"We're already documenting that evidence and doing that work," said Genzen. "Quality is at the heart and center of everything we do as clinical laboratory professionals." Furthermore, evidence of ongoing quality is evident in the frequent proficiency testing performed for both traditional IVDs and LDTs.
ACLA issued a statement on September 29, 2023, in response to the FDA's proposed rules urging the agency to withdraw the rules and find an alternate means of laboratory oversight that would result in less strain on the laboratory industry and no unintended negative impact on patient care.
Genzen said that greater oversight of many LDTs can be achieved in part through meaningful CLIA reform. By legislating updated performance standards under CLIA, lawmakers could ensure additional oversight over LDTs that more closely fits the dynamic nature of laboratory work and allows clinical laboratories to do what they do best—caring for their patients.
media@aruplab.com