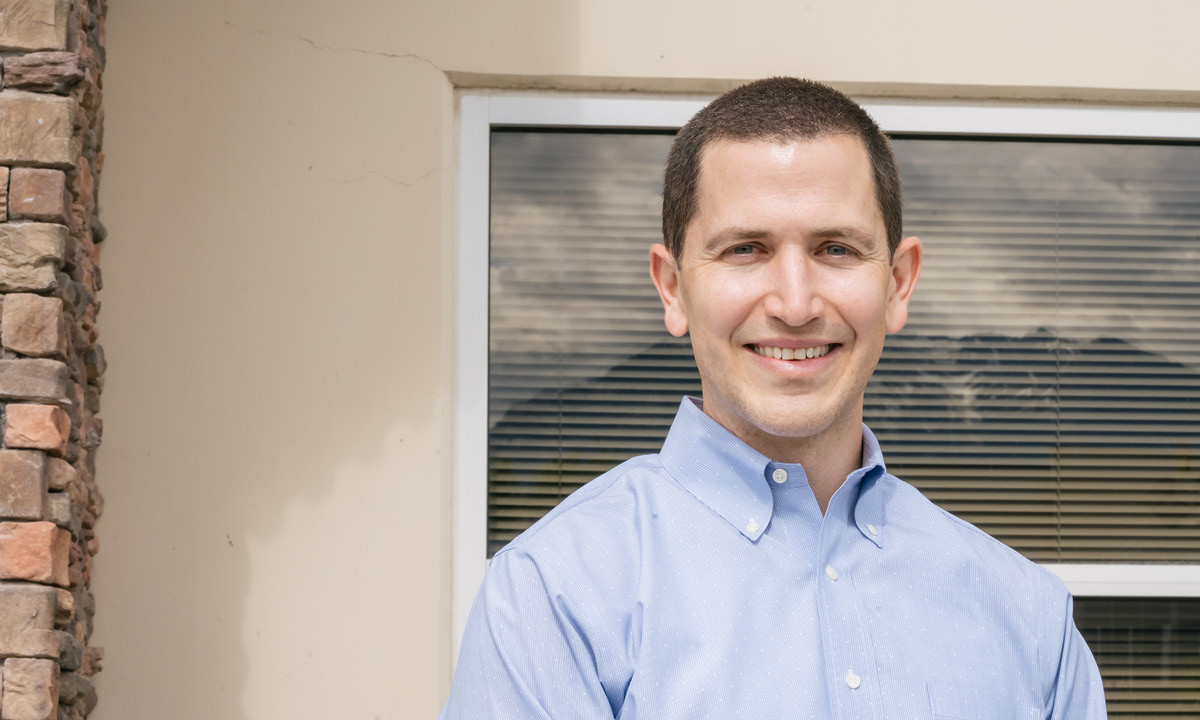 Ryan Metcalf, MD, CQA(ASQ), section chief of Transfusion Medicine at ARUP and University of Utah Health, at ARUP Blood Services, a collection site for an ARUP/University of Utah Health study to determine whether convalescent plasma is an effective treatment for COVID-19.
September 21, 2022
The Association for the Advancement of Blood and Biotherapies (AABB) has released new clinical practice guidelines for the use of COVID-19 convalescent plasma (CCP) to treat patients with the infection. The new recommendations suggest that there may be a benefit to using CCP in outpatients who are at risk for disease progression or in those who are unable to mount their own immune response.
To develop the guidelines, a committee of experts reviewed data from 21,916 participants in 33 randomized clinical trials that examined the efficacy of CCP in treating COVID-19 in different settings. The studies were conducted between January 1, 2019, and January 26, 2022. ARUP and the University of Utah participated in four of these multicenter, randomized clinical trials, along with John Hopkins University, Stanford University, Vanderbilt University, and others.
The committee consisted of experts on CCP, meta-analysis experts, and experts in the Grading of Recommendations Assessment, Development and Evaluation (GRADE), a method for gauging the quality of clinical evidence and the strength of clinical recommendations.
"There are different levels of evidence in clinical research. One of the higher levels of evidence is a systematic review that synthesizes the results from multiple randomized trials related to a specific question or set of questions—in this case, whether CCP transfusion is effective and when," said Ryan Metcalf, MD, CQA(ASQ), section chief of Transfusion Medicine at ARUP Laboratories and University of Utah Health.
The new guidelines, "Clinical Practice Guidelines From the Association for the Advancement of Blood and Biotherapies (AABB): COVID-19 Convalescent Plasma," were published online ahead of print on August 16, 2022, in the Annals of Internal Medicine.
Overall, the committee categorized their recommendations as weak for the use of CCP transfusion in outpatient settings in individuals who are at high risk for disease progression, in hospitalized patients with no detectable SARS-CoV-2 antibodies at admission, and in patients with preexisting immunosuppression.
"There were statistically significant risk reductions in key outcomes, including hospitalization rates and deaths, although the effect size was modest," Metcalf said.
In addition, the committee did not recommend the use of CCP transfusion in hospitalized patients with moderate or severe disease or for preventing uninfected persons with exposure to SARS-CoV-2 from developing COVID-19.
"If CCP is considered, it is generally more effective when given early in the disease course with high amounts of neutralizing antibodies," Metcalf said.
Although not every patient who receives CCP will experience significant improvement, some may have better outcomes than if they were not given CCP. CCP was found to be most beneficial when the transfusion contained high levels of neutralizing antibodies and when it was administered soon after infection.
"This was a monumental effort by multiple people to get these studies running and to do it quickly. In future pandemics, it's important to consider how we can best approach these problems with robust, well-designed clinical trials to determine the best treatments for patients," Metcalf said.
Kellie Carrigan, kellie.carrigan@aruplab.com