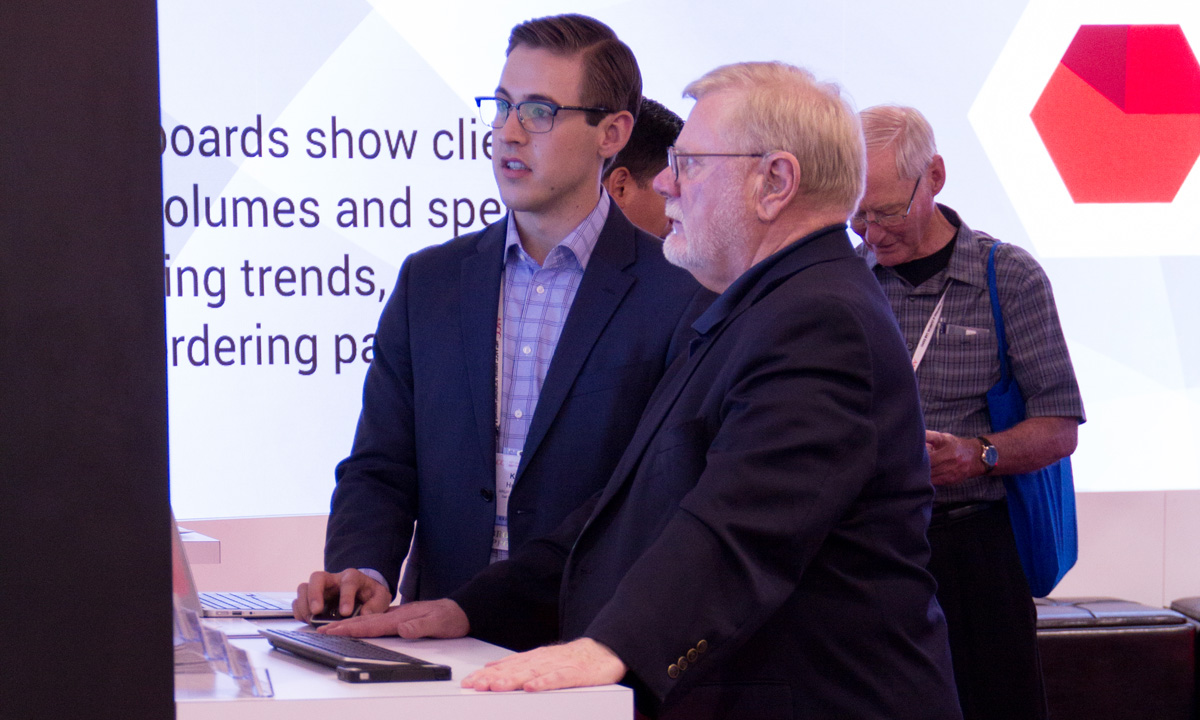 September 1, 2016
At a recent conference, Healthcare Consultant Kyle Hueth shows an interested attendee the benefits of interval testing.
---
"When you work in a lab, you feel like you know the patient. Granted, you only know them by their blood chemistries or other lab results, but that is enough to individualize the patient in your mind so you continue to recognize them by their lab values," says Kyle Dean Hueth, MLS(ASCP), who spent seven years working in ARUP's University of Utah Hospital Clinical Laboratory in the clinical chemistry and hematology sections before moving into his current role as healthcare consultant on topics related to utilization management and appropriate testing intervals.
As test requests would come into the clinical lab, Hueth often wondered why doctors would reorder the same test in such short time spans. "I understood doctors were often just trying to be comprehensive and in their eyes lab tests, at least in comparison to other hospital expenditures, were relatively inexpensive, but it adds up when approximately 70 percent of medical decisions are based on test results."
He noticed a lack of easy access to well-vetted, specific information on appropriate testing intervals. This became an interest and key driver for his master's thesis, which focused on identifying methods to derive appropriate intervals from literature and applying those intervals to laboratory data to determine the prevalence of unnecessary repeat testing.
Below, Hueth fields some questions.
Routine laboratory tests are inexpensive, so why focus on them?
Laboratory testing is the highest-volume medical activity, so it is easy to imagine the impact that laboratory data can have on the outcomes and efficiency of a patient's care. While the lab test itself may be inexpensive, the downstream follow-up activities can be costly. When testing is used inappropriately, follow-up care is often unnecessary, so reducing unnecessary testing leads to more than just cost savings from lab tests.
I'm a provider—tell me why this will make my job easier?
With healthcare in transition, patient care is becoming a "team sport." Medical laboratory professionals have a tremendous amount of knowledge they can bring to the table. If asked whether they could use help to better understand and utilize the lab, most providers would likely shout "Yes!" Test-interval guidance makes their job of administering and coordinating patient care easier by providing evidence-based intervals in the EMR and at the point of order.
Why should patients care about interval testing?
Patients have never been more informed than they are now. Understanding appropriate testing intervals is another way patients can consider the different components of care they receive and to advocate for themselves.
Appropriate testing intervals don't just apply to the reduction of unnecessary testing; conversely, an appropriate interval can also apply to promoting necessary testing, like screening for conditions to prevent or delay the onset of disease. Testing at the appropriate interval is important to a patient's care and to their wallet, especially for those who are under- or uninsured.
How does testing interval management fit under the utilization management (UM) umbrella?
Test-interval guidance is a mechanism to promote rational utilization. This is one of many tools that ARUP's Consultative Services uses when working with clients to improve laboratory test utilization and establish their UM programs.
Is ARUP unique in providing testing interval management?
No one is doing the kind of work we are doing to improve utilization and support our clients in their endeavors to optimize their institution's utilization.
ARUP test-interval guidance is based on an extensive review of guidelines and literature by the ARUP Consult editorial team. The result is highly valuable and actionable guidance to promote appropriate testing intervals.
How can interval testing help position laboratories?
This is expertise that we, as laboratory medicine professionals and practitioners, are best positioned to offer. Fulfilling this need promotes the laboratory as a value-center and strengthens the lab's position within the healthcare models to come.
Kyle Dean Hueth, MLS(ASCP), is a healthcare consultant with ARUP Laboratories. You can reach him at kyle.hueth@aruplab.com.