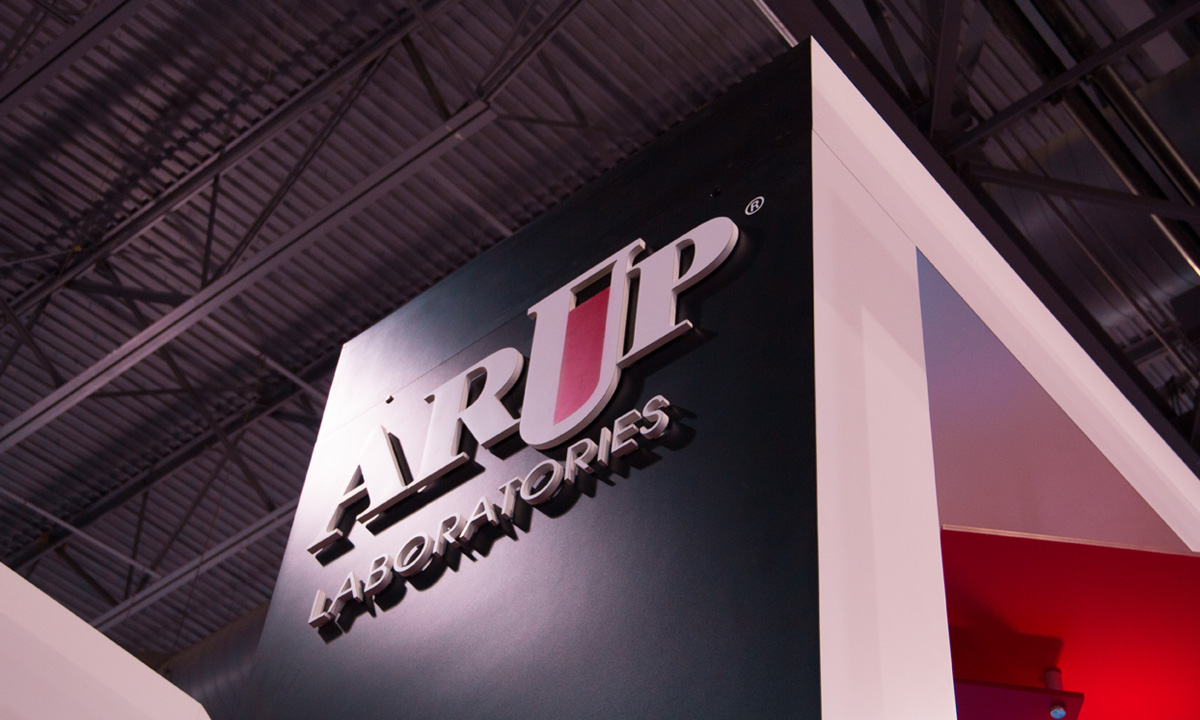 August 26, 2016
---
ARUP stood taller than usual at this year's American Association for Clinical Chemistry (AACC), with a new booth that towered some 16 feet high, encompassing 400 sq. ft. and proudly displaying a 16 ½ ft. interactive screen. Booth #319 was hard to miss.
Of course, it wasn't the booth alone that drew interested folks—present and potential clients—but the good company to be found at the booth, representing the different areas that support our clients.
This included ARUP medical directors who generously shared their knowledge and expertise, consultative staff who demonstrated the know-how and tools for better lab utilization, and account executives and product managers who provided a personal connection to ARUP and fielded questions of all sorts.
After Fred Strathmann, PhD, spoke about pain management in one of four mini booth presentations, individuals approached him (and by email later) to discuss how ARUP views proper utilization for pain management and the types of technology used—some audience members even wanted to order the test. "They were grateful to hear some real world uses for technology and how they can be abused in test design," recalls Strathmann.
"We're [ARUP] trying to provide information and knowledge that we've already gained to inspire others. Our goal is to share a proper test-design plan so everyone can lead the way in proper test utilization," says Strathmann. "We also share our failures in addition to our successes. We're experts at rethinking and repurposing while maintaining very high standards until a better path is found."
Marc Couturier, PhD, D(ABMM), spoke about molecular detection of gastrointestinal pathogens, stating that molecular GI testing is the way of the future because it is exciting, controversial, and a new frontier.
Two of the mini-lectures weighed in on utilization management (UM), a hot topic as hospitals and labs search for cost-saving approaches without compromising patient care. Brian Jackson, MD, MS, presented on key factors that separate successful UM programs from ones that stall and how ARUP can tailor these factors to help our clients build strong, scalable UM programs. He spent a half-hour speaking about UM with a pathologist from a prospect site. "He loves ARUP and considers us the gold standard for our expertise," says Jackson.
Sara Brown, MS, LCGC, brought in a genetic counselor's perspective, speaking about the expanding roles such counselors are playing in UM. She stated that, "while genetic counselors are clinically trained to educate and counsel patients face to face, those skills transfer well into a laboratory support role where you can still make a positive impact on patient care."
Eight ARUP account executives, who cover sales territories from across the country, helped man the booth. Jodi Martenson, a senior account executive from Southern California, spoke to interested international clients and connected with existing clients. "I loved that we were doing dashboard demos. As usual, the talks were good with great speakers," said Martenson. "I heard a lot of positive feedback."
"We had a lot of people, national and international, who came up and said they know ARUP because of our reputation for quality," recalls Kristie Douglass, a senior account executive in Northern California. "Some others were specifically interested in our utilization management and ARUP Consult."
"We had a lot of interest on the dashboards and then some interest on utilization management as well as consultative services. The words I kept hearing from clients were 'impressive' and 'innovative,'" says Consultative Services team member Ben Chacon, who recalls having some valuable conversations with potential and current clients. People were able to demo a real-time dashboard customized to their laboratory needs.
"It was great to talk with current and potential clients to see their reactions to some of our tools, like test-interval guidance and the utilization dashboards," adds Kyle Hueth, MLS(ASCP), also with ARUP Consultative Services. "It was clear our solutions were very valuable to them."
Also in attendance were four of ARUP's product managers, whose expertise in the following areas provided answers to a steady stream of questions: AP, oncology, hematopathology, immunology, infectious disease, coagulation, chemistry, toxicology, and genetics.
When all was said and done, people headed back home, and the impressive booth was packed back into the semi-truck it filled to head back to ARUP . . . until its next debut.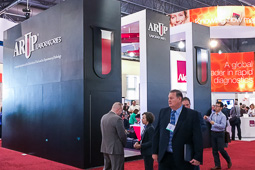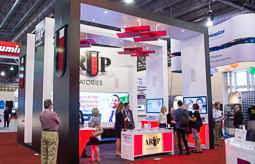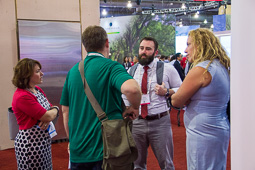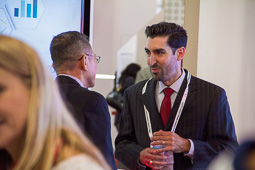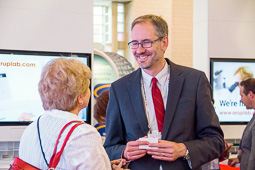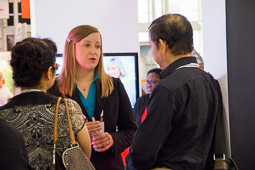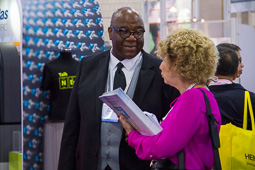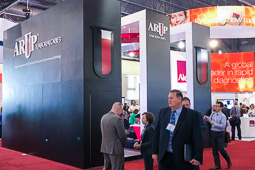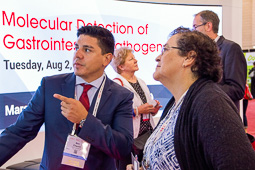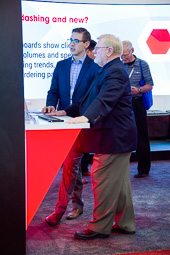 By Peta Owens-Liston, ARUP Science Communications Writer