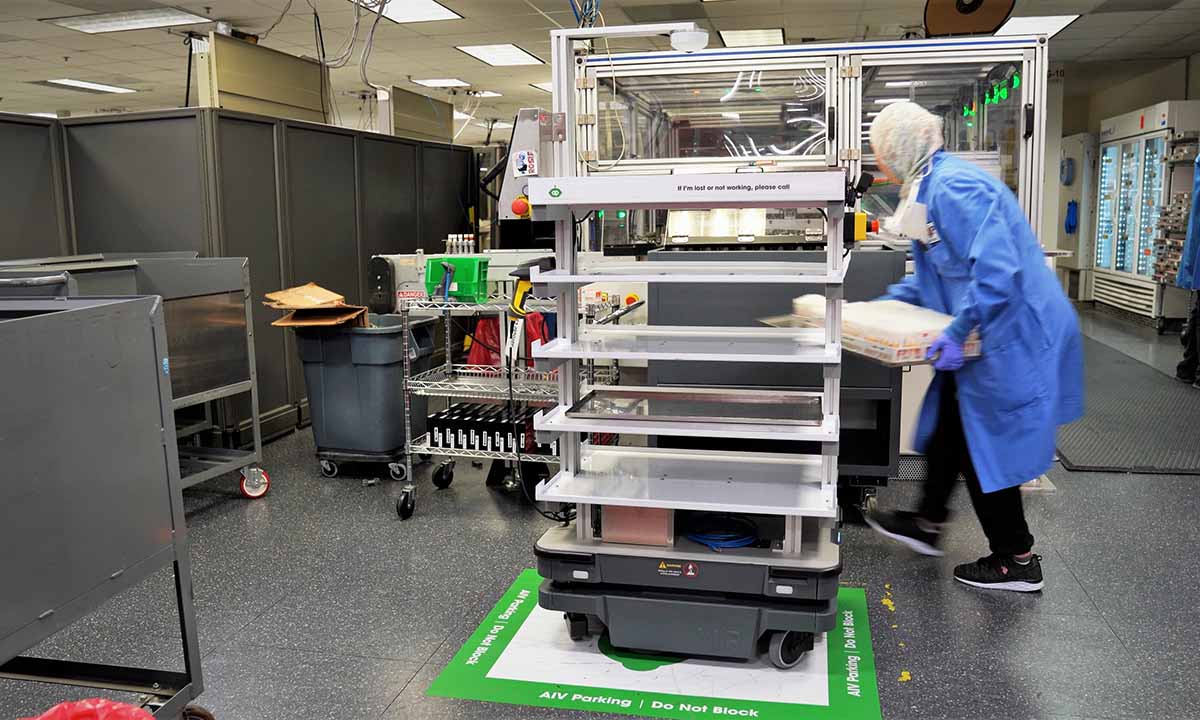 ARUP's new autonomous intelligent vehicle (AIV) helps its coworkers in the lab by transporting specimens to storage, freeing up staff to focus on other tasks. Here, a team member unloads samples delivered by the AIV.
August 25, 2022
Each time ARUP's latest autonomous intelligent vehicle, or AIV, slides into one of its green-and-white-stickered parking spots at ARUP Laboratories, it announces its arrival by breaking into song.
It's really just four notes—one familiar bar from the theme song of the 1960s Saturday morning cartoon, "The Jetsons," and an homage to the futuristic family's robot maid.
ARUP's AIV isn't doing housework, though. It's picking up tested patient samples at a zippy pace and delivering them to storage on a 24/7 loop.
It's a monotonous but important errand that the AIV has been performing since late June on a route that goes from Core Labs A and B to the Immunology, Automated Endocrinology, and Serologic Hepatitis/Retrovirus Labs in ARUP's new state-of-the-art laboratory facility and across a sky bridge to an adjacent building.
The mission at each stop: to make the job of laboratorians a bit easier. By all accounts, as a new teammate, the AIV is a seamless and helpful fit.
"This new AIV has really lessened the burden on our staff because they no longer have to transport specimens from the new building to the storage area," said Bryan Stromberg, group manager of Immunology Group II. "This allows staff members to focus on other duties. The AIV is a big hit with the lab."
This isn't ARUP's first use of an AIV in the lab, but it is its most successful, said Clint Wilcox, operations director of Support Services. ARUP first began adding robotic devices to the mix more than 10 years ago, but those early attempts were hit or miss, he said.
"We have narrow hallways, a lot of traffic, and lab coats hanging off the backs of chairs, all things that can distract an AIV's sensors," Wilcox said. "We're also always under a lot of construction, so when you show up one day and there's a ladder in the hall or they are pulling cable through a wall, it makes it hard for a robot to figure out how to navigate the space."
Another challenge: AIVs were originally designed for use in large warehouses with tasks and needs far different from those of a lab, said Jagdeep Atwal, project manager in Technical Support Services, who led the team that designed and outfitted the latest AIV.
"Adapting the technology for the laboratory space has required some creative thinking and is still a pretty new idea," said Atwal. "And ARUP is definitely early to the game."
Wilcox was skeptical about trying AIVs again and said that no one is more surprised by its success than he is.
"The biggest difference, I think, is that the technology is a lot better than it was. AIVs have come a long way in the past five to 10 years," he said.
The latest AIV was purchased from Mobile Industrial Robots and then customized for laboratory operations over a period of about four months, beginning in early 2022, by an ARUP team that includes Jared Allred, Ammon Ence, Dan Jenkins, Matt Solter, and Chris Semrow.
The collection of smart and creative electrical, mechanical, and controls engineers, along with an information technology specialist, worked together to build and mount a five-layer stack of metal trays to the AIV's wheeled battery platform. In its finished form, the AIV stands about 5-feet, 4-inches tall and weighs 365 pounds. Each metal tray is roughly 22 by 30 inches, Atwal said.
The group also wrote the software that directs what they call the AIV's daily "mission" and tricked out the AIV with flashing lights (including turn signals), backup beeps, its signature song, and other sounds.
"Watch out! I am going to be moving," announces the AIV just before it moves to its next location.
Each mission takes roughly 40 minutes and includes a five-minute stop at each lab to load or unload samples, Atwal said. Between rounds, the AIV hangs out "at home," a staging area in the lab where staff members can recharge its battery.
Jenkins, a controls engineer, programmed the AIV's directional software. He used a digital joystick to move the AIV around the lab to map the locations of walls, tight doorways, and other objects that might present barriers to movement. The AIV is affixed with a 360-degree camera that provides a peripheral-vision view of its travel, so it's immediately aware when something, or someone, gets in the way.
"It will stop and then recalculate the route so it can go around whatever is there," Jenkins said.
The AIV moves at a swift clip of about 4.5 miles per hour. Since its first day on the job, it has clocked an average of 5.6 miles per day, Jenkins said. If it keeps up that pace, it will have traveled close to 1,200 miles in its first six months—a distance equal to a one-way trip from Salt Lake City to Minneapolis or Fort Worth, Texas.
ARUP successfully moves thousands of specimens daily. Automated tracks and conveyor belts deliver about 85% of the test sample volume but are limited because they reach only certain central locations in two buildings, Wilcox noted. In addition, older lab buildings don't have the space needed to add those types of features, so AIVs provide a cost-efficient solution to move what's left and can free up lab staff for other tasks, he said.
"We have aspirations for not only more AIVs, but for more routes and expanded missions," Wilcox said. "That would include using elevators to go between floors."
Jennifer Dobner, media@aruplab.com