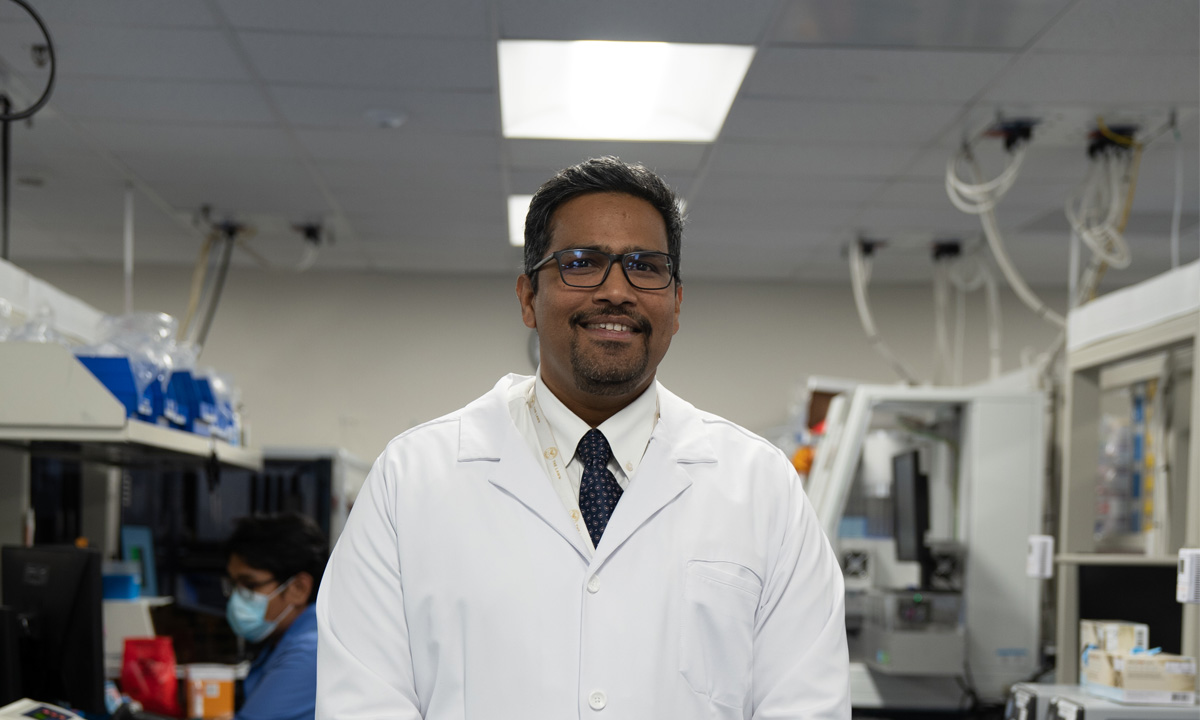 Dr. Madhu Menon, ARUP section chief of Hematopathology and host of a new Hematopathology Expert Series, will be joined by colleagues for a panel discussion following the first webinar of the series: "State of Hematopathology: The Past, Present, and the Future."
August 15, 2023
Dr. Madhu Menon Shares Details About the Launch of ARUP's Hematopathology Expert Series
ARUP Laboratories is set to launch a Hematopathology Expert Series webinar hosted by ARUP Section Chief of Hematopathology, Madhu Menon, MD, PhD, FCAP. Tracy George, MD, ARUP president and chief scientific officer, will join Menon as a presenter. Two other ARUP experts, Archana Agarwal, MD, medical director of Hematopathology and Special Hematology, and Robert Ohgami, MD, PhD, chief medical director of Research and Development in Integrated Oncology and Genetics, will participate in a panel discussion.
The first webinar, "State of Hematopathology: The Past, Present, and the Future," will be live at 1:00 p.m. MT on August 29, 2023. Continuing education credit is available for those who register for the webinar at aruplab.com/hemeState23.
The presentation will cover the evolution of hematopathology diagnosis, from microscopic analysis to immunohistochemistry and then flow cytometry, more personalized therapeutics, the incorporation of next generation sequencing (NGS), assessment of current International Consensus Classification (ICC) and World Health Organization (WHO) classifications, and the integration of artificial intelligence (AI) and digital pathology.
Menon answered questions about the webinar and what participants can expect.
How was this first webinar topic chosen?
Menon: We have been seeing this shift in hematopathology for a while, from pure microscopy and immunophenotype-based classifications to incorporation of cytogenetics, molecular data, and NGS data into an integrated diagnosis. There is also a need to recognize and diagnose the relatively underdiagnosed germline variants, especially in an adult setting … As a hematopathologist, you have to integrate all these different data points and come up with a final diagnosis. That's where we're at and where we came from. In addition, we have been discussing about digital and AI for a long time, but I think we have reached a point right now where it's happening, where we are exploring the question: "Can AI help as a decision support tool or for process improvement?" We are also at a time where, for two decades, the WHO was the unifying classification which we all followed. But the field has again split into two classifications, the other of which is the ICC. There are a lot of similarities between them, but also some pertinent differences. Dr. George will cover approaches to some of the differences in the two classifications in a practical manner.
What is special about this series?
Menon: It's a platform for ARUP hematopathologists to convey and transmit their knowledge. The goal of this webinar is to get some experts together to have an informal discussion—which is something I think is missing in the hemepath webinar space. Webinar presentations are not that uncommon now. But to have a group of people who work in a reference laboratory setting with cutting-edge technology just sit and chat, and to make that available to everyone for free and on demand on our website ... They can even get continuing education credit.
Why were these particular experts chosen?
Menon: We've got some incredibly talented experts in our Department of Hematopathology. Not everyone can say: "I want to focus on mast cell disorders or myeloid disorders or lymphomas." You have to be in a sufficiently high-volume academic place with access to cutting-edge ancillary testing and supportive clinicians to be able to say that. ARUP is an academic reference laboratory, which provides an environment where not only do we get to see cases from Huntsman Cancer Institute, University of Utah Hospital, but also unique and challenging cases from all over the United States. And so we all have subspecialty expertise. Everyone has unique areas of interest. For example, I'm interested in lymphomas, Dr. George is interested in mast cell disorders and myeloid neoplasms, Dr. Ohgami is interested in lymphomas, digital pathology, and artificial intelligence, and Dr. Agarwal is interested in RBC [red blood cell] disorders and hereditary germline predisposition. It makes for very intelligent conversation when you sit down with these folks. You know, every day I come here and I learn from these experts on a daily basis.
Who is the intended audience for this webinar?
Menon: It would benefit the general pathologist who sometimes signs out hemepath cases, hematopathologists, hematologist oncologists, trainees, residents, fellows, and even medical students, and it would also benefit laboratory technicians. This webinar will give you exposure to high-level experts, working in a unique reference laboratory setting with access to cutting-edge technologies, who will try to simplify the complexities so that they can be understood by practicing general pathologists.
Alice To, alice.to@aruplab.com