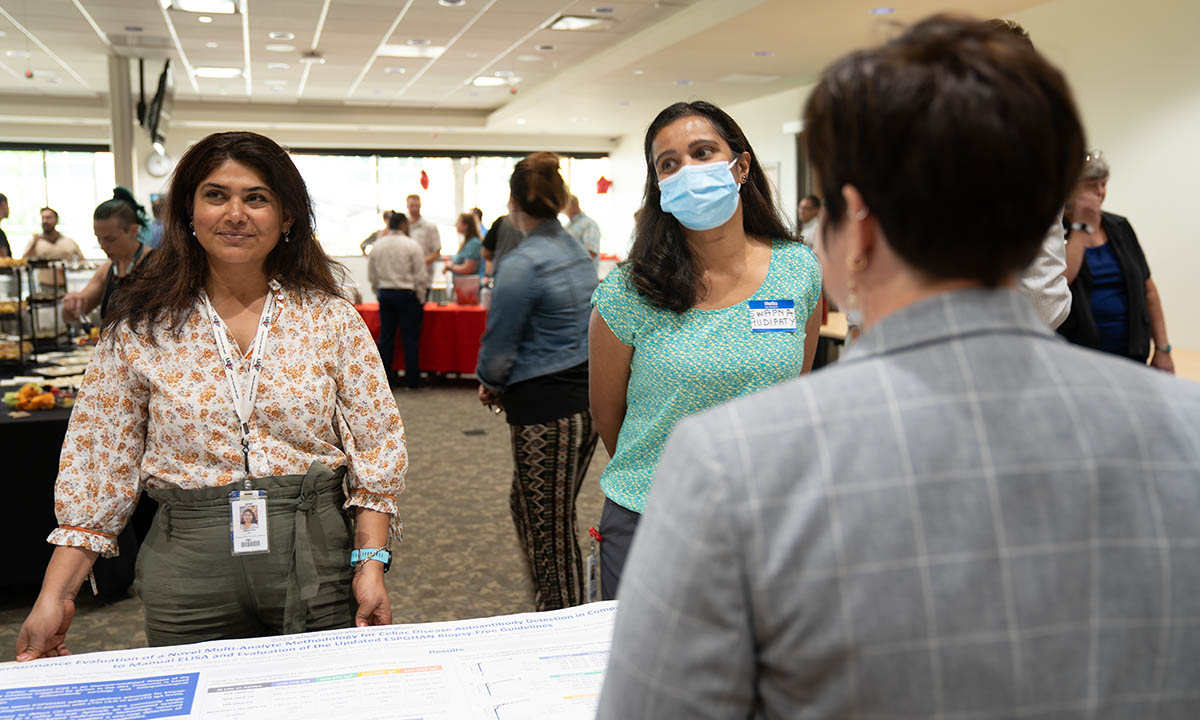 Dipanwita Banerjee, MS, associate scientist in Research and Development (R&D) Immunology, and Swapna Gudipaty, PhD, scientific manager of R&D Immunology, present their findings related to validation of a novel testing technology.
August 8, 2023
At ARUP Laboratories, employees process thousands of specimens each day. Given the consistently large influx of samples, creative ways to maximize efficiencies and automate processes are essential to provide timely patient test results. Many of the innovations that enhance ARUP's workflow come from its employees. Their contributions enhance patient care through improvements to testing capacity, test turnaround time, and quality.
On July 27, 2023, these employees' innovations were on display at ARUP's first-ever Innovation Celebration.
Leaders of ARUP's Patent Committee organized the Innovation Celebration to recognize employees for their novel ideas and projects. Chosen exhibitors showcased their teams' work through posters, multimedia displays, and interactive demonstrations. In addition to the innovation exhibits, educational booths provided guidance and incentive for sharing ideas with ARUP.
Herbert Ley, PhD, patent agent in ARUP's Corporate Compliance office, and Jonathan Carr, JD, ARUP's compliance officer, decided to plan and host this Innovation Celebration to recognize employees whose innovations don't qualify for patents or trademarks. There is "a remarkable and very important set of inventions and innovations that we can't always recognize through the standard practice of drafting and filing patent applications and pursuing patent protection," Ley said. "And these are the types of innovations we wanted to recognize and celebrate at this event."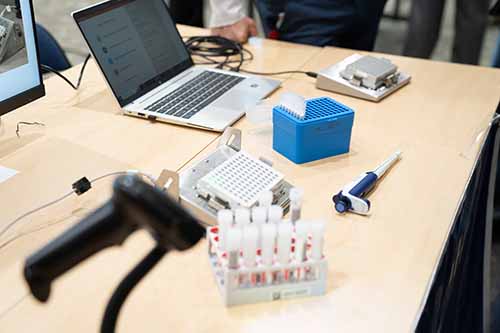 ARUP Chief Financial Officer Kent Gordon, CPA, MAcc, used the Innovation Celebration as an opportunity to promote ARUP's Cost-Savings Program. This program incentivizes employees to share ideas that create efficiencies in the company.
"If an employee comes up with an idea, gets approval from their leadership, and implements the idea, then the company will pay that employee 10% of the first year's savings," Gordon said. "I call it a triple win. You're refining a process that will improve quality, the employee gets a cash bonus, and the company gets financial benefit that they're going to enjoy for years."
Participating employees were eager to share their innovations. Mark Pentz, PMP, MBA, C(ASCP)CM, project manager in Operations Engineering, presented Pipette-to-Light, a device that uses LED lights to signal where a laboratory technician should pipette a given specimen. When a technician scans the sample's barcode, an associated software displays the required volume and dilution, while the well lights up where the sample should be pipetted. Pentz brought the Pipette-to-Light device to his exhibit and encouraged participants to scan empty specimen tubes with example barcodes to see it in action.
The aim of this tool is to improve quality and, in turn, support the delivery of better patient care. "We're humans. We're not robots," Pentz said. "It reduces the human error." The device also makes quality investigations more effective by creating a data trail, as it logs the details of each sample transfer.
At another booth, Dipanwita Banerjee, MS, associate scientist in Research and Development (R&D) Immunology, and Swapna Gudipaty, PhD, scientific manager of R&D Immunology, presented their findings on the validation of a novel technology that detects antibodies in patients with celiac disease (CD). The testing method uses the fully automated and high-throughput Aptiva system and enables next generation testing in CD. Once fully implemented, this newly validated test will reduce personnel intervention by 82% and minimize processing time by 20% per day.
Overall, Aptiva will increase capacity, efficiency, and reliability within ARUP's Autoimmune Immunology laboratory and provide on-demand information to clinicians for management of patients with CD. ARUP is the first lab in the United States to validate this new technology for CD, thanks to collaboration between Vijayalakshmi Nandakumar, PhD, MS, medical director of Immunology at ARUP, and Werfen (Inova Diagnostics).
"When there are so many patient samples in our clinical lab, it's important to get results quickly," Banerjee said. "This new technology will reduce human work hours and simplify our lives. Life will be easier for the technologist, the doctor, and the patient. Everyone will benefit from this."
Banerjee was impressed by the event and thinks it's important to share innovations with fellow employees. "It's a great way to reach people who are new to this company and don't know about the research we do," she said.
media@aruplab.com