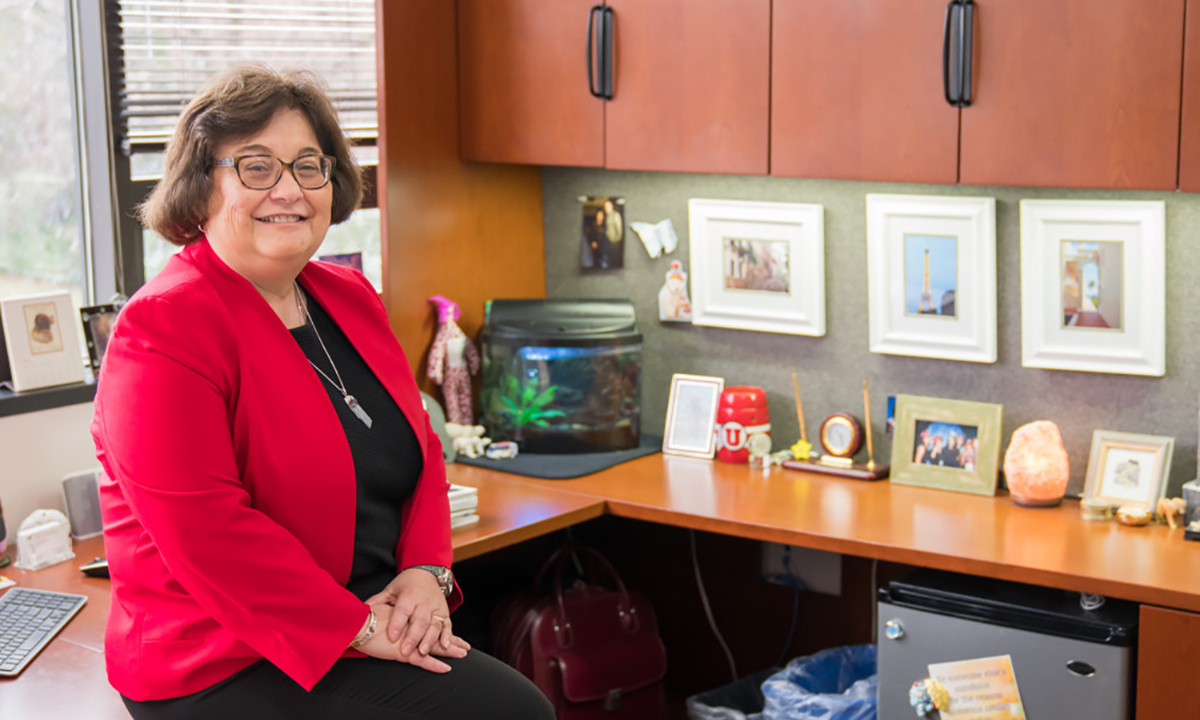 August 3, 2020
Nancy Andes, senior vice president of marketing, retired on August 3, 2020. She has been with ARUP for 43 years and helped grow ARUP into a well-respected, nationally recognized reference laboratory.
Even in the early days of her career as a medical technologist, Nancy Andes, senior vice president of marketing at ARUP, had a propensity to wander, seeking opportunities to interact with individuals in other departments to learn more about their challenges and successes.
Her colleagues even jokingly placed a sign on her back that read, "If found, return to Hematology."
Andes, who retired from ARUP on August 3 after 43 years with the company, adopted a people-first mentality that permeated every aspect of her career and formed the basis of her decision-making. Her ability to organize people with diverse talents, skills, and strategies into a cohesive team with clear vision contributed to ARUP's evolution from a small outreach laboratory to a nationally recognized reference laboratory.
"I can recognize the diversity of individual skills and have been able to bring them together in ways that allow our teams to face challenges that would have been difficult to face alone," Andes said of her unique ability, which resulted from the dedicated time she spent interacting with both clients and employees, developing genuine personal relationships.
"I believe it's important for leadership to interact interpersonally with the staff — to express concern and appreciation for the work each team member performs. You need to understand the skill sets of everyone and their challenges to lead them to a successful strategy," she said.
The results of her philosophy are evident in the countless connections she has made. Many coworkers expressed their appreciation for Andes and celebrated her time at ARUP during a virtual retirement party.
"Nancy is genuine, warm, and approachable to everyone, whether they have been with ARUP for many years, or just a month or two," said LeeAnn Wilcox, ARUP IT business systems analyst.
Andes has been an integral part of ARUP since the beginning. She was working as a medical technologist for the University of Utah in 1983 when she learned that she would be transferred to ARUP as part of the transition to the new laboratory, which was launched in 1984.
Andes said ARUP founder John Matsen alleviated her initial apprehension about a sudden transfer to a new, untested company.
"John Matsen was convincing when he assured us about the success of ARUP and that it would grow, but I don't think any of us imagined that it would become what it is now," Andes said.
She didn't remain a medical technologist for long. Andes quickly realized that a career as a medical technologist felt too isolated to her personable nature. So she pursued a master's of business administration degree at the University of Phoenix to focus on a career in business that allowed her to focus on developing personal relations.
After a short stint in sales, Andes eventually found her calling in marketing, where she built a team from scratch with few resources. and numerous "hats" to wear. Andes and her small team of four or five individuals juggled the responsibilities of communications, market research, client proposals, and fee and pricing strategies. Andes remembers without enthusiasm the nightmarish task of tracking tests and pricing strategies manually in Excel spreadsheets, but her diligence paid off as she worked to transform ARUP.
"The focus of that initial marketing group was to expand our small outreach lab in Utah into a nationally recognized reference laboratory," Andes said. ARUP had already seen success in the western part of the country, but Andes set out to expand eastward.
Despite the challenges of promoting ARUP's services to East Coast prospects who often didn't even know where Salt Lake City was, let alone want to send their samples here, Andes and her team succeeded in their goal.
I believe it's important for leadership to interact interpersonally with the staff—to express concern and appreciation for the work each team member performs. You need to understand the skill sets of everyone and their challenges to lead them to a successful strategy
Andes' was able to inspire not only her colleagues but also clients to unite behind a single purpose, and she gained a reputation for handling difficult negotiations and pulling solutions seemingly out of thin air.
"Although they were intimidating at first, I grew to enjoy tough negotiations, particularly the challenge of bringing various people to the table and finding a solution that was a win-win for everyone."
Jason Coy, supervisor of proposals and contracts, describes Andes' talent for completely turning around even a deteriorating negotiation. "In some situations, I wondered how we could possibly work out a solution. Then it was as if Nancy just flipped a switch; she could understand what a client needed to move forward — and she would do it so nonchalantly."
In 2005, Andes joined ARUP's Executive Team. By that time, her cumulative experience in business and marketing and her technical knowledge enabled her to promote strategies that added value for patients, clients, and employees.
Shortly after joining the Executive Team, Nancy oversaw a project headed by Brian Jackson, MD, medical director of Support Services, Information Technology, and Business Development, to build what would become ARUP Consult. Designed to bridge the gap between ARUP and clinicians, who are the end users of ARUP's diagnostic testing, ARUP Consult is a laboratory test selection support tool that categorizes more than 2,000 lab tests into topics.
"We needed a conduit that could demonstrate our expertise and provide a tool that would aid physicians in ordering the appropriate test," Andes explained.
Jackson realized that while ARUP produced a lot of excellent medical content, there wasn't a vehicle to convey that information to clinicians.
"As a project that was not only a first for ARUP, but the first of its kind in the industry, building Consult required flexibility and room for trial and error. Nancy gave us an enormous amount of freedom to do what we needed to do," he said.
The website launched in 2007 at the American Academy of Family Physicians conference, where it was well received as a valuable tool to aid physicians.
ARUP Consult laid the groundwork for ARUP's current Consultative Services' offerings in utilization management.
"It may seem counterintuitive as a business strategy to help clients evaluate any unnecessary testing, but that is ARUP," Andes said. "Our first consideration is to ensure we provide benefit for the patient."
Andes is also proud of the measures that she and other executives initiated to contribute to the well-being of ARUP employees, including the Family Health Clinic, Wellness Center, and childcare services.
Despite the intense demands on her time as an executive at ARUP, Andes still takes the time to wander through Business Development, on strolls affectionately dubbed by some as "cube tours."
"Nancy's walk-around management style has been most welcome and her sincere interest in those she manages is the stuff that binds teams together and is so important during difficult times like now. She has always been kind, understanding, and supportive," said Lawrence Domenick, a contract administrator at ARUP.
During her retirement, Andes plans to wander even more. She and her husband, Brad, hope to hitch up their trailer, pack up their two dogs, and tour various vistas, including the Grand Canyon, that she often didn't have time to explore because of her demanding schedule. Although their international travel plans will have to wait, due to the current pandemic, Andes hopes to see the hills where Julie Andrews famously twirled and sang. But until then, she has every intention of staying busy and devoting more time to her hobbies: photography, cheering for the Utes, and hiking with her dogs (who are absolutely thrilled with Andes' retirement).
When asked what she would most miss about leaving ARUP after 43 years, Andes' unsurprising answer had everything to do with the daily interactions she would miss, including her frequent "cube tours," although she has developed many lifelong relationships during her time at ARUP that will continue.
Lisa Carricaburu, managing editor of Informatics Decision Support, summed up Andes' irreplaceable contribution to ARUP: "Every company relies on that one employee who is its institutional memory—the person who knows the story behind nearly everything that has ever occurred. Nancy has been that person for ARUP. There are just too many tales to tell, all of which pertain to Nancy stepping up or stepping in on ARUP's behalf to get or keep business to ensure our success."