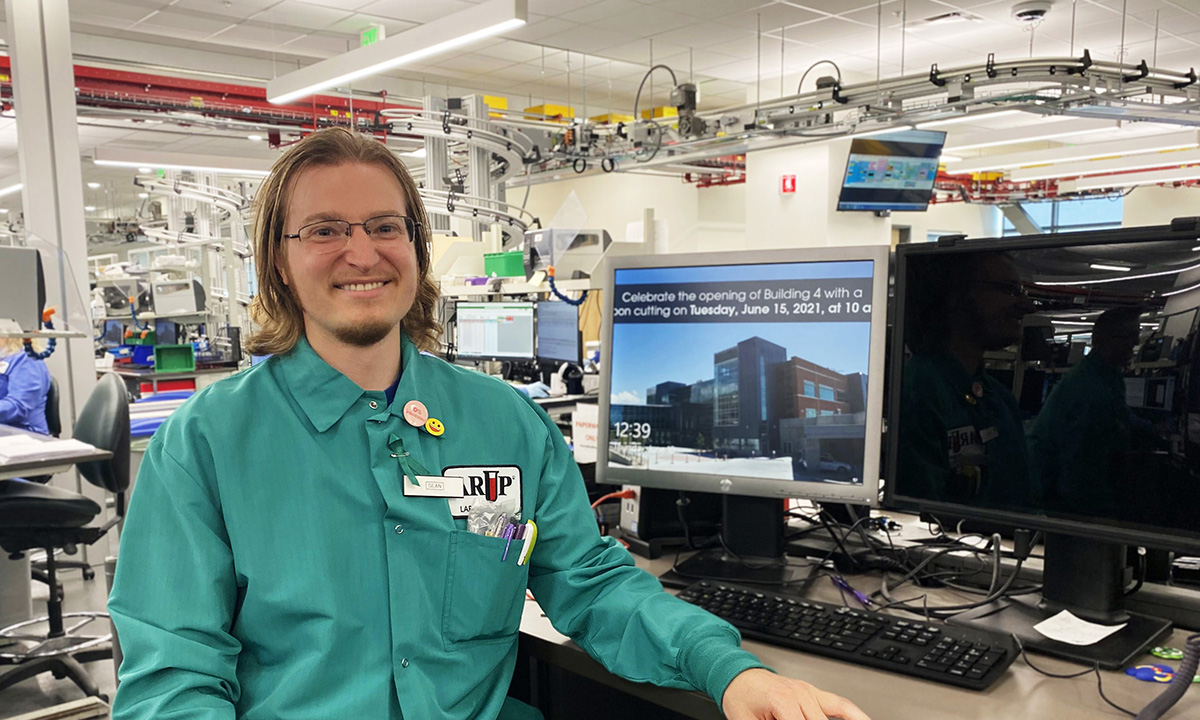 Sean McGary wasn't sure what kind of career he wanted when he started at ARUP in an entry-level position. He just needed a reliable schedule with a stable company. Since then, McGary has consistently moved up into positions with more responsibility and increased pay.
August 2, 2021
Career Growth Profile
The career growth spotlight series shows the myriad career paths possible at ARUP, inside and outside more than 65 laboratories and in more than 180 departments. Employees can excel and advance through extensive on-site training, lab mentorship programs, and a tuition reimbursement program.
Learn more
Sean McGary was determined to get a job at ARUP Laboratories. He applied six times before he was hired as a specimen processing technician. "I applied to positions that didn't require a college degree or lab experience."
That was six years ago. McGary had recently moved to Utah from Idaho Falls, Idaho, and was working varying hours for a catering company. At the time, McGary's brother worked for ARUP and encouraged him to keep applying because joining ARUP would land him in a stable, growing company that could provide a reliable schedule.
"I knew little about everything else that comes with a job here," said McGary, who learned during orientation that he would receive excellent healthcare benefits, contributions to his retirement savings, and profit-sharing bonuses, too.
Along with other new Specimen Processing hires, McGary spent eight weeks in training (the training is now six weeks). They learned how to use computer applications that would help them track specimens once they arrived at ARUP. They were trained to read specimen labels for temperature requirements, specimen types, and tracking numbers.
"Our group of six had two trainers, who were really patient and supportive. They understood that once we were out of training and on the floor, we would still be learning and it would take us a while to get up to speed," McGary recalled.
After 15 months, McGary moved up to become a specimen processing technician II. He also started school at the University of Utah. Initially, his plan was to earn a psychology degree. He worked the night shift and took early-morning classes.
"It was tough, but my supervisor was supportive and worked with me if I needed to make modifications to my shift," McGary recalled. "Leaders here really encourage people to continually improve, and often that means getting more education, either through the company or in school."
Six months later, McGary moved into a processing support technician II (PST II), a role in which he did everything required in his previous role, in addition to managing a pod of four to six people. However, with the demands of school and the challenges of the new job, he opted to return to his previous position as a specimen processing technician II. After he gained more experience and took a break from school to earn money for tuition, McGary moved back into the PST II position with the support of his supervisor to give it another try.
Working in a lab environment and learning about all of the different specimen types arriving at ARUP stoked McGary's interest in the sciences. He wanted to know more about what goes on in each of the 65-plus labs to which specimens are sent at ARUP.
"I've always loved biology and anatomy and physiology and even chemistry, and now I was seeing all sorts of blood, serum, tissue, and all kinds of specimen types linked to different diseases and conditions," McGary said.
He decided to work toward a medical laboratory science (MLS) degree, which ARUP will pay for entirely if he attends an MLS program at either the U or Weber State. He is taking prerequisites at Salt Lake Community College, and ARUP's Tuition Reimbursement program will help pay for his classes there.
After working as a PST II for 11 months, McGary applied to become a workflow coordinator (WFC) and has performed this job for the past 18 months. As a WFC, he helps manage and prioritize the specimen shipments that arrive and ensures that they are distributed quickly and fairly to processors. He also answers questions or oversees the processing of certain specimen types, such as amniotic fluid or umbilical cord tissue.
"WFCs are like shepherds. We make sure all the specimens get to the specimen processors efficiently," McGary said. This summer he will become a specimen processing lead, working with processors to help them with any issues with their processes (e.g., quality, productivity, reliability) and resolving issues. He will also be a liaison between the processors and support staff and management.
"Really, this place has helped me figure out what I want to do with my life so far," said McGary, who added that he has stayed at ARUP over the past six years because he enjoys his coworkers and supervisors, has benefited from a steady increase in wages (plus overtime pay), and has the security of excellent benefits.
McGary, an extrovert who is quick to laugh and share stories, spends his workdays (Tuesday through Saturday, from 8:00 a.m. to 4:30 p.m.) on the fourth floor of ARUP's newest 220,000-square-foot building, with mountain views in four directions. This is the operational center of Specimen Processing, ARUP's largest department, which has more than 500 employees.
However, it is not only the views but the diversity of McGary's coworkers that enhances his workday. "I get to know people with different cultures and religions and ideas. Some of my coworkers are from India and some from Mexico, others are from Ireland and some from Korea. I have coworkers from all over the USA, all with different experiences to share. I have older coworkers and younger coworkers, and each has something unique to add to conversations because life is different for everyone as we all grow up."
Meet Sean McGary in this 45-second video and find out what is next for him.
Peta Owens-Liston, peta.liston@aruplab.com