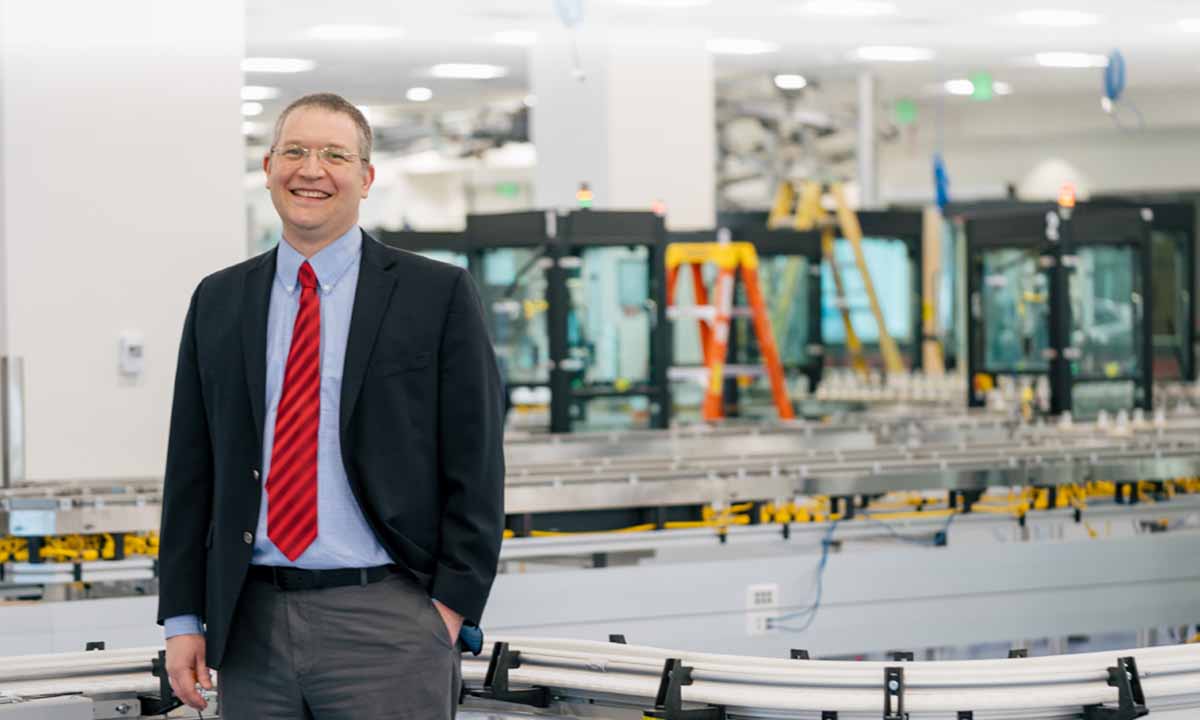 ARUP Chief Medical Officer Jonathan Genzen, MD, PhD, will present insights on workflow, specimen transport, and automation in an American Association for Clinical Chemistry (AACC) 2023 scientific session.
July 24, 2023
ARUP Laboratories' researchers and medical directors will take center stage at the 2023 American Association for Clinical Chemistry (AACC) Annual Scientific Meeting and Clinical Lab Expo this week as expert speakers on laboratory stewardship, industry workforce needs, automation, and more.
The 75th annual AACC meeting began on July 23 and will continue through July 27 in Anaheim, California, where ARUP experts will share their research and expertise in scientific sessions, workshops, and poster presentations. Registration for the event is open and available here for online attendees.
Jonathan Genzen, MD, PhD, ARUP chief medical officer, will lead a scientific session entitled, "Advances in Courier, Drone, and Automated Laboratory Transport," alongside Joe Wiencek, PhD, DABCC, NRCC, FAACC, and Timothy Amukele, MD, PhD, to discuss workflow and specimen transport. Genzen's presentation within the session, "Maximizing Efficiency in Processing and Specimen Distribution through Laboratory Automation," will take place on July 24 and offer insights into ARUP's specimen processing and state-of-the-art automation system.
David Shiembob, MBA, C(ASCP)CM, ARUP Healthcare Advisory Services manager, will participate in a special AACC Healthcare Forum entitled, "Meeting the 21st Century Needs of the Laboratory Workforce," that will explore the scope of the laboratory staffing shortage and offer guidance for laboratory leaders to retain and empower employees. His presentation within the forum, "The Personnel Crisis and What It Means for Clinical Labs," will take place on July 25.
In addition to the presentations by Genzen and Shiembob, ARUP Laboratories is sponsoring two auxiliary events, the Society for Young Clinical Laboratorians Workshop and Mixer, and the Lab Medicine Creating Optimal Health - Think Tank Part II, hosted by the Health Equity and Access Division of the Association for Diagnostics and Laboratory Medicine.
The 2023 annual meeting marks 75 years of innovation in laboratory medicine at AACC. This year's theme, "We Are One," applauds the unity of the international clinical laboratory industry and its role in innovation inside the lab and beyond.
A list of some of ARUP's posters and presenters at AACC 2023 is available below. For more information about this year's conference and to search for sessions and exhibitors, visit AACC's website.
Posters
Abnormal HbA1c results lead to an unexpected chronic myeloid leukemia diagnosis
N.M. Mathewson, L.N. Pearson, K. Doyle
CFTR modulator therapy increases serum/plasma concentrations of vitamin A in people with cystic fibrosis
H.A. Nelson, I. DeBiase, K. Balogun, C.M. McDonald, F. Asfour, T. Yuzyuk
Performance validation of an in-house assay for soluble mesothelin related peptides
J.A. Erickson, K. Doyle
A single centre experience of anti-carbamylated protein antibody testing in the routine evaluation of rheumatoid arthritis
C.L. Novis, H.A. Nelson, D.L. Lebiedz-Odrobina, V.L. Nandakumar
Specimen storage and onboard stability of serum ionized calcium using the Nova Prime ES Comp Plus analyzer
J.J.H. Hunsaker, S.L. La'ulu, K. Doyle
Comparison of the Performance Characteristics of the Third Generation Anti-Cyclic Citrullinated Peptide CCP3.1 IgG/IgA and CCP3 IgG Assays
V.L. Nandakumar
Presentations
Advances in Alzheimer disease diagnostics and therapeutics
H.A. Nelson
A guide to interpreting complex urine, umbilical cord, meconium and hair toxicology cases
J. El-Khoury, K.L. Johnson-Davis, J. Hubbard
Camryn Fife, camryn.fife@aruplab.com