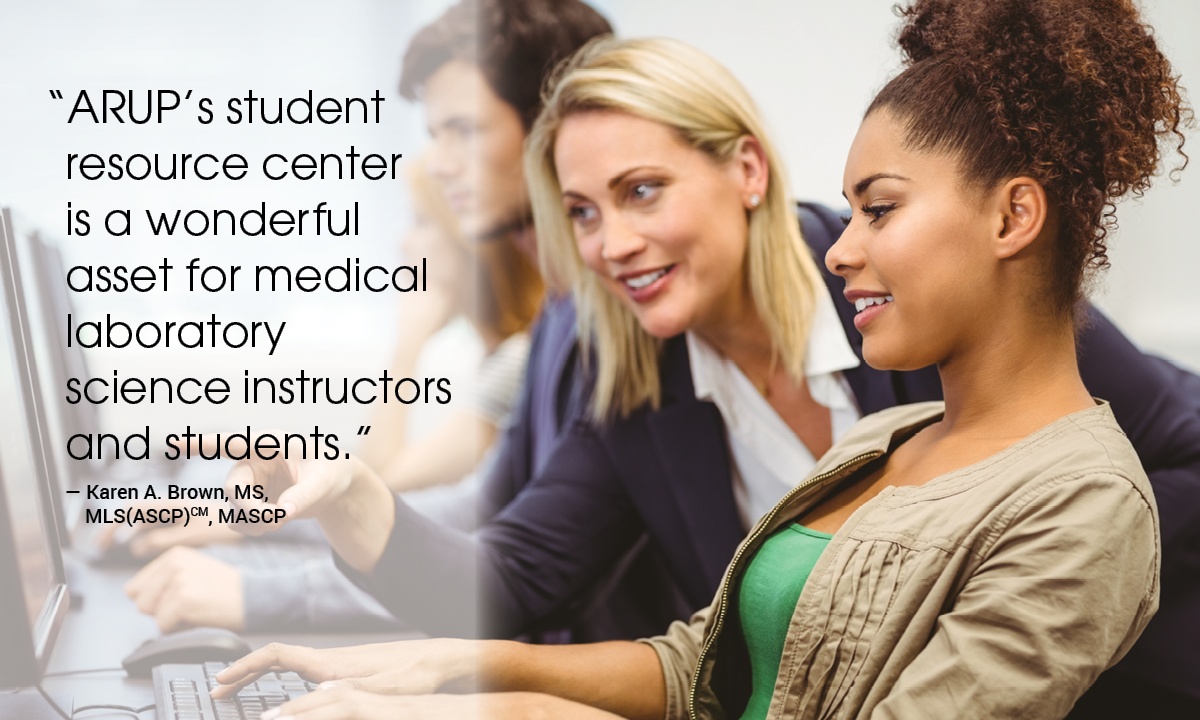 July 20, 2021
ARUP has launched an enhanced MLS Faculty & Student Resource Center that provides free online materials to supplement and enrich medical laboratory science (MLS) students' academic experience. Designed to provide MLS faculty with supplemental course material, the resource center provides multimedia learning materials, such as video lectures, how-to videos, and online tutorials.
As an industry leader in academic diagnostic medicine, ARUP recognizes the significant value medical laboratory scientists contribute to the quality and advancement of the field and offers these free resources to help prepare MLS students to work in the challenging and constantly evolving laboratory environment.
"Academic medicine is at the core of ARUP Laboratories' values, so it's with a great sense of responsibility that we provide educational resources to support our clients and the laboratory medicine community," said Chérie Petersen, distance education program coordinator for the Institute for Learning at ARUP. "The resource center can be used to enhance student learning while allowing faculty the opportunity to optimize precious student interaction time."
Course content for the resource center is created with the assistance of expert MLS faculty in the Department of Pathology at the University of Utah School of Medicine and subject matter experts at ARUP Laboratories. Content includes resources from various MLS academic disciplines, including microbiology, hematology, chemistry, molecular diagnostics, and more.
Karen A. Brown, MS, MLS(ASCP)CM, MASCP, adjunct professor in the Department of Pathology at the University of Utah and respected expert in the MLS field, has used the resource center to complement her own courses.
"ARUP's student resource center is a wonderful asset for medical laboratory science instructors and students. [The resources] are a great addition to instructor-provided materials, particularly the professional-quality how-to videos," Brown said.
"We hope MLS faculty and students across the country, and even the world, can benefit from these phenomenal resources so our next generation of medical laboratory scientists are ready to tackle the dynamic terrain of laboratory medicine," Petersen said.
MLS faculty and students can subscribe to the MLS Education newsletter and will be notified before each semester about newly available content in time for curriculum planning. Visit the site and subscribe at https://arup.utah.edu/mls/.
Kellie Carrigan, kellie.carrigan@aruplab.com