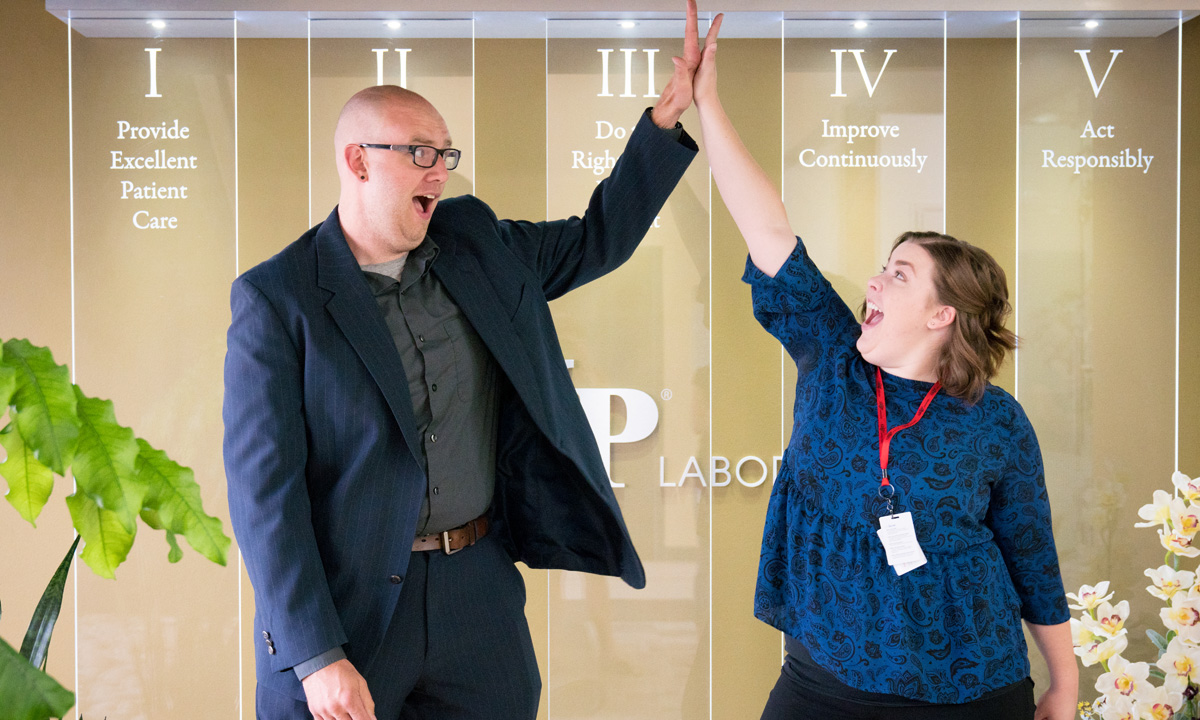 June 11, 2018
Josh Cowley-Maddocks in Product Management and Emily Shelley in Client Services remind ARUP employees to celebrate our success in keeping our clients happy.
---
Among the 650 comments shared in the 2018 Client Satisfaction Survey, fewer than 5 percent were negative. The comments in the sidebar show a pattern reflected in the survey's excellent Customer Effort Score (CES). A high 95 percent of clients rated ARUP Laboratories as easy to work with, beating our key competition.
"Our customer effort score essentially answers the question, 'How easy does our company make it to resolve issues compared to the competition?' " explained Daniel James, a senior market research analyst at ARUP. He noted there were many compliments about customer service, quality, turnaround times, online resources (e.g. website, Connect, etc.) and the interface teams (See examples of comments below.)
James noted that over the past five years, the Net Promotor Score (NPS) has climbed steadily, with this year's and last year's standing at 64 percent. Companies with a comparable score are Apple, Google and YouTube. (An NPS is based on a respondent's likelihood to recommend ARUP to colleagues. The scale ranges from -100 percent to +100 percent.)
The most notable increase affecting the NPS has been among noninfluencers—people who are not necessarily deciding which laboratory to use but are at the front lines interacting with ARUP. This group's NPS increased from 45 to 61 over the past five years. "This tells me that these frontline people are really noticing all of the efforts we've put into quality and continuous improvement; for example, the processes we went through to earn ISO 15189 accreditation."
ARUP's survey received its highest completion rate yet, at 88 percent. Historically, the completion rate has been 80 percent to 82 percent.
"There's really no one area that clearly needs improvement, but I think the survey is a reminder that just a single mistake—a lost sample, a difficult interaction—can have a big impact on our clients' perceptions of us," James said.
The College of American Pathologists (CAP) requires the survey every other year as part of ARUP's CAP accreditation; however, the Market Research Team chooses to do it annually to keep a pulse on how ARUP is doing and to provide its leadership with valuable feedback to help the company improve continuously.
"The survey is an opportunity to see if our perceptions internally are mirrored externally," said James, who also sees a strong correlation between this survey's scores and those from the annual Employee Engagement Survey. "A high level of satisfaction in the engagement survey will parallel those we see in the client survey." In short, happy employees make for happy clients.
If your team/department would be interested in having the client survey results presented during your next staff meeting, please contact Jake Stevens or Daniel James.
A Sampling of Comments*
"The customer service at ARUP is better than anywhere else in any industry. ARUP is always responsive, knowledgeable, and professional."

"ARUP is a trusted and reliable company. Their service is unmatched."

"Broad test menu, excellent customer service (real, live people!), fairly intuitive result retrieval, well-designed reports."

"The state-of-the-art assay methods provide rapid turnaround time. The staff who answer the phones are very prompt, knowledgeable, helpful, and even sweet (both male and female) and do everything they can to help answer any questions. Follow up on any questions or concerns is always reliable and timely."

"ARUP Laboratories is unlike any other reference lab I have ever worked with. ARUP is committed to providing quality results [by] putting specimen integrity first. Other commercial reference labs will accept specimens that are of poor quality and turn out results just to be able to bill for them. Working with ARUP feels more like a partnership that is dedicated to patient care and to providing quality diagnostic results."

"ARUP Connect is a great technical reference and very sophisticated. We now have a reference lab interface that we did not have prior to the switching to ARUP. Even billing has gone very well. I get a bill that generates at about 6 a.m. on the first of each month and a notification that it is ready. The exception notifications have been great for our staff and have reduced the number of calls lab staff take. No complaints."

*Client names and organizations were removed for privacy purposes.