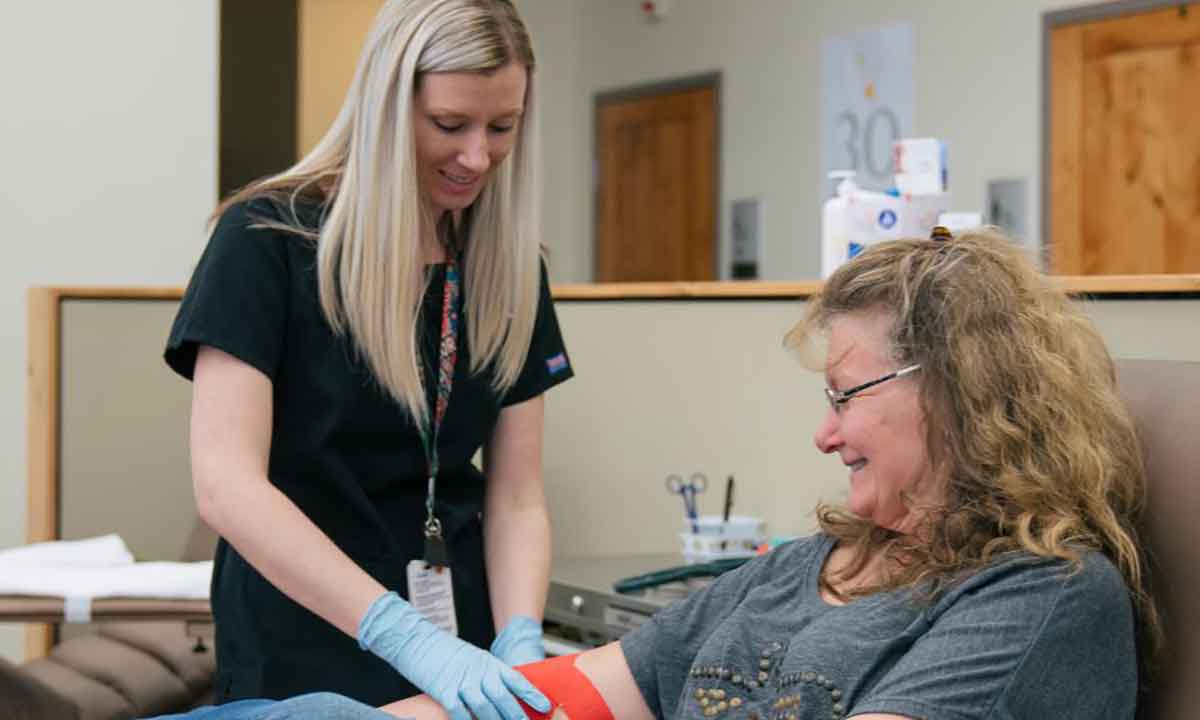 A donor collection specialist at the ARUP Blood Services Donor Center in Sandy bandages a donor's arm after she has finished donating blood. ARUP is seeking donations of O-positive and O-negative blood to help address a critical shortage.
July 6, 2021
David Beverly of Magna, Utah, said he was staying close to home, quarantining against illness and psyching himself up for a living-donor liver transplant that would save his father's life. Then he got the call.
Intermountain Healthcare needed to postpone the transplant for his father, Peter Beverly of Taylorsville, Utah, because doctors feared the hospital might run out of blood.
"Honestly, it was stunning," said David Beverly, who now is planning for a July 27 procedure. "I 100% understand, but I can't believe the blood supply is so critically low."
The predicament David and Peter Beverly find themselves in is the result of a perfect storm that led ARUP Blood Services and University of Utah Health to join Intermountain and the American Red Cross on Tuesday in a plea to Utahns to donate blood. In particular, O-positive blood—the most common blood type—and O-negative blood are needed to help stabilize Utah's blood supply through the summer.
Deborah Jordan, ARUP Blood Services community relations supervisor, said the number of patients receiving transfusions each month has increased by nearly 15% compared with a year ago. At the same time, the number of blood donations has decreased by nearly 10%.
Increased demand is due in part to the fact that the COVID-19 pandemic kept people from getting tests that lead to diagnoses that sometimes require surgery, so the number of scheduled surgeries has increased, said Rob Ferguson, MD, senior medical director of surgical operations at Intermountain.
In addition, the number of traumatic injuries that require blood for treatment always increases in the summer, but this year, the number may be even higher as people travel and recreate more now that pandemic-related restrictions have lifted.
"These factors are resulting in a critical shortage of blood like nothing I've seen in the 14 years I've been here," said Ram Nirula, MD, MPH, chief of the U of U Health General Surgery Division.
Before the pandemic, ARUP Blood Services typically collected blood from 75–100 donors per day, Jordan said. Now, its donor centers in U Research Park and in Sandy typically see 50–60 donors per day.
"We're asking for help to replenish our blood supply and to prepare for the future. Every day that we make headway, it really helps our patients, physicians, and hospitals," she said. "It's the blood on the shelves that saves lives."
ARUP Blood Services is the sole provider of blood to U of U Health, the Huntsman Cancer Institute, and Shriners Hospital for Children. All blood donated at ARUP remains in Utah.
Visit utahblood.org for information on locations, hours, and qualifications to donate, and call 801-584-5272 to schedule an appointment.
Lisa Carricaburu, lisa.carricaburu@aruplab.com