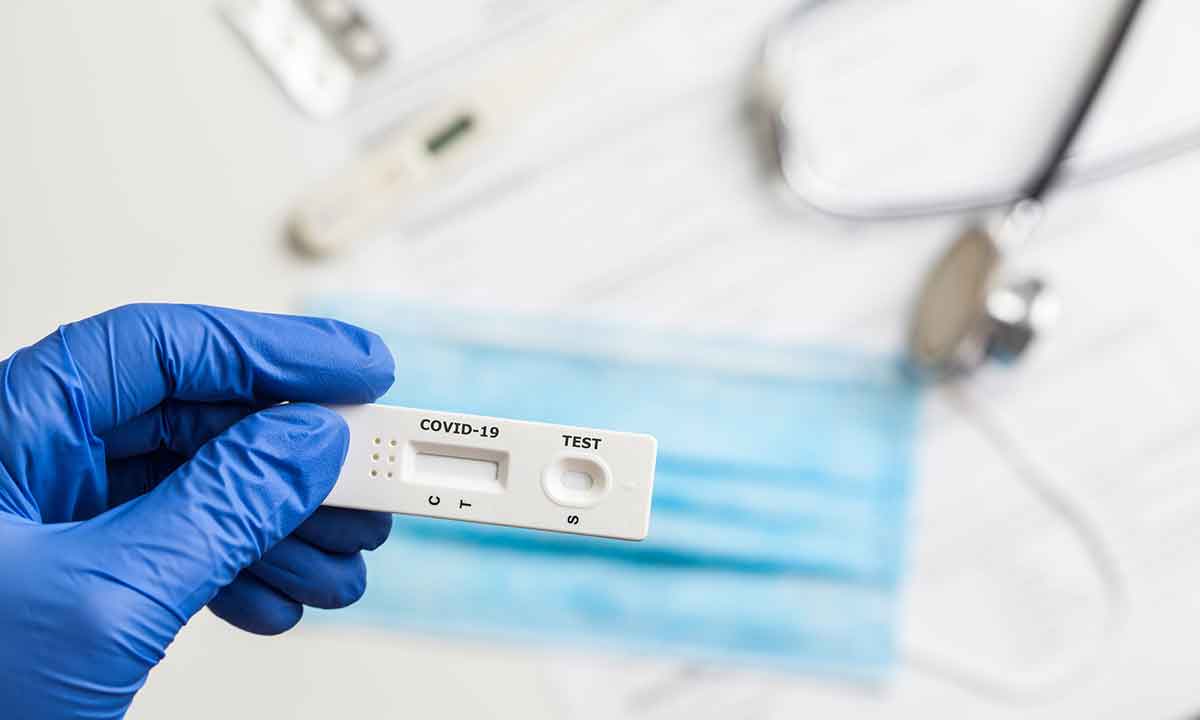 New Infectious Diseases Society of America guidelines, authored by a panel led by ARUP's Kimberly Hanson, MD, MHS, describe the benefits and limitations of COVID-19 rapid antigen testing. The expert panel suggests that standard nucleic acid amplification testing should be used instead of rapid antigen tests in most circumstances when possible.
June 22, 2021
Rapid antigen testing has been used widely during the COVID-19 pandemic to quickly determine infection status in settings such as schools or the workplace, but its role has changed as the pandemic has evolved.
New guidelines from the Infectious Diseases Society of America (IDSA) address antigen testing's changing role. They describe the limitations of rapid antigen testing and suggest that nucleic acid amplification testing should be used instead in most circumstances.
"The benefit of point-of-care rapid antigen testing is it's fast, so it'll generate results potentially while an individual is present and in front of you. You can make informed decisions about how you want to manage them or the situation," said Kimberly Hanson, MD, MHS, section chief of Clinical Microbiology and medical director of Mycology and Virology at ARUP Laboratories.
"The downside of antigen tests is that we know that they are less sensitive than the benchmark nucleic acid amplification tests, or NAAT, meaning that you need more virus to be present to detect it with the test," said Hanson, who was chairwoman of the IDSA committee that authored the new guidance.
Antigen tests are highly specific, which means that a positive test is very reliable. However, the sensitivity of antigen testing is low compared with the sensitivity of NAAT. The IDSA panel found that antigen test sensitivity was approximately 84% in symptomatic individuals within the first week of symptom onset, although this drops to 62% in later stages of disease. Testing in asymptomatic individuals has an even lower sensitivity of 49%. This means that false-negative results are common, particularly in later stages of infection and asymptomatic individuals.
Given the low sensitivity compared with NAAT, particularly in asymptomatic patients and low-incidence settings, the IDSA guidelines recommend the use of standard NAAT over antigen tests, especially for symptomatic patients or other people for whom a false-negative result will have significant implications (e.g., hospitalized patients). In settings where rapid antigen testing is currently used, testing practices may need to be adapted to enhance detection of true infections.
There may be scenarios in which antigen testing is appropriate. The IDSA guidelines state that, "Ultimately, deciding whether to use rapid antigen testing in lower-risk, non-medical settings will depend on a number of factors including the prevalence of disease in the population combined with an assessment of the value of detecting true SARS-CoV-2 infection versus the detrimental effects of erroneous results."
Kirsten Meek, PhD, kirsten.meek@aruplab.com