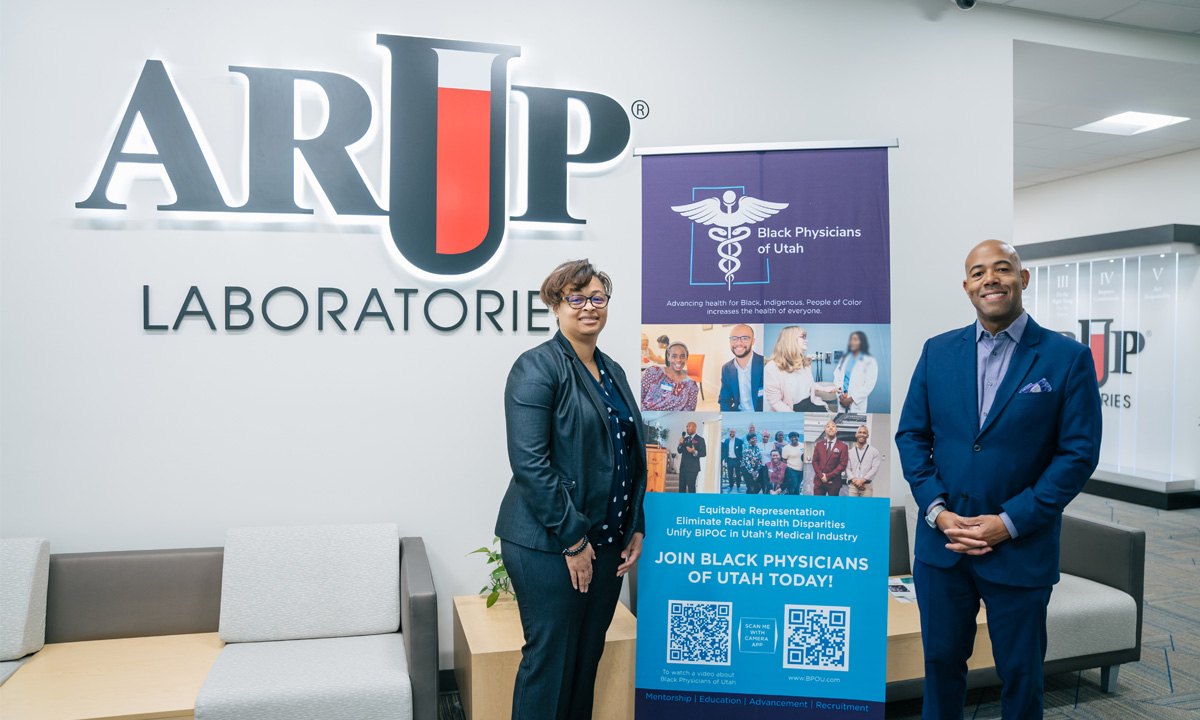 Kamisha Johnson-Davis, PhD, DABCC (CC, TC), ARUP medical director of Clinical Toxicology, and Richard Ferguson, MD, MBA, Black Physicians of Utah founder and president, initiated the planning for ARUP's Summer Research Day and collaborated throughout the event.
June 21, 2023
In March of 2021, Richard Ferguson, MD, MBA, chief medical officer of Health Choice Utah, founded Black Physicians of Utah (BPOU), a nonprofit organization dedicated to helping Black students pursue careers in medicine. After living in Utah for 11 years, he felt alone as a Black physician and made a pledge to build a community. Ferguson stated that there are an estimated 40–43 Black physicians in the entire state of Utah, a number that is not representative of the state's Black population.
Ferguson said that, on average, Black people are less likely to trust providers and seek care due to generational experiences of systemic racism. "One way that Black people will trust a provider is if they have someone who's culturally competent and nuanced," Ferguson said. "That's more likely to come from someone that looks like them." To put it shortly, "Black people live longer when receiving care from Black doctors," he said.
BPOU aims to provide better care for Utah's Black population, foster a community for practicing Black physicians, and support Black and otherwise underrepresented medical students. To recruit more Black physicians, BPOU provides aspiring physicians access to research opportunities, professional connections, and assistance with preparation for the Medical College Admission Test (MCAT). As part of these initiatives, BPOU frequently organizes tours and engagement events with local healthcare facilities.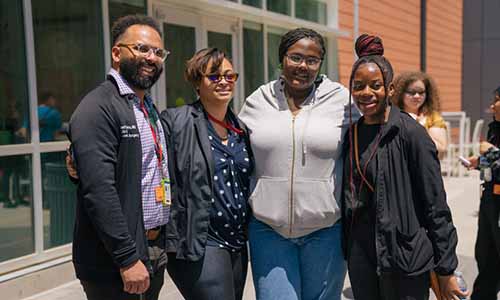 ARUP recently partnered with BPOU to organize a Summer Research Day to give a group of undergraduate and high school students an opportunity to tour laboratories, connect with ARUP researchers, and learn more about laboratory methodologies. The students got hands-on experience with laboratory equipment and had the chance to see diagnostic testing in action. ARUP medical directors shared their institutional knowledge and words of encouragement throughout the tours.
Kamisha Johnson-Davis, PhD, DABCC (CC, TC), medical director of Clinical Toxicology and a professor at the University of Utah School of Medicine, who connected Dr. Ferguson with ARUP and helped coordinate the event, was happy to share her knowledge with the students. Johnson-Davis joined BPOU in 2021 after giving a presentation on COVID-19 to the greater Utah Black community. "I'm interested in eliminating health inequities, and that's what this organization helps to do," she said.
One of the students at the event, Ajak Arok, a biology and biochemistry major at the University of Utah, used this opportunity to connect with ARUP faculty and get more exposure to his desired field. Arok's long-term goal is to become an infectious disease physician and address pressing epidemiologic outbreaks.
"I come from South Sudan, and the region is plagued with a lot of infectious diseases," Arok said. "It's really close to home for me, and I hope to eventually make an impact." Arok could see himself in a clinical or policy setting and believes that medical school is the best path to either role. He enjoyed the Summer Research Day at ARUP, particularly learning more about techniques for identifying viruses in the infectious disease lab.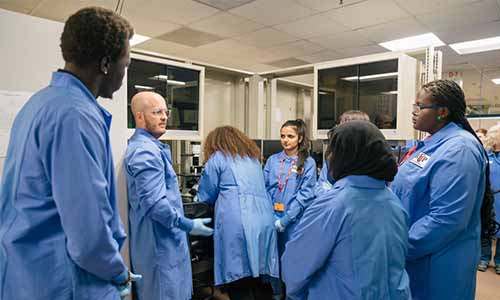 Arok knows the importance of Black representation in healthcare. "A lot of times, Black children don't see role models or inspirational figures that look like them," he said. Arok believes that the resources BPOU provides, including events like the Summer Research Day at ARUP, help underrepresented students explore career options in medicine.
"It's really important, especially early on in high school or college, to get kids exposed to these types of programs, touring the facilities, and getting their eyes open to what this career might look like," Arok said. "It's really hard to get that information out without hands-on approaches."
Part of BPOU's mission is to give students exposure to a wide range of specialties. Given BPOU's emphasis on specialty care, seeing multiple laboratory areas was critical. ARUP's unique expertise in esoteric testing provided students with exposure to many pathology specialties, including immunology, infectious disease, microbiology, and clinical toxicology.
Along with the assistance BPOU provides to medical students, the organization offers a community for practicing Black physicians. Robert Teixeira, MD, a plastic surgeon and assistant professor at University of Utah Health, joined BPOU in 2022, shortly after moving to Utah.
"It was the funniest thing. Their group showed up as a suggested post on Instagram," he said. "I didn't even realize that there were that many Black physicians, let alone a Black physician group." Now, Teixeira contributes to BPOU by attending events, participating in meetings, and recruiting his students.
Despite BPOU's relatively recent founding, they are quickly gaining traction with community connections, funding, and programs for students. "Expect more from BPOU as we begin to have a regional impact beyond Utah," said Ferguson. "We want to help people understand how practicing antiracism will lead to living healthier and longer lives."
To learn more about BPOU, visit bpou.org.
media@aruplab.com