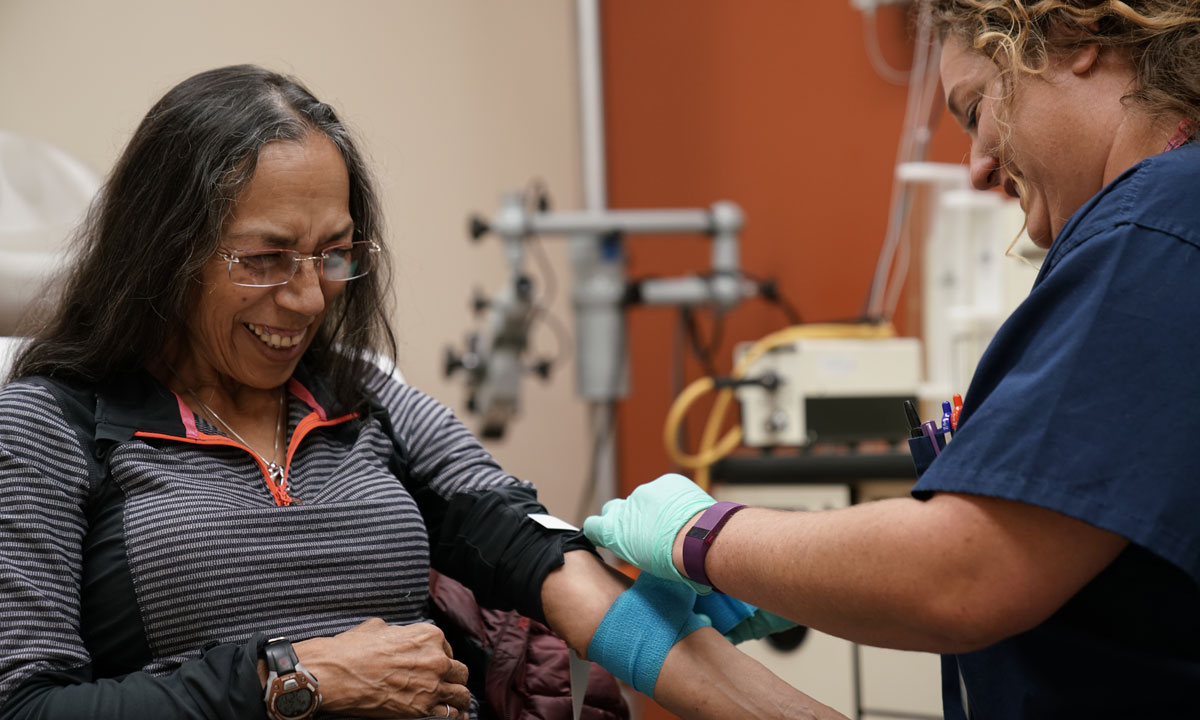 A lab coordinator at Salt Lake City's Fourth Street Clinic preps a patient to draw blood for laboratory testing. ARUP has renewed its agreement to provide testing free of charge to the clinic, which provides healthcare to homeless men, women, and children.
Photo credit: Fourth Street Clinic
June 10, 2021
ARUP Laboratories has renewed its agreement to provide laboratory testing free of charge to Salt Lake City's Fourth Street Clinic, a provider of healthcare to homeless men, women, and children in Utah.
With the renewal, ARUP will remain a key part of a network of more than 150 providers and healthcare professionals who donate services that enable the clinic to deliver quality care to more than 5,000 individuals each year.
"We never could do what we do without the contributions and support of partners like ARUP," said Michele Goldberg, MD, the clinic's medical director. "Through this partnership, we have access to the best laboratory testing available to help us diagnose illness and guide treatment so we can provide the best patient care possible."
ARUP's partnership with the Fourth Street Clinic began three years ago, as the clinic was transitioning to a new electronic medical record system with the help of University of Utah Health, Goldberg said. The system is the same as that used by the U, which made transitioning to ARUP as a laboratory services provider seamless. ARUP is a nonprofit enterprise of the U and its Department of Pathology, and performs all laboratory testing for the U of U Health system.
Much of the testing performed at the Fourth Street Clinic is routine, such as hemoglobin A1c testing to diagnose and monitor diabetes, or tests to diagnose or screen for infectious diseases. Since the COVID-19 pandemic began, ARUP has provided vital SARS-CoV-2 molecular diagnostic testing to the clinic as it has worked with other agencies that serve the homeless to control the spread of COVID-19 in this vulnerable population.
ARUP CEO Sherrie L. Perkins, MD, PhD, said the Fourth Street Clinic "has been an amazing steward in using the testing resources we provide."
"We are proud to play a role in promoting community health by increasing homeless Utahns' access to healthcare," she said. "This partnership very much aligns with ARUP's goal to keep patient care at the heart of everything we do."
The partnership is just one example of ARUP's commitment to give back to the community. Through its Ambassador Charities Program, for example, ARUP employees choose several Utah organizations to which they will contribute financially and through volunteerism. New organizations are chosen every two years; for 2021, they include the American Foundation for Suicide Prevention, the Utah STEM Foundation, the Leukemia & Lymphoma Society, and the U of U Health Burn Camp Program.
Just last month, ARUP employees decorated and filled more than 60 "survivor boxes" for the Suicide Prevention Foundation to deliver to those who have lost loved ones to suicide.
Lisa Carricaburu, Director of Marketing Communications and Clinical Decision Support