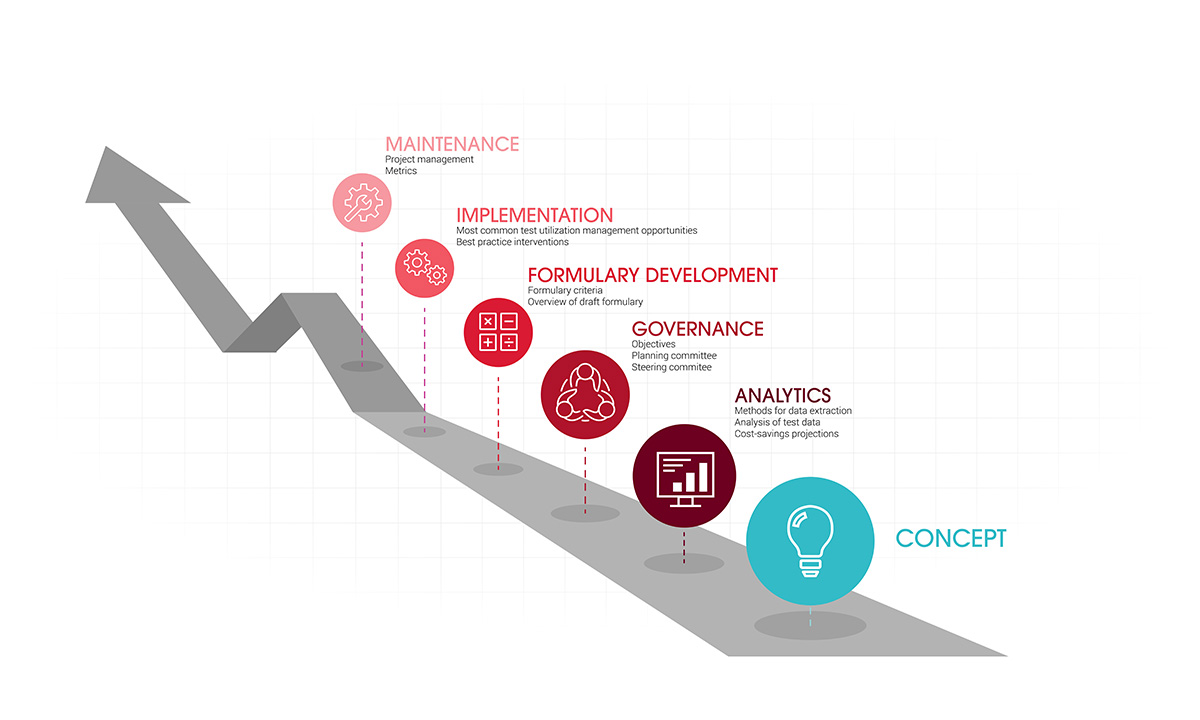 ARUP Healthcare Advisory Services experts will lead a PLUGS presummit workshop to help guide hospitals and healthcare systems in building the right lab stewardship team.
May 25, 2022
Laboratory stewardship programs can help hospitals and healthcare systems optimize value-based care and responsibly use resources to manage costs without sacrificing the quality of patient care.
"Building a robust, effective program that is also sustainable can be challenging, but with the right vision and a strong interdisciplinary stewardship committee, the impact can be big," said Tony Smith, BS(HCM), MLT(ASCP), senior healthcare consultant for ARUP Healthcare Advisory Services.
The committee, he said, needs broad representation that, in addition to laboratorians, includes pathologists, clinicians, medical and executive leaders, and information technologists.
"These individuals must be results oriented and have credibility with their peers and within the organization," Smith said. "And it's essential that the chief medical officer (CMO) and chief financial officer (CFO) participate or provide appropriate, visible, empowered designees."
Smith and Sandy Richman, MBA, C(ASCP), director of ARUP Healthcare Advisory Services, will share this and more during a presummit workshop presented in conjunction with the annual Seattle Children's Patient-centered Laboratory Utilization Guidance Services (PLUGS) Summit in Seattle, which is set for June 1 and 2, 2022.
ARUP's workshop, "The Importance of Good Governance in Lab Stewardship—Setting Your Program Up for Success," is scheduled for June 1, 2022, at 7:00 a.m. at the Bell Harbor Conference Center. The workshop is only available to PLUGS Summit in-person attendees, and registration is free for all PLUGS Summit attendees.
In addition to the workshop involving Smith and Richman, ARUP's Brian Jackson, MD, MS, medical director of Support Services, IT, and Business Development, will present his lecture, "Principles for the Virtual Laboratory," during the opening session of the conference.
A leader in test utilization program development and management for two decades, ARUP has been a Gold sponsor of the PLUGS program since its inception in 2014. The program was designed to help hospital laboratories develop utilization management programs in support of efforts to decrease costs and errors associated with unnecessary laboratory testing.
Smith and Richman's presentation will touch on many of the challenges ARUP has seen its clients face when setting up lab stewardship programs, including poor communication of the program's purpose, lack of support or resources, inertia, and resistance from medical staff and clinicians.
A good project manager, equipped with the right program design and stakeholder messaging, can leap over some of the barriers, Richman said. Ideally, stewardship programs should be pathology supported, not pathology driven, he said.
"Your program shouldn't seem like a 'lab project,'" Richman said. "You don't want clinicians to feel as though the lab is unilaterally making determinations about which tests those clinicians can or cannot order."
The presentation will also feature Karen Brownell, MM, MT(ASCP), assistant vice president of laboratory services at Intermountain Healthcare, a Salt Lake City-based, not-for-profit health system with 33 hospitals, clinics, and other healthcare services across Utah, Idaho, and Nevada.
ARUP healthcare consultants began working with Intermountain in 2018 as the healthcare system developed a lab stewardship program, and Brownell will talk about how her team developed the support needed to establish what has become a robust and effective stewardship committee.
Jennifer Dobner, jennifer.dobner@aruplab.com