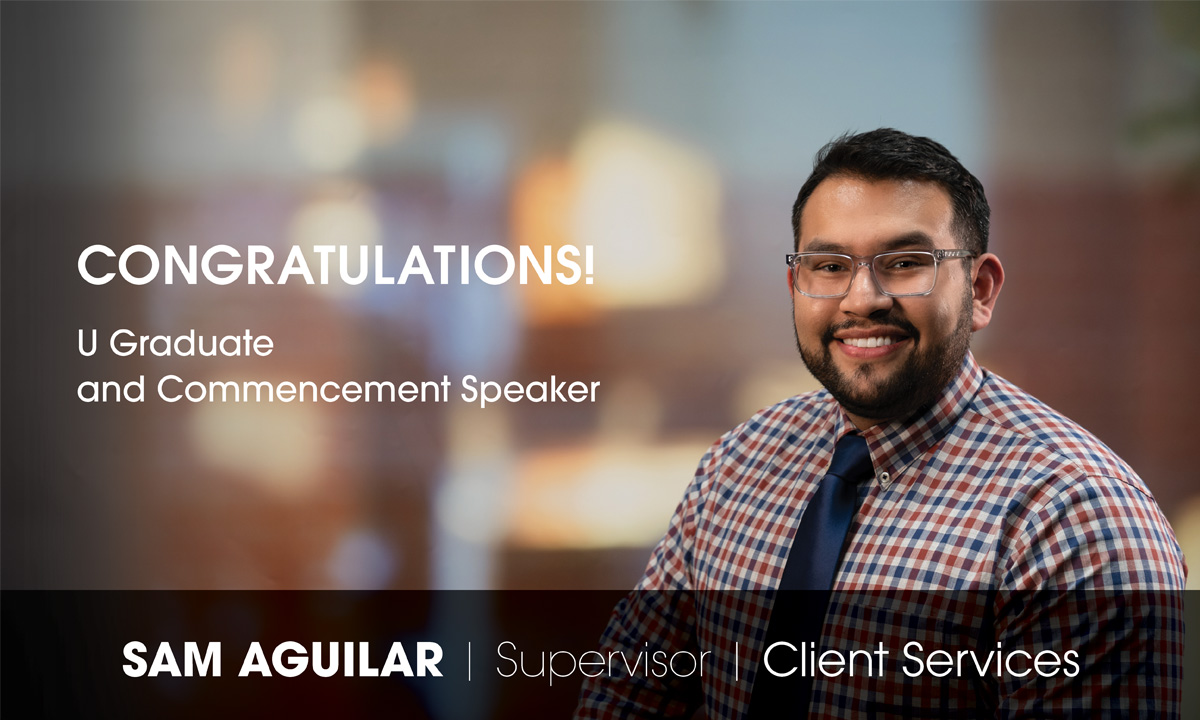 ARUP's Samuel Rivera Aguilar will give the student commencement address at the University of Utah on May 5. Aguilar has been with ARUP for nine years as part of the Client Services team.
May 4, 2022
Newsroom Note: This story was first published on April 13, 2022, by the University of Utah's @theU newsroom. It is reprinted with permission.
Samuel Rivera Aguilar's path to becoming the University of Utah's 2022 commencement student speaker is long and winding.
Born in Guadalajara, Mexico, he and his family trekked north when he was 6 years old. A "Dreamer" under the Deferred Action for Childhood Arrivals (DACA) policy, 31-year-old Aguilar will recount that fraught childhood experience and his circuitous route to a double major in kinesiology and writing and rhetoric studies at the General Commencement in the Huntsman Events Center on May 5 at 6 p.m.
Aguilar grew up in Salt Lake City, the youngest of five children raised by a single mother. He enrolled at the U—the first in his family to attend college. But when his tuition payments became too much, he had to drop out, heartbroken.
"I remember the uncertainty, figuring out how college worked for someone undocumented. I remember the joy of graduating high school and getting ready to go to college," Aguilar will say in his speech. "I remember the sadness of dropping out, not being able to afford my tuition. I remember thinking the dream was over. I would not be the first."
He waited six years before returning to school in 2019.
For the past nine years, Aguilar has worked at ARUP Laboratories in Client Services, working his way up to becoming a supervisor, comanaging a group of 150-plus employees.
"Growing up undocumented, I noticed how knowledge and accessibility really impacted my family and our community—particularly in regard to health and legal outcomes," he said. "My majors and job have given me the knowledge to help my family and my community better navigate those spaces."
After graduation, Aguilar plans to apply to graduate school programs in public health and health administration, "to continue learning how best to support my community."
Rebecca Walsh, University of Utah Communications, rebecca.walsh@utah.edu