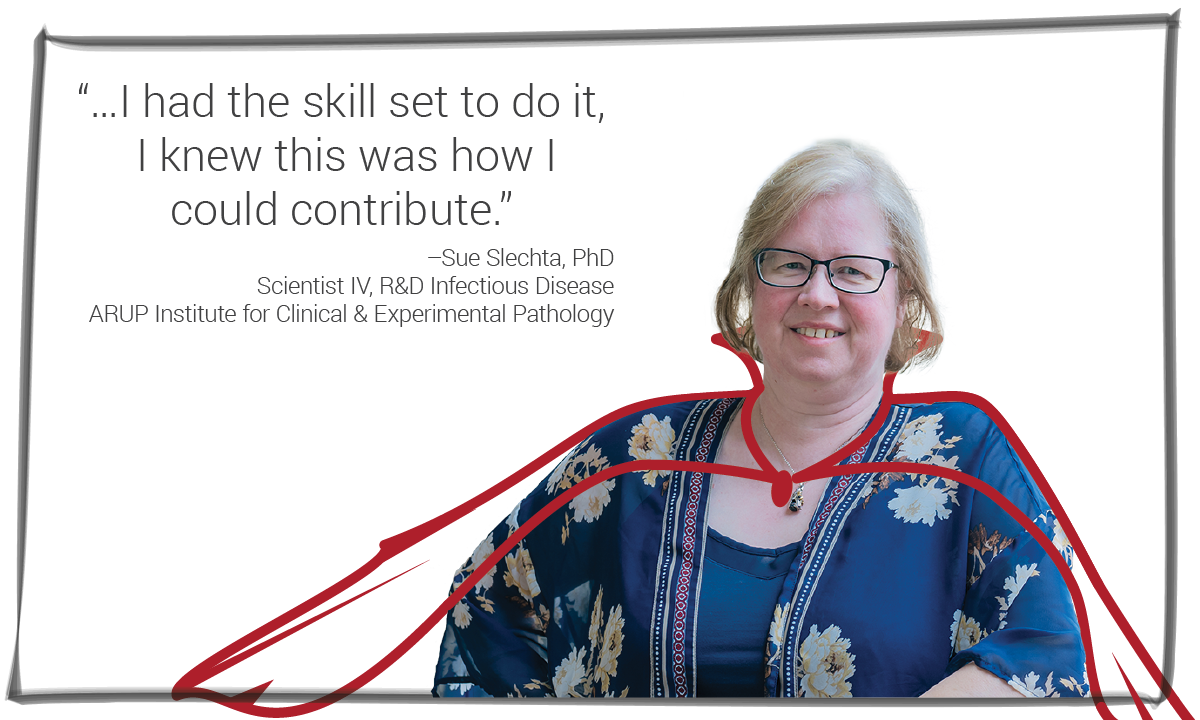 April 21, 2021
Medical laboratory science involves innovation, ingenuity, and problem-solving, but these skills were put to the test under tremendous pressure during the global pandemic.
In celebration of Lab Week, we asked our clients to share their stories of heroism from the past year. With the onslaught of COVID-19 cases, laboratories experienced the same pressure to perform as healthcare providers. We will be sharing these stories in a future LabMind podcast interview.
Until then, here is a spotlight featuring one of our own heroes.
Sue Slechta: An Example of Extraordinary Dedication
When ARUP needed individuals to work in the COVID-19 Rapid Response Lab, Sue Slechta, PhD, a Research and Development (R&D) infectious diseases scientist, didn't hesitate to step up.
"There's a feeling of complete helplessness when an event like a pandemic happens. When something came along that allowed me to take an active role, and I had the skill set to do it, I knew this was how I could contribute," Slechta said.
Normally, Slechta supports laboratories by validating and improving testing in her areas of expertise, the laboratories in the Infectious Disease Division. She quickly shifted roles to perform tasks such as preparing runs for extraction, and then performed the extraction polymerase chain reaction (PCR) and analysis of the results, often working long, late-night shifts in addition to continuing her R&D projects.
"I'd see that even after her long hours in the lab, she would go home and work from ten to midnight, completing senior reviews. She was incredibly committed. Sue understood how important the work was," said Jeffrey Stevenson, R&D scientific manager of the Infectious Disease group.
"As a scientist, I like to solve problems, and if I couldn't solve a problem, at least I could be a pair of hands to keep things going, helping patients get diagnoses, and hopefully prevent spread of COVID-19," Slechta said.
Slechta used her experience as an R&D scientist to make suggestions that improved lab functionality, in turn making it possible for patients to receive results more quickly.
Her suggestions included using a single-use water tube for the negative control, which reduced the risk of contamination. She also helped to validate the stability of a prepared 96-well plate to determine that the plates could be used multiple days after preparation. Because any unused plates were thrown out after a single day, R&D's validation helped to reduce waste.
"I was blown away by the way Sue and many other R&D scientists dropped everything to volunteer. Their expertise was instrumental in improving how the lab functioned," said Adam Barker, PhD, director of the ARUP Institute for Clinical and Experimental Pathology (R&D).
"I am really proud of everybody in the R&D Infectious Disease group who did what was needed to get testing online quickly and all of us from R&D who stepped in to help ramp up our testing capacity," Slechta said.