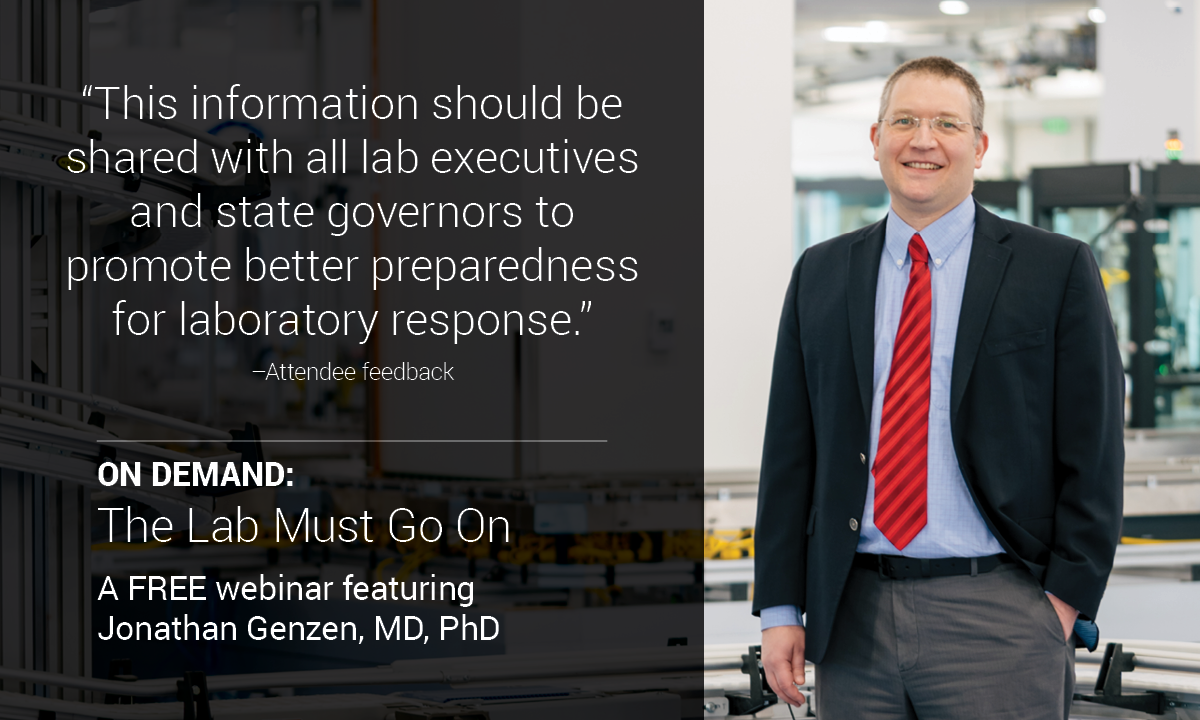 April 15, 2021
ARUP's popular and well-received webinar, The Lab Must Go On, is now available on demand on arup.utah.edu. Originally presented live on March 3 by ARUP Chief Operations Officer Jonathan Genzen, MD, PhD, the webinar highlights several key laboratory management strategies that ARUP leaders have identified as effective during a crisis.
"ARUP has demonstrated that it is possible to run a clinical laboratory 24/7 during the pandemic in a way that is responsible and safe for employees and patients," Genzen said. "I hope sharing our experience will promote further conversation about strategies that other laboratories have also employed to navigate this crisis."
Throughout the webinar, Genzen outlines which traditional best practices for laboratory management worked well during the pandemic and which needed to change, detailing strategies for budgeting, hiring, communication, and designing flexible lab space. He discusses possible models to adopt for future disaster preparedness, among other topics.
The webinar is based on an article published in the American Journal of Clinical Pathology in October 2020 by Genzen and colleague Brian Jackson, MD, ARUP medical director of Support Services, IT, and Business Development.
Viewers of the live webinar remarked on the value of the information in planning for future crisis events. One viewer said, "The presentation provided additional pandemic strategies that may help organizations now and preparing for future events." Another added, "This information should be shared with all laboratory executives and state governors to promote better preparedness for laboratory response."
While the webinar focuses on the experience gained from weathering a global crisis, the lessons learned can also be applied to ARUP's day-to-day operations.
"Clinical labs operate in a culture of quality," Genzen said. "The pandemic emphasized a need for quantity as well as quality, including urgency, rapid innovation, and implementation. We've learned to be nimbler and more efficient."
ARUP's Consultative Services team has seen an increase in requests to help strategically blend these opposing operational approaches.
David Shiembob, MBA, C(ASCP)CM, supervisor of Consultative Services at ARUP, discussed the importance of laboratories using this critical period to maintain momentum toward accomplishment of their own goals.
"This is an important time for laboratories to pursue new initiatives. The pandemic has highlighted the importance of the lab as an essential healthcare service. Laboratories can leverage that awareness to improve their systems," Shiembob said.
He adds that now is a good time for laboratories to focus on strengthening their outreach programs. ARUP's Consultative Services team can help labs leverage the public awareness of laboratory medicine that now exists because of the pandemic. ARUP consultants offer a number of solutions to optimize outreach efforts, such as an outreach business planning engagement that includes a market analysis with an operational assessment to project possible costs and revenue gains for laboratories.
"The pandemic has illustrated how important it is for communities to have access to local testing. Our team focuses on helping our clients become more successful at serving as a critical resource within their community," Shiembob said.
To learn more about the services and support offered by ARUP's Consultative services team, visit aruplab.com/consulting.