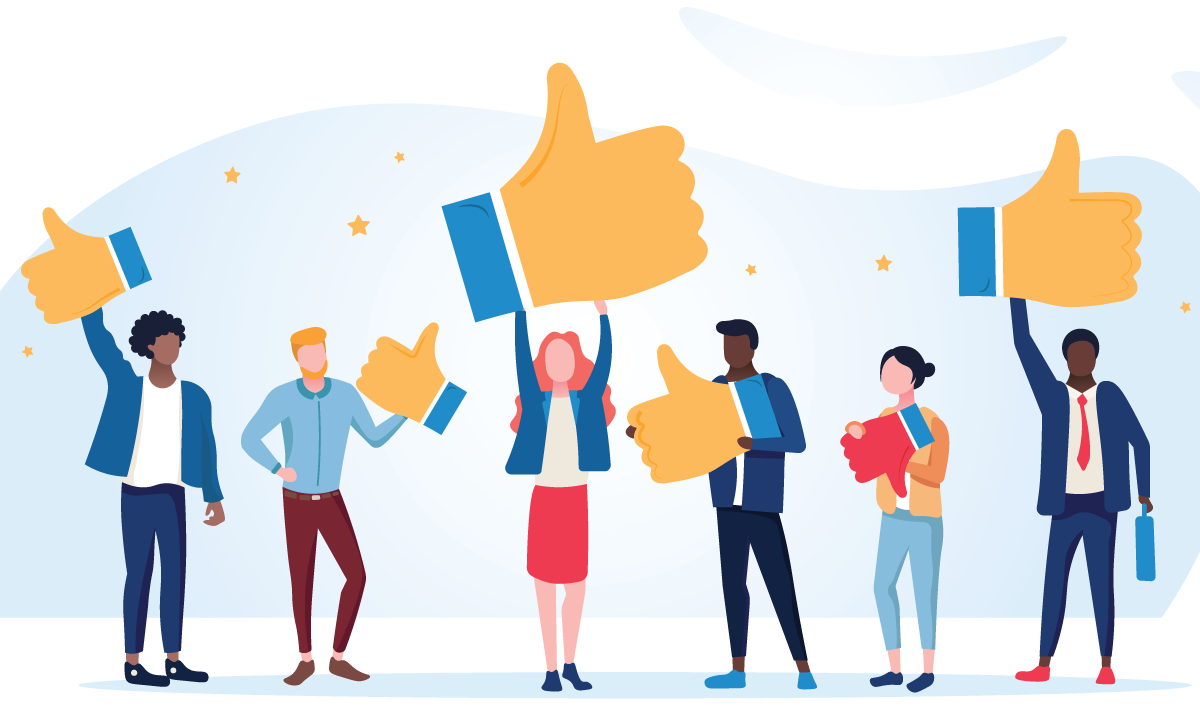 April 13, 2022
In any business or industry, a satisfied customer is a benchmark of success—and ARUP Laboratories has a lot of satisfied customers.
Data from the annual Client Satisfaction Survey conducted from October 7 to November 5, 2021, shows that an overwhelming majority of client respondents—91%—have a favorable view of ARUP and would recommend ARUP to others in the lab industry.
The positive feedback from respondents earned ARUP a total net promoter score (NPS) of 69.4, said Leslie Smith, a senior market research analyst at ARUP.
NPS is a generalized metric used across industries, from healthcare systems to big tech and everything in between, to measure company satisfaction and loyalty. Organizations can compare their scores with those of others in the same industry and use the findings as a roadmap for goal setting and future growth. NPS is the gold standard for customer surveys, Smith said, and an important metric in determining how ARUP's efforts to fulfill its mission stack up against client perspectives on the company's performance.
"[A score of] 69.4 is really good," she said. "And 75% of people are loyal promoters who gave a rating of nine or 10 as far as recommending us to a colleague."
The numbers matter, she said, because the client experience is one of the most important ways ARUP earns its stripes in the healthcare marketplace. In the survey, customer service was also rated as the most important attribute in deciding which reference lab to work with, Smith noted.
"It's our reputation," she said. "It's how clients know they can depend on us."
ARUP's reputation is notably reflected in the survey responses that found 81% of respondents rated their impression of ARUP as very favorable, a full 40 percentage points higher than its nearest competitor.
"Highly recommend ARUP to everyone," one respondent wrote. "I love my job… but I would consider leaving them for you!"
In addition to great customer service, clients lauded ARUP for its online customer tools, including chat, interface support, and ARUP ConnectTM, all of which were referred to as responsive and easy to use. Also earning praise were ARUP's "stellar" test menu, time-sensitive sample refrigeration capabilities, turnaround times, and the "timely notification of sample issues and problems."
"Client services are great… most reliable of any lab I've worked with," one respondent wrote.
Another lab professional credited ARUP with carefully listening to and supporting the challenges they face.
"We struggle with staffing and stagger hours of work to stretch out our staff coverage," the respondent wrote. "This can create a communication struggle. ARUP recognizes our struggle and is working to assist our lab and our patients. Thank you for that."
Smith attributes ARUP's positive NPS to the dedication and hard work of employees who are committed to the lab's mission to provide superior testing and support patient care. ARUP employees deserve credit and praise for all they do, she said.
"We learn a lot from the survey, but maybe the most important takeaway is how much of that is due to our employees," she said. "They are killing it."
ARUP has been using the NPS survey since 2013 and seeks answers to 13 multiple choice questions that touch on a variety of services, including the test menu, pricing, and outreach and interface support. The survey also asks clients about their own short-term goals and challenges and encourages comments.
The College of American Pathologists (CAP) requires that the survey be conducted every other year as part of ARUP's CAP accreditation. ARUP has elected to do it every year because the feedback is so valuable, Smith said.
For the 2021 survey, 11,105 individuals were invited to participate, and more than half responded. Of those, 40% were in lab management, another 10% were medical directors, and the remaining 50% were lab staff.
Jennifer Dobner, jennifer.dobner@aruplab.com