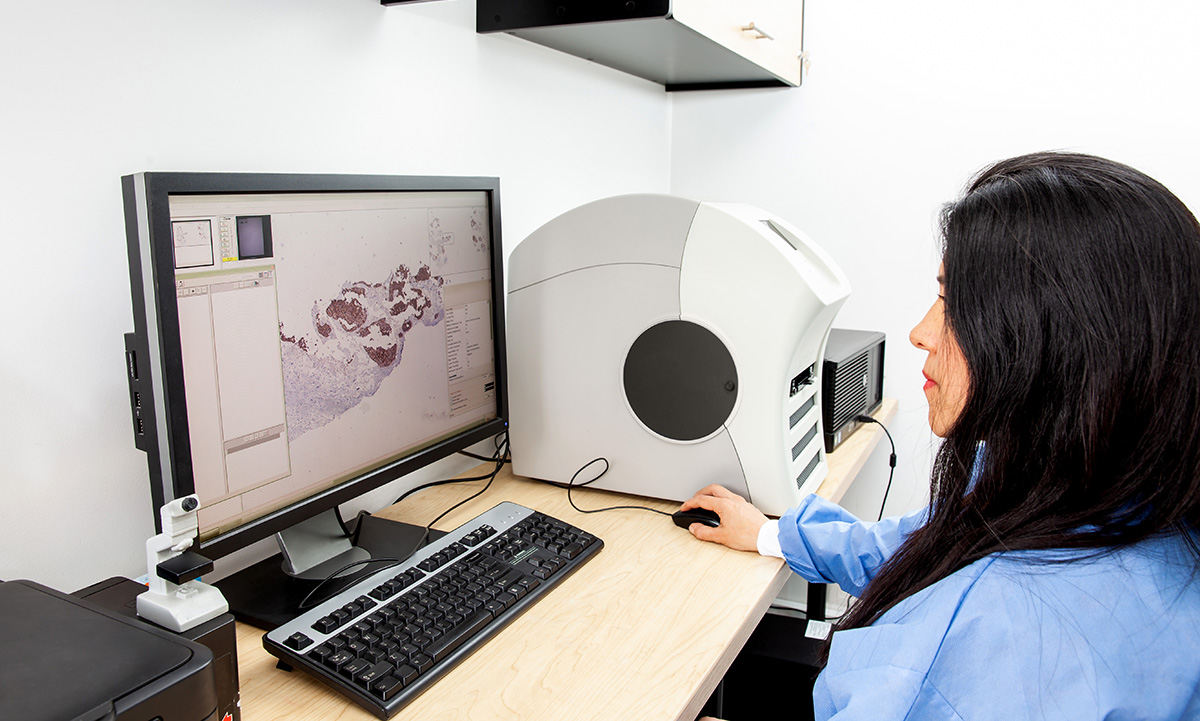 April 12, 2023
SPOKANE, WASHINGTON, and SALT LAKE CITY—Gestalt Diagnostics Inc., a leading provider of artificial intelligence (AI)-powered digital pathology solutions, and ARUP Laboratories, a national academic reference laboratory with hospital and health system clients in all 50 states, today announced that ARUP has selected Gestalt's award-winning PathFlow® digital platform as the solution to support its comprehensive vision for digital pathology.
The alignment of vision, purpose, and technical solutions between the two companies will enable ARUP to continue to build integrated digital pathology workflows. Gestalt provides AI-powered technology and solutions that enable pathologists to make diagnoses seamlessly and accurately. Deep integration with scanners and AI vendors provides a streamlined environment with plug-in access to the latest innovations in patient diagnostics. PathFlow's digital platform facilitates real-time collaboration and ensures that leading healthcare, academic, and forward-thinking institutions such as ARUP have the foundation to support their strategic digital pathology initiatives today and in the future.
"It is an exciting time to be leveraging AI-powered, cloud-based software technology in healthcare, and to be able to partner with organizations such as ARUP to provide a foundation for the advancement of research and diagnostics in patient care," said Lisa-Jean Clifford, Gestalt chief operating officer and chief strategy officer. "We are humbled and excited to be selected, and we welcome such a forward-thinking, patient-centric organization to our growing list of customers."
"Gestalt's ability to offer a platform that addresses the clinical, education, and research spaces, and its agnostic approach to hardware and laboratory information systems combined with Gestalt-built and third-party AI applications, provides the flexibility to expand digital pathology in a thoughtful manner," said Daniel Albertson, MD, ARUP division chief of Anatomic Pathology and Molecular Oncology. "Using PathFlow, we will be able to grow and continue to serve our clients and patients in the best way possible."
Gestalt Diagnostics Inc.
Gestalt Diagnostics transforms pathology through an intelligent, configurable, vendor-neutral, and AI-driven digital workflow that provides true interoperability, enabling pathologists to diagnose* diseases faster and more efficiently. Its PathFlow® solution consists of professional, education, and research modules for ease of mixing and matching the digital needs of your facility in a single solution, freeing pathologists from tedious, repetitive, and manual tasks and allowing them to focus on their expertise, providing invaluable data to enable the best care in the fight against disease, including cancer. To learn more, visit www.gestaltdiagnostics.com and follow @Gestalt on LinkedIn and @Gestalt122 on Twitter.
*Research use only unless following College of American Pathologists guidelines for laboratory-developed tests
ARUP Laboratories
Founded in 1984, ARUP Laboratories is a national reference laboratory and a nonprofit enterprise of the University of Utah and its Department of Pathology. ARUP offers more than 3,000 tests and test combinations, ranging from routine screening tests to esoteric molecular and genetic assays. ARUP serves clients across the United States, including many of the nation's top university teaching hospitals and children's hospitals, as well as multihospital groups, major commercial laboratories, group purchasing organizations, military and other government facilities, and major clinics. In addition, ARUP is a worldwide leader in innovative laboratory research and development, led by the efforts of the ARUP Institute for Clinical and Experimental Pathology®. ARUP is ISO 15189 CAP accredited.
Gestalt Media Contact
Valerie Collinsworth, vcollinsworth@gestaltdiagnostics.com
ARUP Media Contact
Lisa Carricaburu, lisa.carricaburu@aruplab.com